Well that didn't go very well. But then again, it's hard to say you didn't see it coming. The Flyers kicked off the 2014-15 NHL season by dropping their first two games for the third consecutive season, and with no break apparently in sight. With eight games remaining in the month of October, all against playoff teams from last season, can the Flyers withstand another storm? Or will the early obstacles push them into being labeled, "rebuilders?"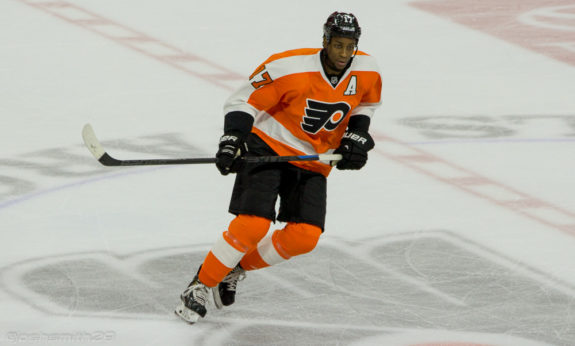 A Spooky October
The Flyers may have the least amount of miles to travel than any team in the league this season, but that doesn't mean the scheduling has done them any favors. With an abundance of question marks, from the stability of the defensive unit, to the team's top line without Scott Hartnell, the last thing Craig Berube's squad needed, or wanted to see, was a sluggish start.
"It's obviously not the start we wanted; we have a lot of work to do," said Flyers captain Claude Giroux after suffering a 6-4 defeat in the home opener against New Jersey.
Despite a sterling 26-15-6 all-time record in home openers, the Flyers have now dropped three straight. But even with a marathon of 80-games left on the schedule, the winless Flyers now stare down a month of opponents who combined for a record of 368-207-81 last season. Against these upcoming foes last year, the Flyers salvaged an 11-11-0 record, winning three of the season series', while falling in only two of them.
Be that as it may, this season wipes the slate clean. And although two of the eight teams on the upcoming schedule dropped their season opener, five of them did not. This includes Philly's next opponent: the 2-0-0 Montreal Canadiens.
Is this deja vu for the Flyers, who were out-scored 8-5 in their first two games? Or can they build off of Wayne Simmonds' pair of goals, which were both scored within a minute of each other?
"Last year, we were getting completely outfoxed," said Simmonds, who wore the alternate captain's "A." "This year, obviously we've had a couple slow starts. But throughout the game, we're working hard, we're battling back, we're doing some good things."
The good can be found in various areas, despite a sandstorm of bad in others. After being shadowed and held to only one shot on goal by Boston's Patrice Bergeron in the season opener against the Bruins, Claude Giroux notched his first goal of the season much sooner than last season. Giroux's multi-point game against the Devils is a significant contrast to the captain's rush out of the gate a year ago, even if the results reflect the same outcome in the win-loss column.
After coming up empty on the power play against Boston (0-3), the Flyers finally cashed in on the man advantage, going 2-5 against New Jersey. And along with Giroux finding the scoresheet on schedule, it was Simmonds who picked up right where he left off from his 15 power play goal season a year ago, by tallying his first in only two games in.
Vinny Lecavalier has as many points through the first two games as he did last year, finally beating New Jersey's Cory Schneider in the 3rd per. for his first of the year. Lecavalier's goal not only answered a Patrik Elias goal, it was the reward for the plethora of unsuccessful scoring chances his line generated against both Boston, and New Jersey. And with Sean Couturier scoring in the opener against Boston, it would appear that certain expectations are on pace to be met.
But as the 0-2-0 record indicates, everything isn't sunny in Philadelphia. And for all the positives that can be drawn from the pair of losses to start the campaign, a surplus of miscues, misfortune, and unanswered questions remain.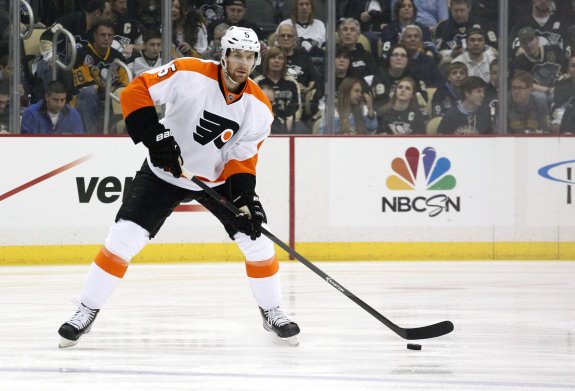 Blue Line Blues
The silver lining in Philly's defensive woes can be found in the fact that their struggles caught no one by surprise. Aside from Mark Streit's jumpstarted play throughout the preseason, the Flyers were south of pedestrian on the blue line. And while fans continued to gripe and grumble over the lack of mobility from their top pairing of Braydon Coburn and Andrew MacDonald, things went from bad to worse when Coburn was lost to a lower body injury after just one outing.
"Coburn's absence — the Flyers aren't sure how long — means others have to step up. Yet the defense was already questionable with him on the ice, so this now figures to be a more challenging task." — Tim Panaccio, CSN Philly
If the remaining cast of castoffs are to, in fact, step up, they'll be expected to play mistake-free hockey – a task that's virtually impossible for any player in the league. In their 6-4 loss to New Jersey, the defensive unit was a galaxy away from playing the "perfect game," with the pairing of Luke Schenn and Michael Del Zotto combined for a minus-nine rating.
"It is a team game out there. It is five guys," said Schenn. "But it obviously starts with the defensemen when you're getting scored on. Goals off the rush, deflections, losing guys in front of the net … it was a frustrating game and those are things we'll look at and clean up.
"When it comes down to us, every one of us, in particular me, have to play better."
Luke Schenn posts a tidy little 5-under score in the opening round of the… wait, that was hockey? #whoops pic.twitter.com/Rx11oHuJBt

— ryan (@rblight18) October 10, 2014
While Schenn has exhibited the trend of playing his best hockey near the end of the season, keeping the gas reserve full for a Spring run does no good if the team is out of playoff contention by then. This, of course, is nothing Schenn doesn't know. Even still, the unit can only perform to their capabilities. In other words, it's unrealistic to expect a Toyota Corolla to win a drag race.
The Flyers will be without Coburn, who was seen on crutches at the Wells Fargo Center on Thursday night, at the earliest for a string of days. And while the team will catch a major break by re-gaining their minute hog sooner, rather than a time frame of weeks or months, they'll still meet the undefeated Habs, as well as the Anaheim Ducks, without him.
"This is huge for the Flyers because Coburn is one of their most irreplaceable players as a shutdown defenseman who averages more than 20 minutes of ice time per game." — Randy Miller, nj.com
This doesn't help the Flyers right the ship immediately, which they desperately want, if not need. With two games equalling two losses for the Flyers, falling behind in the Metropolitan Division standings would be anything but advantageous, even if the season isn't even a week old.
Of the division's eight teams, including the Flyers, four of them jumped out of the gate to grab two points. Being is how these teams are the usual suspects in the Metro, an already challenged blue line, again without Coburn, can make 0-3 for the third straight year a glaring reality.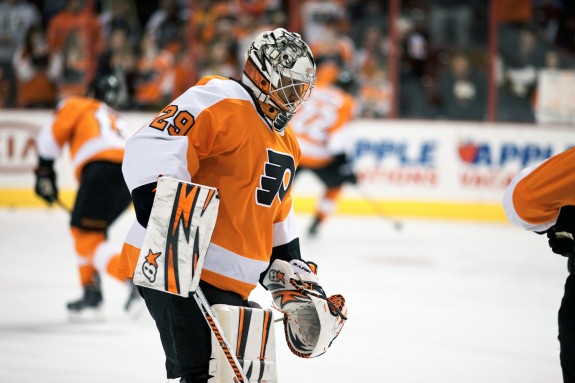 Everybody Doesn't Love Ray
Or so it may seem with the decision to start Steve Mason in net in the team's first back-to-back of the season. And although it's easy to second-guess coaching decisions after the results are in the books, spelling Mason for a night of relief just may have been the route to travel.
Mason, who appeared in 61 games last season, is obviously capable of handling a heavier workload. But even after a terrific 31-save performance against Boston on opening night, his career numbers against the Devils may have tipped his hand in what was to come.
After being subjected to bad bounces, and even a screen by his own teammate (Lecavalier), Dainius Zubrus' game-winning goal wasn't only a back-breaker because it was, well… the game-winner, but because it was soft goal – one that Mason has to stop.
"For the night, Mason stopped 20 of 25 shots. Although he was not to blame on four of the five goals, his performance was nowhere close to the effort he churned out in Boston on Wednesday. At the other end of the ice, Cory Schneider stopped 35 of 39 Flyers' shots." — Bill Meltzer, Hockey Buzz
With the loss, Mason's career numbers against New Jersey dipped to 0-5-0 with an .871 save percentage. While it's only Mason's second loss to the Devils as a Flyer, veteran backup Ray Emery has fared far better against Philly's rivals from Newark. In 13 games, Emery has gone 7-4-2 with a .931 save percentage, and a 1.91 goals against average.
"It was a questionable decision by Craig Berube to start Steve Mason on the second game of a back-to-back, especially so early in the season. Mason did not exactly justify his coach's trust. While most of the goals were not exactly Mason's fault (with the obvious exception of Zubrus' game winner), most of the goals were not completely unstoppable, and Mason was unable to come up with a big save at a key time. Just a needless risk on Berube's part tonight." — Charlie O'Connor, Broad Street Hockey
Mason has been hard done by deflections tonight. That…was a bad goal to allow. #NJDevils benefit. 5-4

— All About the Jersey (@InLouWeTrust) October 10, 2014
The Devils may have added pieces such as, Mike Cammalleri, but they are the league's oldest team, skating to an average age of 30. Nevertheless, if the Flyers were to have come up victorious, the decision to start Mason would've been applauded, signaling the confidence Berube has in his uncontested number one goalie. Instead, it's a gaffe that was a minor factor in their loss to the Devils.
By no means would it cost Berube his job should the team start 0-3. That being said, 0-3 is the elephant in the room that those within the organization seem to want to beat with optimism.
With the remaining October schedule, Mason will not only continue to receive the bulk of the work, he'll undeniably be tested. This can actually go well enough to smother the panic that's been leaking from the crevices. On the other hand, it could also go horribly wrong, fitting the Flyers for the undertaking business.
The one thing we do know? The schedule makers clearly aren't Flyers fans. 
Andy is a contributor for The Hockey Writers, covering the Philadelphia Flyers. He holds a Bachelor's Degree in Communications from Walsh University. He enjoys spending time with his family, golfing, and reading. He is married with a daughter. You can follow Andy on Twitter @ADudones.