He's only played in 68 career games (32-19-6) with the New Jersey Devils but Scott Clemmensen has been around the team since before the Prudential Center even opened, suiting up in a handful of games at the Continental Airlines Arena. This season, his third stint with the franchise, the 37-year-old from Des Moines, Iowa has taken on more of a mentor role for the franchise's younger goalies. While one has replaced him in New Jersey as the backup, he's now partnering with the other in Albany as he passes on the knowledge that he has acquired over his career.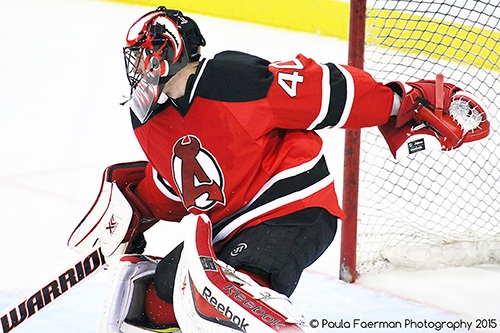 After playing back-to-back games on a weekend in the AHL Clemmensen was summoned to the NHL with a backup temporarily needed in New Jersey. The Hockey Writers was fortunate enough to chat with the only NHLer to ever hail from the state of Iowa about his career and partnering with elite goalies among other things.
A stellar diving save by Scott Clemmensen on one of the NHL's elite scorers:
https://www.youtube.com/watch?v=cXq_adDqE0U
The Hockey Writers: What has this season been like for you? You started here in New Jersey and have been in Albany since December before being recalled on an emergency basis on February 23.
Scott Clemmensen: You know what? I get paid to play hockey, no matter who it's for, so that's the way I look at it. I feel fortunate to be a pro and as you get older I think you appreciate that more. Obviously you want to be in the NHL but it's been fun with the guys on the team in Albany, the coaching staff; it's been great. (Like you said) I've been here a little bit too, you get a taste of it; overall being in the organization and playing hockey — you learn to not take things for granted when you get older. I can't complain at all.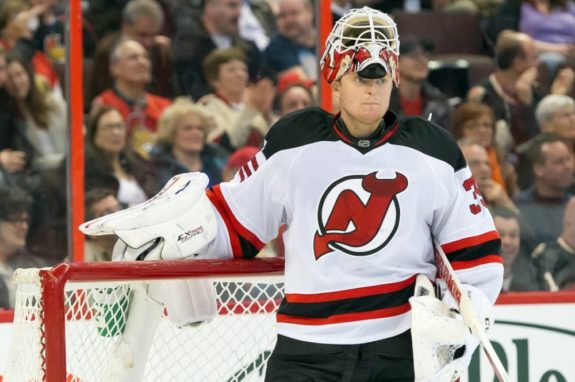 THW: You've been around Cory Schneider a little bit this season and in training camp as a partner in the net. What do you notice about him that makes him so good? Is he comparable to Martin Brodeur at all in your eyes?
SC: Well, they both play a lot of games (laughs). I'm a little closer in age to Cory, and we both have a similar background: both Americans, both went to the same college. I think Cory and I are kind of cut from the same cloth. Marty was more of a guy that, maybe you looked up to when you were a kid playing and then later on you got to be in the same locker room with him. He always had that, kind of, mentor presence; you learned how to be a pro. It was early in my pro career when I was around Marty a lot. Now later in my career it's nice being around Cory, I'm enjoying it.
THW: When you are down in the AHL and when you are around the younger goalies like Keith Kinkaid and Scott Wedgewood do you feel you take on that mentor role?
SC: Yeah I hope so, they're good kids. Scott Wedgewood is a really good goalie partner down there in Albany for me; he's a great guy and a really talented goalie. Even though I'm supposed to be his partner, you want to help mentor the younger guys. In that aspect, it's very rewarding; to do that and to feel that.
Clemmensen had high praise for this guy tonight: pic.twitter.com/FWxu3rjW9s

— Dan Rice (@DRdiabloTHW) February 24, 2015
THW: What was it like for you when Albany was here at the Prudential Center to play a game last month? It had to be a little weird right?
SC: Well obviously I have played in this building before; (smiles) at the NHL level. It was good for the whole team and for the young guys to be here, to play here, to be in this locker room even; it was an important game like atmosphere. I think it was good for everyone in the organization and for me it was a little weird, maybe not weird; different than anything else I guess. It was definitely fun, nonetheless.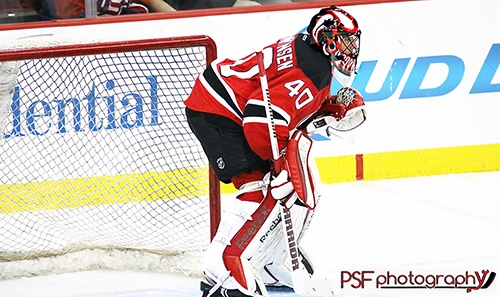 THW: You had stops in Toronto and in Florida before you made your way back here (again) this summer; can you tell us what those experiences were like?
SC: I look at it like three different phases of my career with three different organizations. Obviously I was drafted and started my pro career with New Jersey; I really learned a lot. I was here for the first six or seven years of my career (2001-07) and I think that's when you are most impressionable. That's when you learn how to be a pro; I certainly learned how to do things the right way — on and off the ice from this organization. That really helped me down the road. I started in the minors and then backed up Marty here at the NHL level, so I didn't play a whole lot in the NHL. But it did help me in moving on after those years when I went to Toronto (2007-08), my first time outside of this franchise.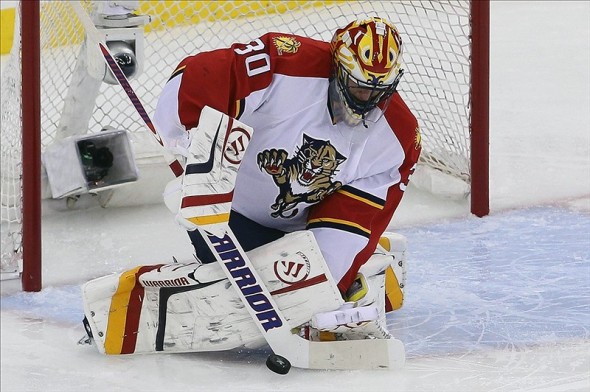 It was interesting to see how another NHL team operates and the philosophies that they have, it was good; I met a lot of great people and played with a lot of great players. Then after that I was back with New Jersey (2008-09) and then went down and played most of my NHL games (120) with the Florida Panthers organization (2009-14). I was older and had kids and already had a family started when I got down there. So it's three different organizations and three different phases of my life personally and professionally. That's how I'm always going to relate the three and look back on them.
Dan Rice can be reached via Twitter: @DRdiabloTHW or via Email: drdiablo321@yahoo.com