Washington Capitals prospect Connor Carrick has quickly made a name for himself as a late round pick. After signing his entry level contract, the American born defenseman joined the Hershey Bears, Washington's AHL affiliate, following a thrilling experience at Washington Capitals training camp.
He's earned playing time on Hershey's blue line, spending time with veterans Chay Genoway and David Kolomatis as his main defensive partners. He recently spoke to The Hockey Writers about his first year out of junior hockey.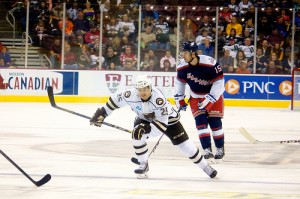 THW: How's the adjustment been like to playing play hockey at the professional level?
Carrick: "It's been difficult. Obviously I'm young and I don't try to use it as an excuse, but I've had to work through some things, going grocery shopping and battling against men. It's been fun and the guys here are really good, and coach Haviland and Mougenel are really helping me out."
THW: On playing for Plymouth in the Ontario Hockey League (OHL).
Carrick: "That was a blast and those playoffs were a pretty magical time. I thought I was playing well, our team was playing well, if you ask any guy on our team I think we were still to this day a little better than the other team. We were a team that battled and we were a close knit group. Last year in Plymouth was probably one of the best experiences of my life."
THW: On the playoff series against the London Knights.
Carrick: "We were pretty upset about it, we had a really good group. Come playoff time it's whoever gets hot and whoever gets the bounces. It went their way and we ended up losing."
THW: On the process leading to the NHL Draft.
Carrick: "I spoke to the Capitals once early in the year and I spoke to them a day before the draft. One of their scouts had texted me asking how tall I really was, if I was 5'10" or 5'11". I told him what I was and I followed it up with 'if I was anything different I must have been pretty comfortable in the shoes I was wearing.'
"Going into the draft maybe there was one team I was convinced that wasn't going to take me, because anytime you're under six foot going into the draft I think they overanalyze it a bit. They look at it like, 'can a small guy play'? It was an experience for sure."
THW: On players he looks up to and his style of play.
Carrick: "I try to consider myself a good two-way guy, a puck mover, an offensive defenseman. I really enjoy watching guys like Drew Doughty, Mike Green and John Carlson. I try to see the ice like them, I try to take parts of their game and add it to my own.
THW: On the experience of training camp with the Washington Capitals.
Carrick: "Even when I had my bad days I looked at the jersey I was wearing, it was a blessing. I don't think that type of route is expected of a fifth rounder, but I have a lot of people to thank, including this organization for looking out for me. They gave me an opportunity and took a little bit of a chance and I tried to run with it, but things happen the way they do."
You can follow Matthew on twitter @m_speck and email him at mspeck21@yahoo.com with any questions or comments.
Matthew Speck covers the Washington Capitals organization for The Hockey Writers. He provides coverage of both Washington at the NHL level and prospect related content. Matthew also covers local sports for the Lebanon Daily News in Central Pennsylvania. You can email him at mspeck21@yahoo.com with any questions or comments.