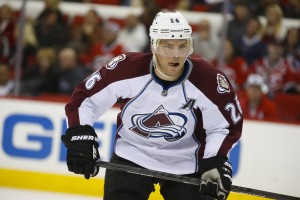 Watching the Kings fire 35 shots on net against the New Jersey Devils only to be stoned by goaltender Cory Schneider in a 2-1 overtime loss the other night prompted a few edgy, guttural reactions. The initial ones, well, wouldn't please my mother were she within earshot. Second, a begrudging mental tip of the cap to Schneider, acquired from the Vancouver Canucks last June for the ninth overall pick in the 2013 entry draft (Bo Horvat). Third, with Los Angeles seeming to have more than its share of games just like tonight's, a question came out of the sour haze: even with all the differences in defenses, goaltending, special teams, coaching and injuries notwithstanding, do teams with higher shooting percentages win more games?
I wish it were just a simple matter of number of shots. Were it that easy, I'd be trumpeting L.A.'s 32.2 per game and making this the shortest post in THW history. Instead, it's a math problem (goals per game divided by shots per game), then compared to a team's overall record.
The league's baseline shooting percentage is 8.83%, so that's where to start. As of three days ago when I ran the numbers, fifteen teams had higher shooting percentages than that, and ipso facto, fifteen were lower — the sample sorts pretty much as you'd expect. Of course, we all know not all shots are taken equally, and there are obviously going to be both positive and negative factors that affect the results for every team. However, for the sake of argument, let's assume those outlying factors even out across the board. Are the better-shooting teams typically winning more games? Let's look at ten examples.
Colorado Avalanche: the league's top shooting team
Man, I hated the Avalanche when they were beating the Kings in the playoffs in back-to-back seasons (2000-01 and 2001-02). One of my favorite moments during those years was when Adam Deadmarsh skated past the Colorado bench, pointed his index finger and uttered a two-word directive at the entire team that his mother wouldn't have been too pleased about. Nevertheless, on the heels of last night's 1-0 overtime victory over the Kings, the Avalanche are now 17-5-0, arguably the best record in the league considering they have the fewest total losses. So far, so good, there's a correlation.
Los Angeles Kings: shooting blanks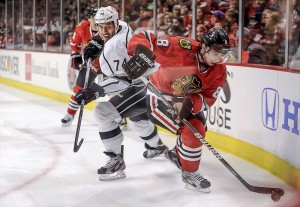 And then there's the Kings. After 24 games, they are 15-6-3. Pretty fair record, right? Well, that's in spite of their shooting woes, which were the eighth-worst in the NHL at 8.11% as of close of business last Thursday. Despite being eighth in the league in number of shots, last night's fifteen more without a score only served to further sink Los Angeles' already-depressing numbers. One for two.
Tampa Bay Lightning: they don't shoot a lot, but they make 'em count
The Bolts are a mere 25th in the league in number of shots taken per game (28), yet fifth in shooting percentage at 10.43%. The net result: Tampa is 10th in overall scoring, and tied for third in the Eastern conference with 29 points. Two for three.
Dallas Stars: shooting for mediocrity
The Stars are clearly rebuilding, having missed the playoffs five straight seasons. It seems like forever ago when Brett Hull, Mike Modano and Joe Nieuwendyke were slashing and sniping their way to the Cup in 1998-99. Didn't Eric Cole used to be good? He's now a space-filler on a team that is a middle-of-the-road 11-9-2, and they have a middle-of-the-road 8.77% shooting percentage. Three for four.
New York Islanders: shooting for the lottery
At 8-13-3 and last in the Metropolitan, things aren't looking so great for fans of the team on the rock. However, shooting is not the issue on Long Island, as they convert at a slightly above average 8.92% pace. Their last championship makes Dallas' look like just yesterday, but too few in the Empire State seem to care. Three for five.
Phoenix Coyotes: dogs with guns
I don't know exactly why Phoenix irritates me, but they just do. Maybe it was the playoff series against the Kings two seasons ago when Mike Smith was slashing Mike Richards or Michal Rozsival was pretending his knee had been vaporized by Dustin Brown (it ended up being just a "thigh bruise"). Nevertheless, the Coyotes have been a solid team for years now, despite the previous ownership turmoil. At 14-5-4 they are off to another strong start and at 10.51%, you can clearly see one of the reasons why. Four for six.
Toronto Maple Leafs: Busher-league shooting
The Toronto Maple Leafs missed the playoffs for so many years in a row (seven) that "Busher" Jackson would have probably been willing to come out of retirement to help out had he not died almost a half-century ago. The Leafs are following up on last year's success by starting 14-8-1, and are the league's third-best shooting team at 10.64%. The spirit of "Busher" lives on. Five for seven.
Detroit Red Wings: how the mighty have fallen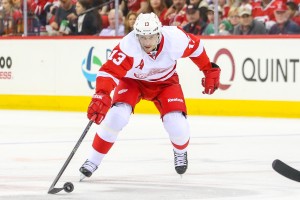 It isn't so much the pedestrian record (10-7-7) but the fact that the Red Menace can't seem to hit the broad side of the Joe this year, shooting just 8.18%. That's ninth-worst in the NHL as of this writing, a shocking figure for a team typically laden with Russian snipers. Having lost 14 of their first 24 games and just 2-3-5 in their last ten, we're going to call this one another positive correlation. Six for eight.
Vancouver Canucks: how the mighty have fallen, part 2
The Canucks are about as bad as the Kings at shooting percentage, but are more or less holding their heads above water anyway at 12-9-4. Regardless, that's just twelve wins in 25 games, far below expectations considering how good Vancouver has been historically. It's kind of close, but we'll call this another positive correlation. Seven for nine.
Montreal Canadiens: le tournage
Mediocrity, thy name is Montreal. Sure, they are squarely in the playoff hunt in the East, but so is practically everyone else. Meanwhile, guys like Michael Bournival (15.8%) are shooting well, but others like Brian Gionta (7.1%) seem to be aiming directly at the goaltender's chest protector. Hit-and-miss teams tend to have hit-and-miss records. Eight for ten.
The net results
You have to get all the way down to 10th (Calgary, at 9.34%) before the trend is bucked amongst the top-shooting teams. It's a little more jumbled in the middle, but for the most part, it's pretty clear that shooting prowess indeed has a positive effect on overall record.
Admittedly, it isn't rocket science, but there's a clear reason why teams are continually looking for that elusive sniper-type player. Given that hockey is a game of inches, a guy that can pick the corners truly makes a difference, and the records this year demonstrate that to a high degree. Up and down the list of 30 teams, you can see that despite the myriad variables of goaltending, physicality, defense, special teams, injuries and other factors, it's usually true that if a team shoots well, they'll win a substantial percentage of their games. The top five shooting clubs have a combined 75-29-9 record as of this writing. If that isn't compelling, I don't know what is.
By the way, that 10th team I mentioned above? It's the Calgary Flames. They always seem to do things differently in Cow-town.
Walter McLaughlin is a Los Angeles Kings correspondent for The Hockey Writers. He is an avid sports fan, having followed the Kings since living in L.A. in the mid-1970's, as well as suffering through Seattle sports teams' general futility. He has a Bachelor's degree in Finance and has worked in community banking for over 25 years, specializing in SBA loans. He is married and has two daughters.