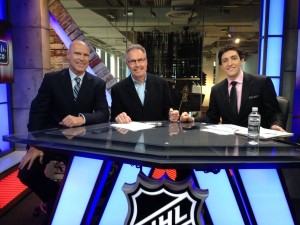 Ted Warren of TheHockeyWriters.com recently had an opportunity to interview Steve Mears, the Host of NHL Live, a flagship show that runs on NHL Network. "Mearsy" as he is known to his peers has been affiliated with multiple NHL clubs including the Pittsburgh Penguins and the New York Islanders.
Mears answered the following questions.
THW: Can you tell us a little bit about yourself and where you're from?
S.M.: I grew up during the 90's in Pittsburgh. Being in that market with the Penguins winning their first few Stanley Cups you couldn't help but get involved in the game of hockey. I was very fortunately at an age where it was the perfect time in somebody's life to become a fan. It was ideal and the timing worked out to where the Penguins won back-to-back Stanley Cups in the 90's. On top of that, they had the most phenomenal announcer in hockey in Mike Lange who still does play-by-play for the Penguins and who's in the Hall Of Fame. I was fortunate enough to grow up listening to him and always thought that was the coolest job and that's how I got into broadcasting.
THW: You talked about working with the Pittsburgh Penguins. How was it working with a NHL powerhouse?
S.M.: They're the gold standard. They're such an incredible organization even if they didn't have on-ice success which we know that they do. Even if you take that out of the equation, they're so incredibly professional and they're such a well-run organization. It starts with the leadership and it all just trickles down. I had such an unbelievable time working with that organization just because they do everything in a first class manner and they're always first class so that stands out. I also go back to the childhood mentality and the opportunity to work for your childhood team. Still to this day I'm rooting for the Penguins. It's in my DNA. My first year with the Penguins was the last year they were in the Igloo. I was so lucky to be there for the finale where I grew up going to games.
THW: You covered the 2012 Stanley Cup Finals before you went full-time with the Network. What can you tell us about the 2012 Finals?
S.M.: I remember how good the Kings were, that's what stands out for me. I was lucky enough to be in the Western Conference for the NHL Network covering the Kings and they just happened to have this magical run where they were unstoppable. Jonathan Quick was tremendous. Every single night they played with this level of confidence and it was almost like they were invincible. You never saw them losing and there was no chance they were going to lose a series, but they had this level of confidence where you thought they weren't going to lose a game. I was able to do some of the reporting there for NHL Network. It was one of the most exciting and rewarding times of my career just because I got the opportunity to follow a historic team on that run and ultimately was on the ice when Dustin Brown raised the Stanley Cup.
THW: After the 2012 season you went on full-time duty with the Network. What do you remember about your first show?
S.M.: The one thing I remember that will standout is E.J. Hradek had something under the desk and he presented me with a wine bottle from Wayne Gretzky which he autographed. It was on the air and I had no idea it was coming at all. He presented and it said, "To Steve best of luck from Wayne Gretzky". I still have it here and I will always appreciate that. It's just the gesture from E.J. and the gesture from Wayne and the gift that is so beautiful. Anything that's autographed by Wayne Gretzky is something I'm going to cherish. That's what will always stand out from that first show.
THW: Now that you have some NHL Network time under your belt, can you walk us through your typical day at work?
S.M.: I usually get in about 11:30 AM and we do news updates that get everyone updated on the storylines of the morning and they air sporadically throughout the day since we tape those. Then from about noon till 4 it's just preparation for the show and a lot of it is about who is playing that night because our show is from 5-7 and it acts as a pregame show for the night's action around the NHL. I'm always looking to see whose playing; what the storylines are, always checking Twitter to see who is in the line-up and who is not.
THW: When is the busiest time of the season?
S.M.: The trade deadline is fairly busy. I would say the playoffs because we have to watch all the games and if you haven't it will be obvious, but I'm a fan. I want to watch all the games every night. Then when the Stanley Cup Finals roll around, we are live on location. There's some travel involved and doing our show on location and that brings a whole new element of the program. People always ask me what is the greatest part about my job and I always answer that I get in for free. To say that I got to go to the Finals last year and watch Chicago against Boston and that it was an incredible series and I got in for free. I'm always very appreciative of that and it's something I would've just killed for when I was a little kid.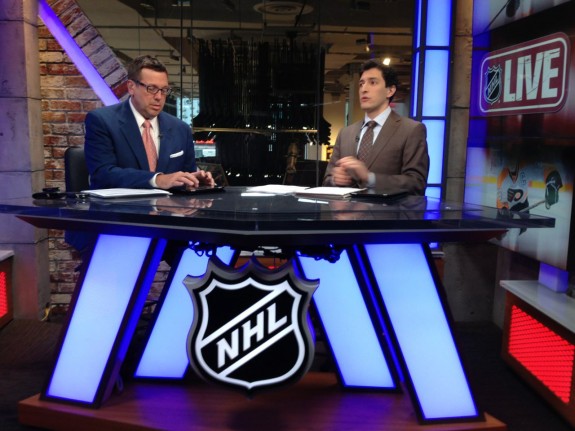 THW: You and E.J. seem to have a very good relationship on-air. What can you tell us about that?
S.M.: We're just good friends. I hope that comes across on the air. It's just two guys who enjoy talking hockey and we enjoy playing the game. We skate together occasionally and we both enjoy playing. I think the passion of the game and the friendship between us is what really helps us to make the show better. At the end of the day, fans want information and want entertainment. They see two guys having fun and it's a fun show about a fun subject and we try not to take it too seriously. We are very lucky we work in a toy department. If it's not fun for E.J. and I, it's definitely not fun for fans.
THW: On live TV things can go haywire from time-to-time. What are some things that have gone haywire on NHL Live?
S.M.: There are technical things that will happen, but you'll have that with any show. They're all just little things. The other day I was doing a show with Ken Daneyko and a big bolt fell out of the desk and made a crashing noise and we're like what if this table just collapses during the show and how funny it would be. I actually wish it would've happened just for the laugh we would get. It's little stuff like that and there's nothing really serious. I like those things. I think the show has to have the element of that live aspect and people have to see that at any moment things can go wrong and 99 times out of 100, it's really funny.
THW: Life can't be all about work. What are some of your hobbies?
S.M.: Living in New York, I wouldn't have a problem with just walking around New York City and I'm lucky enough that I live close enough to Central Park. Living in New York I love the restaurants, food, cooking, eating and they all go hand-in-hand with one another. It's kind of a hobby of mine. I think if I wasn't a hockey broadcaster, I would be a chef. I really love baseball, the Pittsburgh Pirates seeing that I'm from Pittsburgh.
THW: Is there anybody you can't thank enough that has helped you along in your career?
S.E.: Too many to mention. Outside of family it all comes back to Pittsburgh and Mike Lange.  I grew up and listening to him and I'm very lucky that he was the announcer for the Penguins and I was inspired to get into this field because of him. I'll always be in debt to Mike for the influence he had on me and still does to this day. He's kind of became an extra parent for me. I can go back to the days I started working for the Islanders. I was very fortunate that I had these phenomenal people that were around me. My broadcast partner was Chris King who still does the Islanders radio. I couldn't have had a better partner being a rookie in the NHL. The two guys that did the Islanders TV at the time, Howie Rose and Billy Jaffe, are also the best in the business. To have them around to be a good influence on me as someone who was young to the NHL and the professional ranks of broadcasting and to have them teach me the NHL ropes is something I'll always appreciate. I'm very lucky that they're all still my good friends and I will be forever grateful for the things that they have taught me.
Hopefully this will shed some light on Steve Mears and sports Broadcasters everywhere all whom do not get the credit they deserve.
Mears Interviewing BlackHawks GM Stan Bowman
Follow Ted on Twitter @Bauerhockeydude