Chris Kunitz is a very unique hockey player. For instance; not many people make their Olympic debut at 34, it isn't a "prime" age for athletes. But nothing about Kunitz is usual, or average. He's always worked against the tide and nothing has come easy, making all that he has accomplished even sweeter.
Undrafted.
It's always fun to look back on a players career and see where they came from and how they came up. For many stars in the NHL, they've always been under the spotlight. Sidney Crosby gave his first newspaper interview reflecting on his hockey talent at age seven. Evgeni Malkin started playing hockey at age five and had a professional hockey player as a father to mold him. But Chris Kunitz is different.
Kunitz didn't have the glamour surrounding him in high school. He played Junior A hockey in the Saskatchewan Junior Hockey League (SJHL) for two seasons before accepting a scholarship to play hockey for the Ferris St. Bulldogs. He played four years of college hockey and was one of Ferris St.'s best players in the history of their program. But he continued to fly under the NHL media radar.
He went undrafted in the NHL entry draft after his senior year of college and was then signed by the Anaheim Mighty Ducks.
Kunitz as a Duck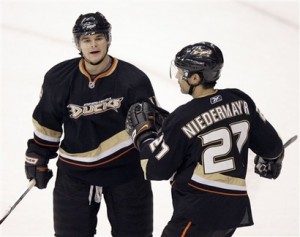 Kunitz split his rookie season between the NHL and AHL and 44 points with the AHL Ducks and 6 for the NHL club. The next season was an entire season long lock-out which meant Kunitz played in 54 games in the AHL scoring 22 goals. He then was sent to Atlanta after being claimed off waivers only to be returned to Anaheim after only two games as a Thrasher.
The frenzy of being released and sent across the country woke Kunitz up. Upon returning to his Anaheim team, he scored 19 goals in 67 games and began making a name for himself. He built upon that success during the next season where he would register 25 goals and 60 points in his first full season in the NHL. In addition to his personal success, he was vital in helping the Anaheim Ducks win the franchise's first Stanley Cup Trophy.
Kunitz was then named an alternate captain for his Ducks, but saw a decline in his production in the midst of many personnel changes. He would finish the 07-08 season with just 50 points.
Kunitz Traded to Pittsburgh
Kunitz started the 08-09 season off slow, as did the Pittsburgh Penguins. Kunitz was traded to the Pens just before the deadline and just after new head coach Dan Bylsma had taken over.  (what many don't know is that Kris Letang was almost traded to Anaheim for Kunitz.)
Ryan Whitney's recall for the Panthers gives the world to remember the hilarity that was the Chris Kunitz trade.

— James O'Brien 📎 (@cyclelikesedins) March 24, 2014
This trade saved Kunitz' career. He scored 7 goals for the Pens in the last month of the season and registered 14 playoff points in route to his second Stanley Cup Trophy in June of 2009.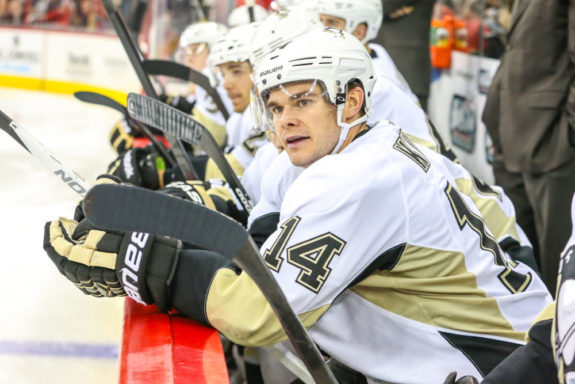 Since becoming a Penguin, Kunitz has scored 123 goals, and has played only one full 82 game season. The 2013-14 campaign is the best he's played in his career. He has already set career highs in goals scored and total points, and the Pens still have 12 games remaining.
Why Chris Kunitz is Successful
Chris Kunitz is an incredible hockey player. He goes to the dirty area's and he works hard for the goals he scores. But he is not a player who can be a centerpiece for a team; he's just the icing on the cake.
Kunitz will get his goals and his presence on the ice is impeccable for the Penguins to succeed. But take Crosby away from Kunitz, and his production will undoubtedly decline. Not because Kunitz isn't great, but because those two together make each other better.
Another reminder to the Chris Kunitz detractors that Ovechkin is the only player in the NHL that has more goals since 2012-2013.

— Dad Chad (@madchad412) March 19, 2014
Kunitz is to Crosby what Scottie Pippen was to Michael Jordan. MJ was and is the best to ever play the game of basketball; Sidney Crosby is and will be one of the greatest players to ever play the game of hockey. Without Pippen, MJ doesn't have 6 championship rings; without Kunitz, Crosby will never get another.
You can't take anything away from Kunitz because he's a great player. But Crosby elevates him to another level. Kunitz would not have made the Gold Medal Canadian team in Sochi without Crosby, plain and simple. Crosby would not have the 15 point NHL scoring lead without Kunitz. It goes both ways.
Kunitz getting traded to Pittsburgh was the best thing that could've ever happened  to him.
And in 10 years when we look back at Kunitz' career as a whole, there will be no argument: Kunitz is a Penguin for life.
Chris Kunitz (273 points) moved ahead of Bob Errey (272) for 25th place on the franchise's career scoring list.

— Seth Rorabaugh (@SethRorabaugh) March 21, 2014