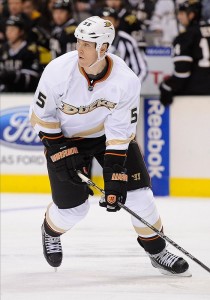 Anaheim Ducks defenseman Bryan Allen was recently assigned to the Norfolk Admirals, the Ducks AHL affiliate, for a brief conditioning stint that lasted two games. The 34-year-old suffered an upper body injury that kept him out of an NHL line-up until November 9th.
During his brief stay with Norfolk, THW's Ted Warren conducted a Q&A interview with Allen.
THW: Who first introduced you to the game?
B.A.: It would definitely be my parents, but growing up in Canada hockey is everywhere and it's part of your heritage.
THW: Can you describe the hockey following back in Kingston?
B.A.: It's huge. It's a big hockey market and there have been a lot of players that have played in the NHL that are from Kingston so there is a lot of pride in the game there.
THW: How did your time in the OHL help you to develop?
B.A: It's a great stepping-stone to a pro level. At a young age you learn how to be a pro and learn what the game is all about.
THW: You won a Silver Medal in the WJC's. How big of a moment was that for you?
B.A.: It was huge! It was one of the biggest memories of my career. Losing the Gold is part of that memory, but looking back it was a great experience. It was in Canada.
THW: Who were your teammates on that team?
B.A.: Simon Gagne, Roberto Luongo, Lecavalier and Rob McVicar–there were quite a few guys.
THW: Taking you back to the 1998 first round draft pick, what do you remember about your draft day?
B.A.: Leading up to it you're really naive to what's happening. It's a dream. You play to get drafted into the NHL and it starts when scouts start watching you. You have meetings with teams and then that day to be called and have your family there. It's a pretty special day for sure.
THW: You cracked the NHL line-up with the Canucks. What do you remember about your first NHL game?
B.A.: I was in the minors to start and then it was in Minnesota that I got called up. It was pretty special to get called up. The game in Minnesota was pretty cool too because it's a loud building and it always pretty full. It was fun and a good memory.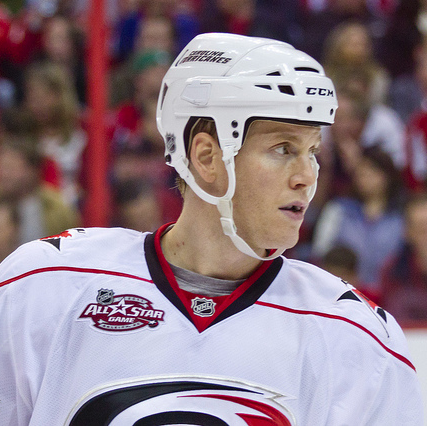 THW: You played for Vancouver, Florida, and Carolina. What's different about Anaheim?
B.A.: I think every team has been different in their own way. Rather it is the city you live in, the coaching you have, the GM that you have or the makeup of your team. I think what's different now is that you're not one of the young guys. You're one of the older guys and perspectives change for sure.
THW: Have you always played with the edge you have now?
B.A.: Yes, that's how I've been able to make it and stay. Being a big player it's kind of expected. I'm not going to go out there and score goals, so I have to find a way to contribute.
THW: What was your most memorable moment with the Ducks so far?
B.A.: Making the playoffs in Detroit, then making the second round. They're good and bad memories, making the playoffs is always good, but they're learning lessons and the devastation of losing is a memory too.
THW: How's the lifestyle in So Cal?
B.A. It's southern California, there's not much to complain about. The weather is great and the family likes it there so it's nice.
THW: With you being an older D-Man, are you in a position to mentor the younger defensemen?
B.A.: I don't know if mentor is the word, but yes I relish the opportunity to play with young guys and if I can help them that's great. They help me as much as I help them so it's great.
THW: Anaheim is not your typical hockey market, the fans there seem to really know and care about their hockey, is that true?
B.A.: Definitely, it changed in the last few years. Anaheim won in 2007 and with the Kings winning the last few years it's really become a hockey market. You see kids playing and you hear people talking about it and the following shows. Even Tuesday night games, we're getting good crowds.
THW: How good does it feel to get a chance to finally get some games in after injury?
B.A.: It's good, I've always known the hardest time to get an injury is at the start of the season. Everyone gets a few games to work the kinks out and feel the pace and timing. When you get hurt like that it puts you behind the eight ball really quickly.