Jeff Skinner crashed a party Monday night. A gathering of some of hockey's elite was joined by Skinner in a party where an invitation is earned not given. The party has two common threads: youth and goal-scoring ability. Carolina Hurricanes' Jeff Skinner has both and is officially now a member of their "youngest player to score a 100 goals" party. In case you missed it in the article I wrote about the 'Canes win over the Calgary Flames, wherein Skinner got goal number 100, here's a look at the goal again:
Skinner passed Eric Staal to slot in at number four on the list of the Hurricanes' franchise youngest to 100 goals.
While Jeff Skinner inched past Eric Staal to fourth-youngest in franchise history to reach 100 goals, it took him 269 games, which was one more game than it took Eric Staal. The three ahead of Skinner for youngest are Sylvain Turgeon, Ron Francis, and Geoff Sanderson.
Turgeon was drafted second overall in the first round of the 1883 NHL Entry Draft by the Hartford Whalers. He had 40, 31, and 45 goals in his first three seasons with the Whalers. Ron Francis, now the Executive VP/General Manager of the Carolina Hurricanes, was drafted fourth overall in the first round of 1981's draft, also by the Hartford Whalers. He had 24, 31, and 23 goals in his first three seasons.
Geoff Sanderson was drafted 36th overall by the Hartford Whalers. He notched 13, 46, and 41 goals in his first three full seasons with the Whalers.
Skinner was drafted seventh overall in the 2010 NHL Entry Draft by the Carolina Hurricanes.
The 22-year old Canadian had 31, 20, and 13 goals in his first three seasons with the 'Canes – the 13 coming in the 42 game season of 2012-13. He is still young by NHL standards, but has never played young. From the outset Skinner has been a great addition to the Hurricanes' roster. He was drafted to be a star and he has shined brightly for a team that has had few bright spots in the recent past.
I recall hearing Skinner's name called at the 2010 draft, and the announcers were touting his figure skating background, while saying there were some questions about his hockey skating. My initial reflexive thought was, "Great." Let's take a look back as Ron Francis announced the Carolina Hurricanes' pick of this Kitchener Rangers star:
Great is what Skinner has been, and his skating skills have helped his surge to greatness. He is artistic yet tenacious, a natural goal scorer. He has been a constant on a team that has not had much in the way of positive consistency. He is every much the veteran influence for younger players coming to Raleigh, remarkable in that he is only 22.
Can Jeff Skinner Stay Healthy?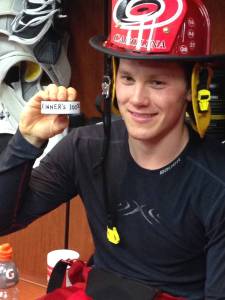 One of the concerns about Jeff Skinner is his history of concussions. He has had at least three in his young career. Most recently, on October 5th he was hit in the head in a preseason game against the Washington Capitals. He was diagnosed with a concussion and missed several regular season games. Skinner returned to the lineup during the Hurricanes' trip to Canada, getting his first regular-season ice time in the game versus the Winnipeg Jets. I wrote about Skinner's return and the challenges with concussions here.
So far this season Jeff Skinner has played in ten games. He has three goals and three assists for a total of six points.
Starting slow. Coach Peters relegated him to the fourth line a couple of games ago, he wasn't there long. Frankly I don't think he cares what line he's on. His play will earn him ice time and legitimate scoring opportunities.He is currently on a three-game points streak with two goals and two assists in the last three outings. He has scored and figured in assists that have helped the Hurricanes maintain winning momentum. The 100-goal milestone has been reached for Jeff Skinner. If he can stay healthy, I think he's just getting started, and will have a fabulous career with the Hurricanes. He'll be crashing into other elite parties no doubt, etching his name into hockey lore along with the greats who have gone before him. Congratulations to Jeff Skinner on 100 goals.
Mark lives in the Raleigh, NC area and covers the Carolina Hurricanes.