With the cancellation by the NHL of regular season games until January 14, 2013, the main hockey event of the Christmas Holidays for crazy hockey fans will be the upcoming 2013 World Junior Championship that will be played in Ufa, Russia. For fans of a QMJHL team, it will be a great opportunity to watch their favorite player perform on the international stage.
The tournament, which is slated to begin on December 26, 2012 when Latvia faces Finland at the Sports Palace, will end on Saturday, January 5, 2013 with the Gold Medal game. With a time difference of eleven hours with the Eastern Day Time, hockey fans will have to wake up early or go to bed late to catch most games live. You can find the full schedule here.
Several teams from the QMJHL are represented at this year's tournament, with the Quebec Remparts and the Halifax Mooseheads sending 3 players each.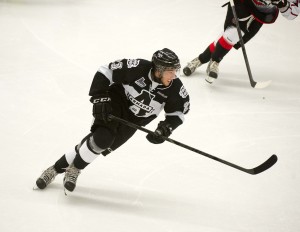 Blainville-Boisbriand Armada
One of two players representing the Armada will be American-born forward Stefan Matteau. Son of former NHLer Stephane Matteau and born in Chicago, Illinois, Matteau was drafted 29th overall at the 2012 NHL Entry Draft by the New Jersey Devils. The left-winger is having a good season in Blainville-Boisbriand, recording 15 goals and 10 assists for 25 points in 29 games with an impressive +15 plus/minus rating. During yesterday's game vs Sweden, Matteau played on Team USA's fourth line in an energy role. Look for the 6'2", 215-lb to have a bigger role against more physical teams like Canada and Russia.
The other member of the Armada heading to Ufa, is defenseman Xavier Ouellet. The offensive rearguard who was selected 48th overall at the 2011 NHL Entry Draft by the Detroit Red Wings will be one of Team Canada's power play quarterbacks. In 26 games with the Armada this season, Ouellet has recorded 5 goals and 20 assists for 25 points. The 6'1", 190-lb defender is currently paired with Maple Leafs' prospect Morgan Rielly on defense.
Chicoutimi Saguenéens
The Cezch Lukas Sedlak will head to Ufa with several other players from the Q. The 6'0, 200-lb pivot has scored 11 goals and 12 assists for 23 points in 33 games for the Sags. The 19 year-old is currently undrafted and he could receive an invitation to a professional training camp with a strong tournament.
The diminutive forward Charles Hudon, drafted 122th overall at the 2012 NHL Entry Draft by the Montreal Canadiens would have been an important player for Team Canada. Hudon, a great two-way forward, would have been used in a shut-down role despite recording 18 goals and 18 assists for 36 points in 27 games this season. Unfortunately for Hudon, he will not be able to play in the tournament due to a severe back injury.
Drummondville Voltigeurs
The lone representative for the Voltigeurs will be Swiss centre Lukas Balmelli, who has a meagre production of 2 goals and 4 assists for 6 points in 30 games this year.
Gatineau Olympiques
Two players from Gatineau will head to Russia for the WJC this year. Tomas Hyka, the team's second scorer with 10 goals and 17 assists for 27 points in 29 games will represent Czech Republic, while Martin Reway, who has recorded 11 goals and 14 assists for 25 points in 24 games, will dress for Team Slovakia. The former was drafted 171st overall by the Los Angeles at the 2012 NHL Entry Draft, while the latter will turn only 18 years-old in January.
Halifax Mooseheads
Three players will represent the Mooseheads at the World Junior Championship this season. Drafted 49th overall at the 2012 NHL Entry Draft by the Detroit Red Wings, Martin Frk will be a key cog of Czech Republic's offense. The inconsistent Frk has improved his overall game this season, notching 13 goals and 25 assists for 38 points in 28 games for the powerful Mooseheads. The 6'0", 200-lb right winger will have to produce offensively to give his country a chance to play for a medal.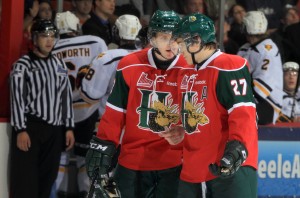 Hyped prospects Nathan MacKinnon and Jonathan Drouin both managed to make Team Canada despite being 17 years-old, a feat that even Ryan Nugent-Hokpins was unable to accomplish last season. Both players have been dynamite for Halifax this year with a respective production of 48 points (19 g and 29 a) in 24 games for Drouin and 52 points (22 g and 30 a) in 30 games for MacKinnon. Currently playing on different lines, it is a matter of time before Team Canada's coach staff realize their are making a mistake and reunite both players.
Moncton Wildcats
While he was born in Russia, forward Dmitri Jaskin will dress for Czech Republic where he played his youth hockey before heading to North America. The 6'3", 205-lb left-winger has recorded 23 goals and 27 assists for 50 points in 31 games in his rookie season with the Wildcats. The 19 year-old Jaskin was drafted 41st overall in 2011 by the St. Louis Blues.
Prince Edward Island Rocket
A pair of players from the Rocket will play in Ufa as membres of Team Czech Republic. Imposing left-winger Matej Beran, who has recorded 6 goals and 6 assists for 12 points in 18 games for the Rocket will have an energy role.
Also heading to Russia is rearguard Tomas Pavelka who has notched 6 goals and 20 assists for 26 points in 29 games with a +12 plus/minus differential this season. The offensive blue liner will be a cornerstone of the Cezech defense, along with Sidlik and David Musil of the Edmonton Oil Kings of the WHL.
Quebec Remparts
The Remparts will send two Europeans to the tournament. First, Mikhail Grigorenko, who will be a key element of Team Russia. The Russian dynamo has scored at almost a one goal-per-game pace with 29 goals and 21 assists for 50 points in 30 contests this season. Drafted 12th overall by the Buffalo Sabres in 2012, Grigo will carry the load offensively along with Alexander Khokhlachev and Nail Yakupov.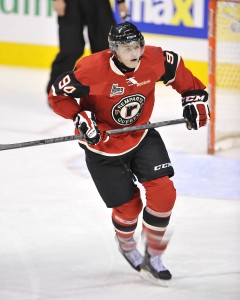 Then, Danish-born winger Nick Sorensen, will participate in the tournament for Team Sweden. In 26 games with Quebec this season, the 2013 draft-eligible Sorensen has scored 9 goals and 16 assists for 25 points to go along with a +13 plus/minus rating. The performance of the young Dane will be worth monitoring as some draft experts believe the 6'1", 175-lb right winger could be drafted in the first round.
Rouyn-Noranda Huskies
One of two players from the Q playing for Team Switzerland, Sven Andrighetto will be a very important player on his squad. The undrafted gem, who recently signed a professional contract with HC Genève-Servette of the Swiss League, has recorded 20 goals and 30 assists for 50 points in 28 games with the Huskies. Andrighetto will return to Rouyn to finish the season before heading to Switzerland next season if he doesn't receive a training camp invitation by an NHL team next summer.
Recently acquired from the Quebec Remparts, Nikita Kucherov will also participate in the tournament for Team Russia. The talented right winger has recorded a combined 9 goals and 13 assists for 22 points in only 13 games this season between Quebec and Rouyn-Noranda.
Saint John Sea Dogs
The 3rd overall pick in 2011 by the Florida Panthers, Jonathan Huberdeau, will be an alternate captain for Team Canada. The super-skilled left winger will most likely play on the team's first line with Ryan Nugent-Hopkins and Mark Scheifele. Huberdeau has recorded 16 goals and 29 assists for 45 points in 29 games this season for the rebuilding Sea Dogs. It will be his second and last World Junior Championship.
Shawinigan Cataractes
Goaltender Marvin Cupper is the Cats' lone representative in Ufa. The German netminder who is undrafted, is having a tough campaign with the lowly Cataractes, posting a 6-17-2 record with a 3.57 GAA and .895 save percentage.
Val d'Or Foreurs
Two Foreurs players will represent them at the World Juniors this year, and both will dress for Team Russia. The first player is offensive-minded defenseman Artem Sergeev who has scored 5 goals and 18 assists for 23 points in 29 contests this season.
The second is Memorial Cup hero, Anton Zlobin, who scored the game-winning goal in overtime for the Shawinigan Cataractes last Spring. Zlobin has been dominant in his first season with Val d'Or, recording 15 goals and 25 assists for 40 points in 30 games.  Unfortunately for Zlobin, who was drafted 173th overall by the Pittsburgh Penguins last June, he was a last-minute cut by Team Russia and won't make the trip to UFA.
Victoriaville Tigres
Forward Phillip Danault as well as rearguard Petr Sidlick are both heading to Russia for the WJC. Danault finally made the team after being cut from Team Canada last year. The versatile forward who was drafted 26th overall in 2011 by the Chicago Blackhawks, has recorded 14 goals and 30 assists for 44 points in 29 games with Victoriaville. The two-way forward will mainly used as a penalty killer, especially with Hudon's injury.
Sidlick, a puck-moving defenseman, will suit for Czech Republic in Ufa. The 5'11", 180-lb blue liner has scored 4 goals and 14 assists for 18 points in 31 contests for the Tigres this season.
Follow me on Twitter for more updates on the World Junior Championship and the CHL in general.