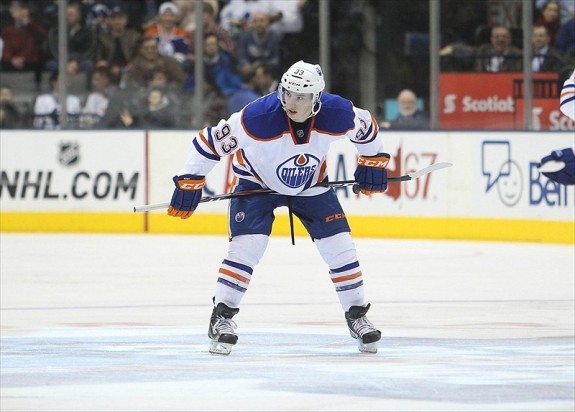 The 2013 World Junior Hockey Championships are less than a week away and the Edmonton Oilers are sending one of the more impressive complements over to Ufa, Russia.
The Oilers are sending 5 players to compete and could have been 7 if not for injury.  The also have arguably the two best players of the tournament in Ryan Nugent-Hopkins and Nail Yakupov.
In addition to Nugent-Hopkins and Yakupov, forwards Danil Zharkov and Tobias Rieder and defenceman David Musil will compete for their respective countries.  Top prospect defencemen Oscar Klefbom and Martin Gernat will not be going due to injury.
With the exception of Zharkov, all of the Oiler prospects playing are among their team's top players and will be key performers for each.  Not that Zharkov will not play an important role, he certainly has the talent to, however he can not be considered in the same conversation as names like Nail Yakupov or Mikhail Grigorenko on the Russian roster.
While it's disappointing not to see all players eligible, and Klefbom and Gernat would also have been heavily counted on by their teams, Oiler brass will certainly be watching with anticipation at their young investments playing in the world's top junior tournament.
Here's a look at the players going and how they may impact their team's chances in Ufa.
1. Ryan Nugent-Hopkins, Forward – Canada
The top name at the tournament, RNH is the only player there that has a full year of NHL experience and has played in a Men's World Championships.  Arguably the top player on the top team going into the tournament, he will lead a very strong Canadian team.
An exceptional playmaker with elite vision and hands, Nugent-Hopkins will captain Team Canada and be their top centre and offensive leader.
He's proven he can produce at the highest level, and if he plays as expected he and Canada will be tough to beat.
2. Nail Yakupov, Forward – Russia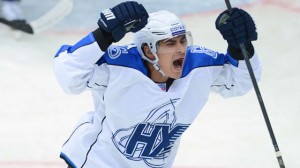 Next to Nugent-Hopkins, he's the biggest name at the WJC tournament and will be the most dynamic player in Ufa.
A safe bet to be playing in the NHL if there were no lockout, Yakupov is making the most of his skills with his hometown Nizhenekamsk Neftekhimik of the KHL awaiting his Oiler debut.
Fast, explosive, great hands and a wicked release, Yakupov is dangerous all over the ice and lethal off the rush.  Similarly to Nugent-Hopkins, he will captain and lead Russia's offence at the tournament.
If Russia has success on home soil, Yakupov will be front and centre and a catalyst for the attack.
3. David Musil, Defenceman – Czech Republic
One of the more NHL ready defencemen in junior hockey, Musil will be key to any success the Czechs have.  He played big minutes in last year's tournament as an 18 year old and will be counted on to log big minutes again this year.
A steady, physical defenceman, Musil is rarely caught out of position.  You can bet he'll be on the ice against the other team's top players.  A defensive defenceman by trade he will be a rock solid presence in the Czech zone and chip in a little offence along the way.
4. Tobias Rieder, Forward – Germany
The Oilers 4th round pick in 2011 is the only NHL drafted player on the German roster.  A 42 goal scorer last year with the OHL's Kitchener Rangers, the 19 year old winger will be counted on to lead their offence.  Last year he had 13 points in 5 games at the WJC.
He is somewhat undersized, but sees the ice extremely well and can make plays in tight and in traffic.  Soft hands and very creative with the puck.
5. Daniil Zharkov, Forward – Russia
All the tools you could want in an elite forward, great size at 6'3″ 195lbs, fluid skater and great hands and shot.  However, it has been putting all of these assets together consistently that has been the problem for Zharkov, not unlike many elite Russian talents.
He won't be counted on to carry the offence with names like Yakupov, Grigorenko, Khoklachev and Zlobin, but could be valuable if he can provide secondary scoring.  Aside from Canada, there are few teams that have a depth forward with this much offensive talent.
It hasn't translated on the score sheet yet for his Belleville Bulls, but the Oilers (and Russia) are hoping it shows up for them.
*Oscar Klefbom, Defenceman – Sweden – injured, will not play
Klefbom has been out since early November with a shoulder injury.  The team's top defence prospect (outside of Justin Schultz) would have been one of Sweden's top defenceman.  An excellent skater with great offensive instincts, he would have played a large role for them.
"Yeah, that's hard," he said. "Of course, I was looking forward to the World Juniors, but it is what it is, so I just have to look forward to next season.

"Now, my next goal is to have good rehab after the surgery and then have a good summer camp. I want to keep my head up, stay positive and come back even stronger. This is my first serious injury."
It will be hard for the Swede's to repeat this year missing two of their top defencemen in Klefbom and Jonas Brodin due to injury and the fact that last year's hero, Mika Zibanejad was not given permission to participate by the Ottawa Senators.
*Martin Gernat, Defenceman – Slovakia – injured, will not play
Yet another Oilers prospect with a shoulder injury, Gernat went under the knife in September, and is rehabbing his way back to being on the Edmonton Oil Kings blue line.
An offence first defenceman with good size, his skating and passing ability would have really helped a Slovakia squad in need of talent.