The Quebec Major Junior Hockey League's trade deadline has come and gone but not before a small group of teams separated themselves from the rest of the pack to venture deep into the playoffs. Newly acquired players have had a few weeks to settle into their new lineups as we take a look at the favourites to bring home the 2016-17 Presidents' Trophy and represent the QMJHL in May's Memorial Cup tournament.
Saint John Sea Dogs
Why They Could Win:
The Saint John Sea Dogs are loaded up front, on the blue line and in net thanks to some quality additions prior to the QMJHL trade deadline. The team leads the league in both power play percentage (29.6%) and penalty kill percentage (84.4%) and is 8-2 since the trade period ended.
The biggest question mark surrounding the Sea Dogs since training camp had been their goaltending. General manager Trevor Georgie addressed that concern by adding fourth-year veteran Callum Booth to the fold. The 19-year-old Booth, a fourth-round pick of the Carolina Hurricanes, is widely considered to be one of the premiere goaltenders in the QMJHL and could be the final piece in Saint John's championship puzzle.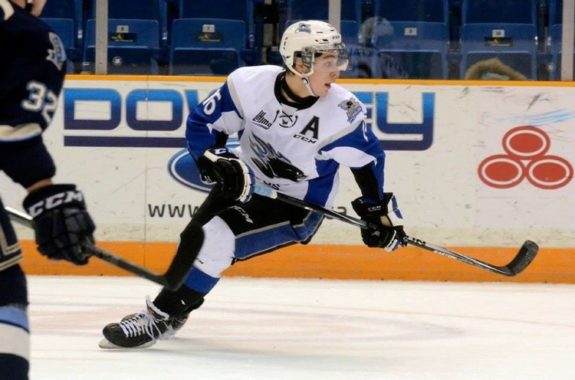 Up front, the Sea Dogs were as deep as anyone prior to the trade deadline but decided to inject more offense into their lineup before rosters had to be locked in. Immediately following the conclusion of the World Juniors, the team added first-round NHL draft pick Julien Gauthier to their already loaded forward unit. The 6-foot-4 sniper should feel right at home in Saint John where he is joined by Team Canada teammate Mathieu Joseph (TB).
Other notable forwards on the roster include highly touted 2018 NHL draft eligible prospect Joe Veleno, Hurricanes draft pick Spencer Smallman, team captain and leading scorer Matthew Highmore, Chicago Blackhawks prospect Nathan Noel, Philadelphia Flyers pick Samuel Dove-McFalls and the ever-intimidating Bokondji Imama who is property of the Tampa Bay Lightning.
Saint John's defense is led by two big-time prospects in Ottawa Senators' first-round selection and World Juniors standout Thomas Chabot as well as Boston Bruins first-rounder Jakub Zboril. Former Rimouski Oceanic captain and Montreal Canadiens sixth-round pick Simon Bourque was another excellent trade pick up and he has had no trouble fitting in with his new team.
Saint John continues to battle for first place in the overall standings as their new acquisitions start to gel and become more accustomed to new teammates and tactics.
Potential Downfall:
Bad luck or injuries. The Sea Dogs have had their share of injuries this year as various bumps and bruises have resulted in several players missing time throughout the season. Head coach Danny Flynn can only hope that the worst is behind them as his team battles through the stretch drive and into the playoffs.
Booth has struggled since arriving in Saint John but has started to turn things around with a 1.50 goals-against average and a 0.932 save percentage over his last four contests.
Rouyn-Noranda Huskies
Why They Could Win:
The defending Presidents' Cup champions, the Rouyn-Noranda Huskies are focused on doing everything in their power for a repeat performance with one exception: to win the Memorial Cup.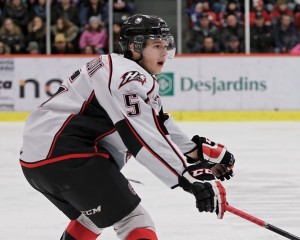 The team has a good bulk of the core from last season's championship lineup and, just like one year ago, refrained from going trade crazy at the deadline. Last season, the team made only a couple of roster moves but they made an impact as they acquired star players Timo Meier and Nikolas Brouillard for their playoff run.
It was much of the same strategy for GM Gilles Bouchard during this year's trade period. The team made only a handful of moves in order to avoid disrupting the chemistry in the locker room and on the ice.
The Huskies added another scorer and defensively responsible forward in San Jose Sharks prospect Manuel Wiederer, a back up goaltender in Oliver Tremblay and some leadership with additions of former Moncton Wildcats captain Lane Cormier up front and former Halifax Mooseheads' captain Taylor Ford on the blue line.
Rouyn-Noranda has a deep forward lineup headed by top scorers Jean-Christophe Beaudin (COL) and Antoine Waked. The team is also getting point-per-game production from Wiederer, Martins Dzierkals (TOR), Alexandre Fortin (CHI) and Gabriel Fontaine (NYR).
On the back end, the team boasts what could be the best one-two punch in the league with Team Canada teammates Philippe Myers (PHI) and captain Jeremy Lauzon (BOS).
Potential Downfall:
Goaltending and the health of Myers. The Huskies relied on an all-world performance from netminder Chase Marchand on their way to the Presidents' Trophy last season. Marchand led Rouyn-Noranda all the way to the championship with a 0.946 save percentage in 19 playoff games.
This year, the team will be relying on veteran Samuel Harvey to do the same. Harvey has a respectable .903 save percentage on the year but that may not be good enough to help his squad repeat as champions.
The Huskies' tower on the back end, Myers, has not played a single game since suffering a concussion with Team Canada at the World Juniors. The 6-foot-5 rearguard is at home in New Brunswick as he continues to experience concussion-like symptoms. There's no timeline as to when the star defenseman will be getting back on the ice but his return to health would provide a major boost to Rouyn-Noranda's chances of defending their title.
Shawinigan Cataractes
Why They Could Win:
The Shawinigan Cataractes have surrendered the fewest amount of goals in the QMJHL while also ranking in the top four in goals for. The team is well-rounded, employs solid goaltending and has a top five power play and penalty kill.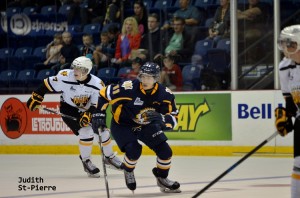 Shawinigan's forward corps is made up of several high-end playmakers and finishers including Tampa Bay draft pick Dennis Yan who is in the middle of his third consecutive season scoring at better than a point-per-game clip.
Yan is joined by overage sniper Alexis D'Aoust, a prime candidate to land an NHL free agent contract, Brandon Gignac (NJ) and recent acquisition Cameron Askew are other notable impact forwards on the roster.
The blue line is anchored by Nashville Predators' second-round draft pick Samuel Girard and Sharks prospect Cavan Fitzgerald. The 5-foot-9 Girard, an offensive dynamo, leads all QMJHL defensemen in scoring and is a big reason for the success Shawinigan has had on the power play.
Russian puck stopper Mikhail Denisov, who moved to Boston in 2013 to play for the Junior Bruins, is having a solid sophomore season in the QMJHL. The second-round pick in the 2015 QMJHL draft ranks third league-wide with a 0.910 save percentage.
Potential Downfall:
Lack of high quality depth. The Cataractes have a good lineup but could have had a huge boost in scoring had the New York Islanders chosen to return former captain Anthony Beauvillier to the team for his 19-year-old season. There was also some thought that the Senators would send second-round NHL draft pick Gabriel Gagne back to junior for his overage season but that didn't happen.
Nevertheless, the Cataractes are atop the QMJHL standings with 20 games left to play in the regular season and they hope that their success carries over to the playoffs.
Wildcards
Blainville-Boisbriand Armada
The Blainville-Boisbriand Armada made a huge splash just prior to the trade deadline by acquiring the third-overall pick from last June's NHL Entry Draft, Pierre-Luc Dubois (CBJ) from the Cape Breton Screaming Eagles. GM Joel Bouchard also picked up point-producer Alex Barre-Boulet in an effort to transform his low scoring squad into a powerhouse.
The Armada have a solid goalie in Samuel Montembeault (FLA) who is capable of stealing a series or two but they also suffered a huge hit on the blue line when star defender Jeremy Roy (SJ) went down for the season with a knee injury.
Charlottetown Islanders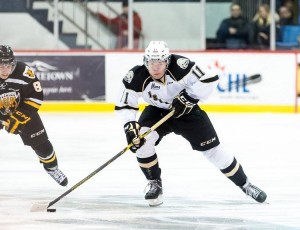 The Charlottetown Islanders made everyone take notice as GM Jim Hulton went all-in during the trade period and reeled in several big tickets in his attempt to swim with the big fish.
The Islanders traded for highly-coveted defenseman Nicolas Meloche (COL) and no. 1 goalie Mark Grametbauer. This was followed by the acquisitions of Sherbrooke Phoenix captain Carl Neill (VAN), Anaheim Ducks prospect Alex Dostie, Detroit Red Wings draft pick Adam Marsh and the league's leading scorer at the time, overage forward Francois Beauchemin. Not to mention, perhaps the biggest pick up of them all, the return of Pittsburgh Penguins prospect Daniel Sprong who was finally cleared to play following recovery from shoulder surgery.
All of these players were added to a team already boasting the likes of Guillaume Brisebois (VAN), Filip Chlapik (OTT), and 20-year-0ld Kameron Kielly. The team hasn't had a ton of success since all the changes took place but if the new guys start to gel then Charlottetown could be a team making a lot of noise come playoff time.