The New York Rangers made several low-profile signings back in free agency. Of those signings, was 27-year-old center, Colin Blackwell. Though it was mundane news back in early October 2020 when the signings were made, Blackwell has well exceeded the expectations held by the Rangers' organization. 
The Harvard University alum was drafted by the San Jose Sharks in the 2011 NHL Entry Draft — he went 194th overall. Though he never got ice time with the Sharks, in 2018 he signed during free agency with the Nashville Predators. He appeared in 33 total NHL games with the team in two seasons. His underwhelming first run with the Predators left him with zero points in six games during the 2018-19 season. 
His second crack at the big leagues came the following season when Nashville recalled him from the American Hockey League (AHL) due to his impressive 23 points in 26 games. After he joined the Predators, he recorded three goals and se'ven assists in 27 games in 2019-20, but it wasn't enough to earn him an extension in Nashville. Thus, he found himself in the middle of another free agency frenzy.
Blackwell's Journey as a Ranger
The former Predator, with much to prove, started the season assigned to the Rangers' taxi squad following his training camp invitation. He knew to make the most of each opportunity with the traveling squad and before he knew it, he was recalled on Jan. 24 set to face the Pittsburgh Penguins.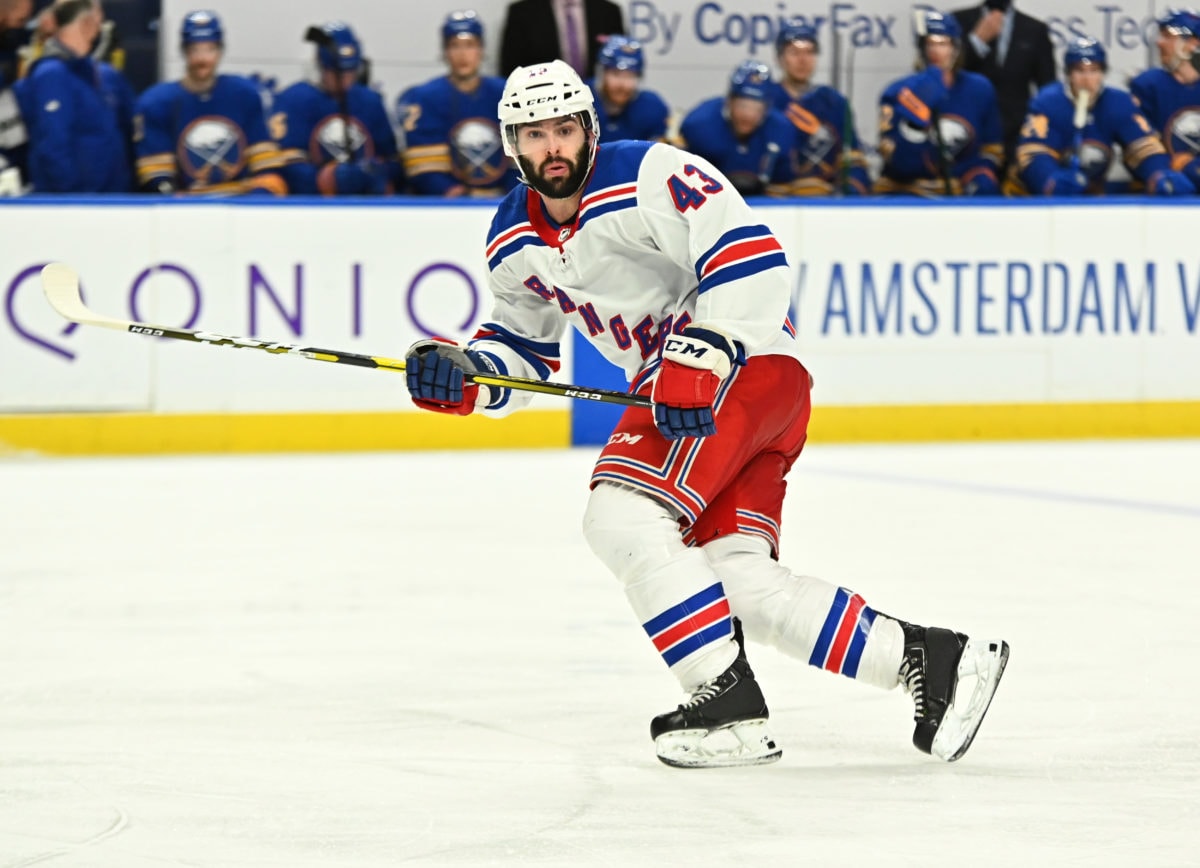 Though he was summoned to replace winger Brendan Lemieux's spot in the lineup and the Rangers' face a lack of depth at center, Blackwell checks off multiple boxes for his new team. He told the media, "I've kind of been a swiss army knife the last several years of my career… I think last year in 30 games I played 10 at left wing, 10 at right wing, 10 at center… I got to play up and down the lineup." 
Not only did he have the experience of playing multiple roles, he was also exposed to the skilled players of the Predators squad. The style of the Predators showcases a gritty, hard-nosed play, a type of game the Rangers could try to emulate. It was a longshot that he would stand out in that roster, but despite his short Nashville career, he transitioned to New York just fine.
Fine enough that he scored in his debut game as a Ranger against the Penguins. Yet he would step up even more. In his next two games, he picked up the primary assists on two goals belonging to two young stars of the team. The latter of those two goals also ended up being the overtime game-winning-goal, which means Blackwell was awarded with important shifts in crucial game situations — rightfully so. 
Beyond his point-per-game collection, he has shown the capabilities of his two-way game, undoubtedly skills he refined from Nashville. Prior to his perfectly executed pass to Alexis Lafreniere to end overtime, Blackwell stole the puck from Buffalo Sabres captain, Jack Eichel, then once more broke up Eichel from the puck just in time to send it over to the Rangers' first-overall draft pick for his own first NHL goal. Noted.
Blackwell's Future on Broadway
While it's much too soon to determine Blackwell's longevity with the organization, he will forever be etched into Rangers' history with his assist on Lafreniere's long-awaited first goal. Lafreniere's goal also made him the first-ever first-overall pick to score his first NHL goal in an overtime situation, as per sports anchor, Bruce Beck. 
As seen this season, head coach David Quinn does not shy away from rotating skaters in and out of the lineup, but hopefully Blackwell stays healthy and in the lineup, ready to help contribute to the Rangers' success. Quinn, on a number of occasions, acknowledged his impressive performance and could steadily increase Blackwell's responsibilities. He has certainly done all the right things in his short stint thus far. 
Early on in his Rangers campaign, he has showed he is an alert presence on the ice with an inclination to compete every shift. He exhibited his ability to make plays, find his teammates, and work around opponents in just about each game he played. His prior experience on different lines gives reason to believe he can improve even more with the club.
Blackwell once again faces the challenge to prove himself as there are numerous outcomes to the upcoming Seattle Expansion Draft. The forward, who brings speed, emotion, and versatility is no stranger to adversity and will surely continue to use all of his opportunities to his advantage.  
Though Blackwell played last night against the Penguins, he suffered an upper body injury during the game and is still under evaluation.  The Rangers meet the Penguins again Monday night.
---
---