With all that has gone wrong for the New York Rangers so far in 2020-21, the most costly setback might not have to do with the club's early stumble out of the gate.
While the Rangers struggle to find their confidence and recapture the level of play that carried them into the NHL's qualifying round last season, it's the injury to young center Filip Chytil that has the potential to be devastating, both this season and into the near future. That's because the 2020-21 campaign, expected to be a crucial one for the development of the young talent accrued by the front office over the past three years, was expected to give the Rangers some clarity on their situation at center, where the organization remains woefully lacking in depth.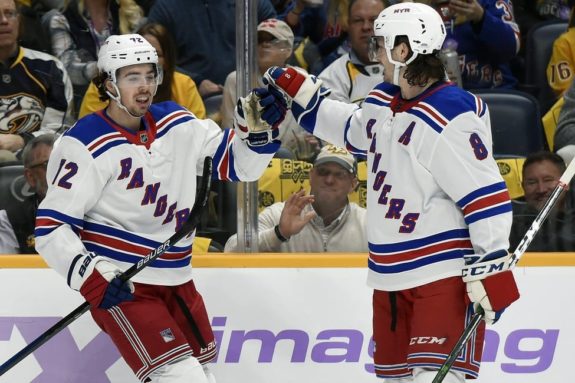 It is Chytil's development (or lack thereof) that will play a primary role in whether general manager Jeff Gorton decides he needs to pursue outside solutions to fill the holes in the middle – and Chytil looked to be on his way to making the GM's answer to that question a clear "no." The 21-year-old had opened the season appearing ready to take a major step forward, finally putting together the size, speed and high-end puck skills that compelled the Rangers to select him 21st overall in the 2017 draft.
Chytil delivered two goals and an assist in the first four games while posting a plus-three rating, and he was one of the Blueshirts' best players in that short time. Despite his continued struggles at the faceoff dot, he was brimming with confidence while finding chemistry on the third line with fellow young forward Kaapo Kakko, a very exciting development for two members of an expected long-term core on Broadway. Chytil's start gave the impression that he might replace Ryan Strome as the second-line pivot sooner rather than later.
Chytil Was Playing Like No. 2 Center Rangers Desperately Need
Then came Sunday's matchup with the Pittsburgh Penguins.
Chytil collided with Pens center Evan Rodrigues in open ice in the second period and stayed down for several minutes, suffering what the team has termed an "upper-body" injury that will keep him out four to six weeks. Trainer Jim Ramsey appeared to be working on Filip's left hand or wrist on the bench before Chytil departed for good.
In a season shortened to 56 games due to the pandemic, the loss of Chytil is devastating for numerous reasons.
"It's really disappointing. I feel for Fil big-time," coach David Quinn said. "He certainly was getting off to a really good start. We all were kind of watching him evolve into the player we know he's capable of being.
"Really a tough blow for him personally and a blow for our team. You lose a center of that caliber, those guys aren't easy to find." (From 'Rangers Scrambling to Replace Filip Chytil After Crushing Injury Update', New York Post, 1/26/21)
No, they aren't. And that's what makes Chytil's injury so costly for this club: this abbreviated season should have served as an audition for the Czech, who, with a long-awaited breakout season, could have convinced team brass that he was the clear No. 2 center of the future behind Mika Zibanejad. While it's still possible for him to do so, it will hardly be surprising if Chytil isn't at full strength or effectiveness for whatever remains of the schedule when he returns.
The newfound uncertainty means that Gorton may indeed have no option but to start looking around for help down the middle. Quinn's comments coming before the Rangers opened a two-game series against the Buffalo Sabres was timely, considering one of the GM's potential targets plays in Western New York.
Do Rangers Now Ramp Up Pursuit of Eichel?
That would be Jack Eichel, the blossoming sixth-year player who in September reportedly expressed frustration with the losing in Buffalo, with the Sabres' front office fielding calls about his availability. One of the teams that inquired was said to be the Rangers.
The possibility of such a trade – and it's probably a long shot – should excite and worry Rangers fans at the same time. On the one hand, there would be the pure excitement of acquiring the second overall pick in the 2015 NHL Draft who has become a franchise center. Just 24, Eichel recorded 160 points over the past two seasons – including a career-high 36 goals in 2019-20 – suggesting the best might be yet to come. He put on an unintentional audition for Gorton and the front office with a goal in each game against the Rangers this week, a 3-2 Sabres win Tuesday and an exhilarating 3-2 Rangers overtime victory Thursday that left them at 2-4-1 going into Saturday's Madison Square Garden matchup with the Penguins.
Yet the path to getting Eichel into a Blueshirt, and constructing a workable roster should the front office actually be able to acquire him, would be expensive in numerous ways. First, the Sabres would demand an exorbitant package for any trade suitor – in the Rangers' case, it would probably include names like Kakko, Vitali Kravtsov and probably Chytil. While there would be room for negotiation – and the Rangers have the young assets to get such a deal done – how much young talent would they want to give up? Eichel won't come at a discount.
Then there's cost of adding another $10 million per-year contract to the salary cap. Eichel is signed for five more seasons after this one at the $10 million cap number. Add that pact to a team that's already paying Artemi Panarin $11.6 million per through 2025-26, and you'd have two players eating up 26.5 percent of the Rangers' cap.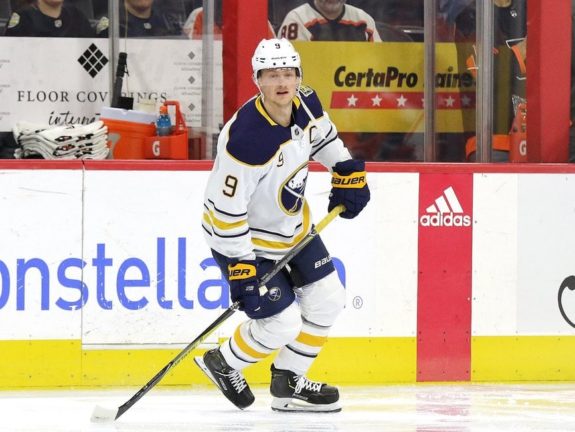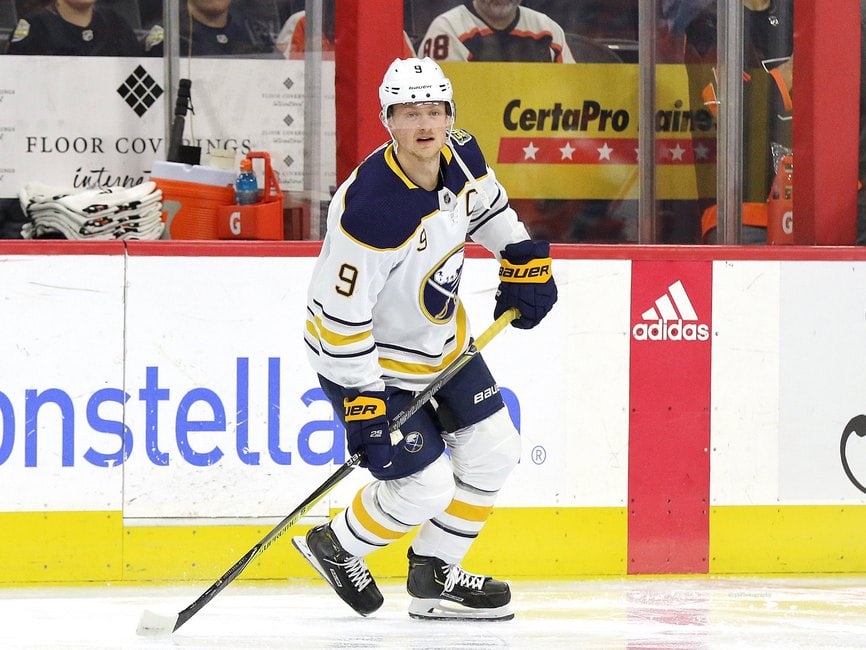 The front office has planned to dole out a big contract to a center soon – but the expectation is that it will be Mika Zibanejad, who after two more seasons of being the biggest bargain in the NHL at $5.35 million per, comes due for a raise commensurate with his production after 2021-22. If the Rangers add Eichel, how will they pay Zibanejad – not to mention the multitude of rising young stars whose entry-level contracts expire over the next few seasons?
The only team in the league with three contracts of $10 million or more is the Toronto Maple Leafs – and they don't have the group of rising but inexpensive youngsters who will need significant raises soon as the Rangers do. Assuming Zibanejad nearly doubles his salary to the $10 million range, the Rangers would be devoting nearly 40 percent of their cap to three players for years going forward – and the entry-level deals of Kakko, Chytil, Alexis Lafreniere, Igor Shesterkin, Adam Fox, K'Andre Miller and Ryan Lindgren all expire by the end of the 2022-23 season.
Even if you assume at least two of those players would be going the other way for Eichel, that's still a bunch of kids that need to get paid. Doing so will be nearly impossible if Panarin, Zibanejad and Eichel are all getting $10 million-plus per season – particularly with the flat cap being a part of the NHL's financial landscape for the foreseeable future.
Rangers Might Have to Choose Between Eichel, Zibanejad
Simply put, the Rangers will probably have to pick between acquiring Eichel and re-signing Zibanejad. And would adding Eichel, and sending away the significant trade capital that would be required to land him, make the Rangers significantly better than if they just re-up Zibanejad?
Spending nearly 40 percent of a salary cap on three players, while also sacrificing the young depth needed to acquire one of those players, doesn't seem like a viable path to perennial championship contention – especially with plenty of high-end talent that's been procured over the past three years needing to be locked up long-term as well.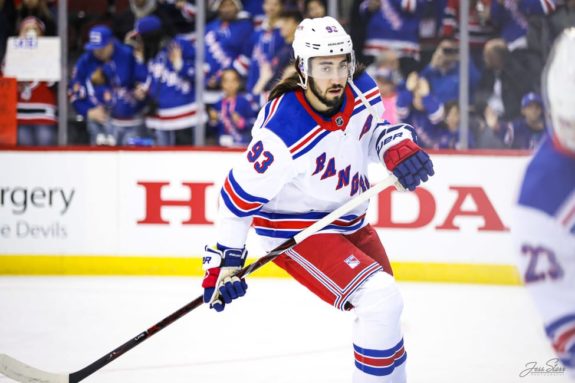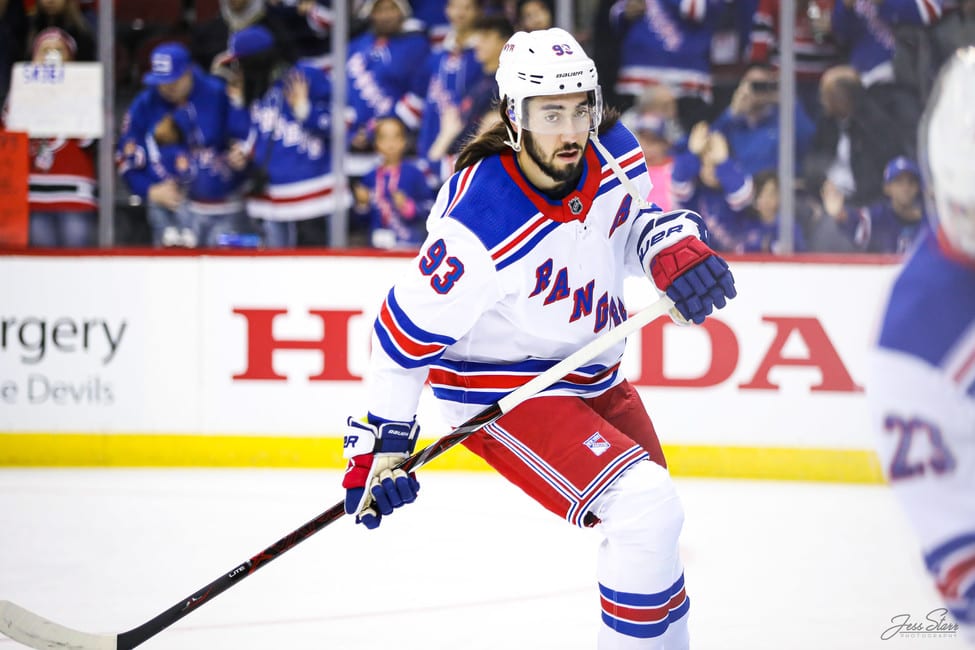 The Rangers, of course, know all the kids they've added through the draft and trades can't play on Broadway. There are just not enough spots. Using some young assets to acquire an established star is an expected step for rebuilding teams at some point.
That player being Eichel, though, might be a bridge too far for the Rangers if they want to keep their other top center in Zibanejad. That's why Chytil's development is so pivotal to the club's return to contention: can he be counted on to become a near-star who provides the offense needed on the second line, but comes cheaper long-term than an Eichel or Zibanejad would?
Chytil's injury makes that critical question next to impossible answer in 2020-21. With his entry-level contract expiring after the season, and Eichel perhaps becoming available this offseason, the timing for the Rangers couldn't be worse.
---
---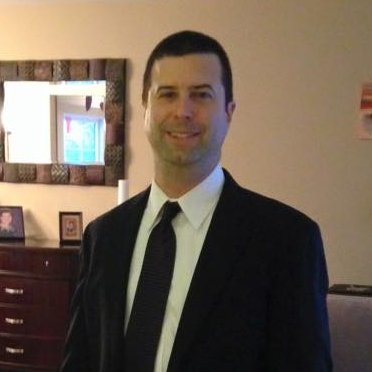 I'm a resident of the Chicago area by way of White Plains, NY. I worked for the Associated Press sports department in New York City for 10 years before moving to the Midwest in 2005, when the AP's then-internet division entered into a joint venture with STATS LLC. I worked for STATS for 11 years, until 2016. I'm very excited to be a part of The Hockey Writers.