On Saturday, Sept. 26, the New York Rangers moved Marc Staal to the Detroit Red Wings to free up almost $6 million in additional cap space. The trade, albeit a great one for maneuverability, does leave the Rangers depleted on the left side of their defensive core.
Related: Revisiting the 2014 Stanley Cup Final – Kings vs. Rangers
The Rangers currently have four defensemen under contract, two of which are bona fide left-side defenseman. The first is 22-year-old Ryan Lindgren, who played in his first full NHL season in 2019-20. The second option is Brendan Smith, who has seen time as a forward and a healthy scratch over the last two seasons, proving to be too unreliable on the back end.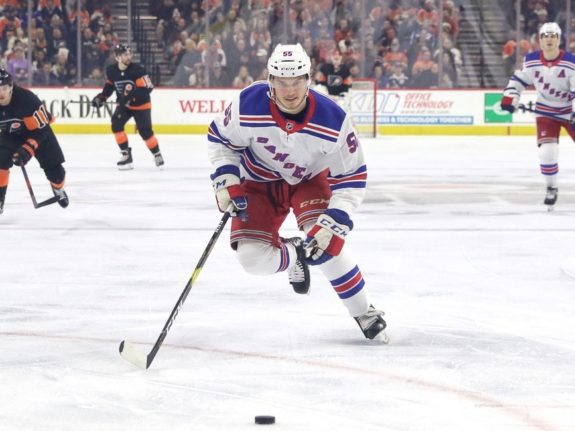 The Staal trade leads us to believe that general manager Jeff Gorton intends to bring back his restricted free agents, including defenseman Tony DeAngelo. If he is re-signed, the Rangers will have the right side of their defense solidified (Jacob Trouba, Adam Fox), while their left side remains in flux.
New York has fully committed to a rebuild, which has seen them turn around their franchise in just two years. The Rangers' brass now has the difficult decision of going out and signing an NHL defenseman, or using a young, internal option and hoping they pan out.
Internal Options
There is a boatload of prospects in the pipeline for the Rangers, a group that is sure to get more bountiful after the upcoming draft. There are four players who, as of now, may have what it takes to fill into the lineup and be an everyday defenseman — none of these players are over the age of 23.
Libor Hajek
Libor Hajek has made appearances in the Rangers' lineup during each of the past two seasons. The Czech defenseman has ideal size at 6-foot-2 and 203 pounds — a frame that he can move around the ice exceptionally well.
He has struggled to defend during his brief time in the NHL, but at just 22 years old, the adjustment can still be made. In 28 games with the Rangers in 2019-20, Hajek posted five assists and a minus-four rating, and will need to step up in his zone to be a valid candidate for a defensive spot.
With just one year remaining on his current deal and the most NHL experience out of this current group, Hajek seems to be a legitimate candidate to fill one of the defensive vacancies.
K'Andre Miller
Chosen 22nd overall by the Rangers in 2018, K'Andre Miller has been a defensive prospect that Rangers' brass and fans have salivated over. At 6-foot-5, Miller's size and skating ability was showcased at the University of Wisconsin and the international stage since his draft date.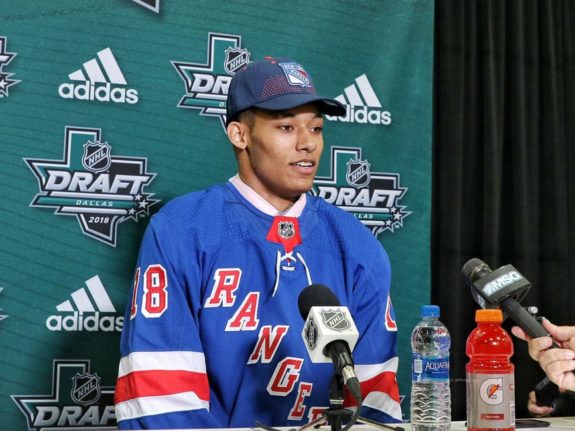 He was a full participant in the Rangers' training camp during the return to play protocol, opening up the eyes of coaches and staff, especially president John Davidson.
Jess Isner of NHL.com relayed what Davidson said regarding Miller's participation in training camp.
K'Andre Miller's a big part of our future. This is an ideal time to get him here to get him acclimated to how we play the game. We're quite excited about it, and he's excited about it.
If Miller has another strong training camp before the 2020-21 season, he could very well start his career in this campaign.
Yegor Rykov
Yegor Rykov is another tantalizing young prospect who we have heard murmurs of emerging as a candidate for a call-up. Currently, on loan to the KHL, where he has two assists in eight games, Rykov could emerge as a candidate for a roster spot if he opens eyes with his play overseas.
Despite his rumored promise, Rykov disappointed defensively at Hartford last season, but did register 11 points in 27 games. The Russian-born defenseman stands at 6-foot-2 and is the elder statesman in this group of young talent.
I don't believe we will see Rykov make the lineup out of the gate, but his name may come into play later on in the season.
Tarmo Reunanen
A tantalizing Finnish prospect currently playing for Lukko, Tarmo Reunanen is a solid two-way defenseman with offensive upside. He may not be a household name yet for Rangers fans, but his play certainly warrants a look for the blue line openings.
The Rangers have selected many European prospects over the last few drafts with Reunanen falling into that category as a fourth-round selection in 2016. A good season in the Finnish Elite League and a solid training camp could place Reunanen in a roster competition.
External Options
The free-agent market is limited, but there are three left-handed defensemen who could potentially fit on the Rangers' blue line.
Torey Krug
One of the most intriguing free agents this NHL offseason is Bruins defenseman, Torey Krug. He is one of the more consistent offensive defensemen in the league, scoring 49 points (9 goals, 40 assists) in 2019-20 and recording at least 51 points in each of the previous three campaigns.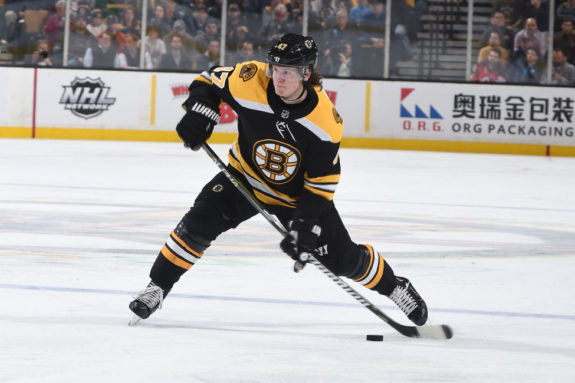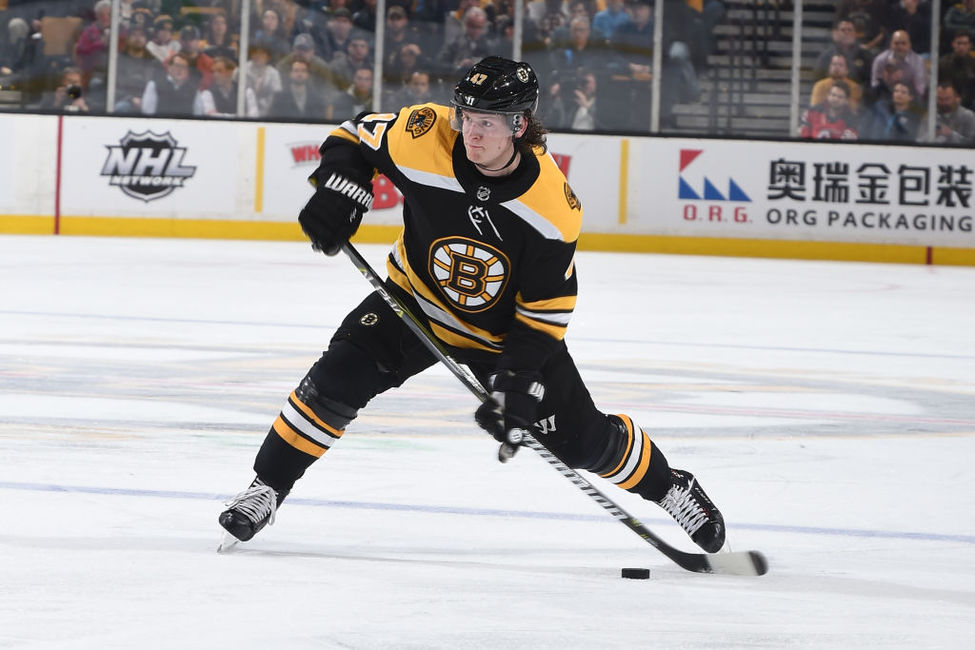 Krug is best known for his offensive abilities, but he has an edge to his game as well, throwing his weight around despite his 5-foot-9 frame. The Rangers would be wise to reach out to Krug, but if the asking price is too high, New York will likely steer clear of the 29-year-old.
The Rangers can ill-afford to add another long-term contract with an average annual value upwards of $7 million. If Krug is willing to take a discount, the two sides would definitely be in contact.
Brenden Dillon
Brenden Dillon has a wealth of playoff experience and is a physical, stay-at-home defenseman that the Rangers currently lack. His tenacity and defensive ability could serve well on a pairing with DeAngelo, allowing him to roam freely with the reassurance of a stable presence behind him.
Dillon is 6-foot-4 and 225 pounds, and he knows how to utilize his size effectively. He had 14 points and 104 penalty minutes last season, and despite being the same age, he will be much more affordable than Krug.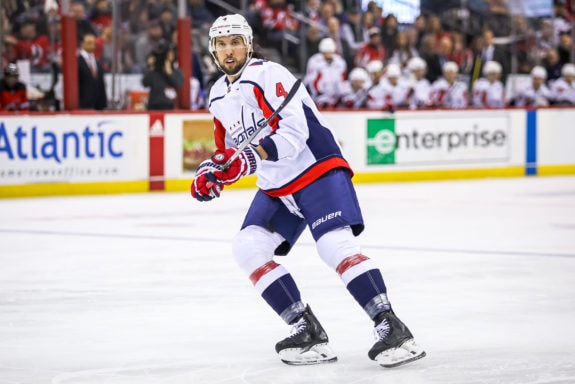 His last deal was slightly over the $3 million mark, a bar that shouldn't elevate a lot with a flat salary cap.
Mark Borowiecki
He is not the flashiest player by any stretch, but Mark Borowiecki could be an attractive fit with the Blueshirts. The 31-year-old defenseman has stated that he intends on testing free agency and could be a viable place holder on the left side.
If Miller, Hajek, and others are not ready to make that jump, a one-year contract with Borowiecki could serve both parties well in 2020-21. Borowiecki made $1.2 million last season and would be a discount option on the blue line for New York.
Decision Time for Gorton
Gorton could quickly shift gears and make a trade for a left-handed defenseman, putting this issue to bed. If he does not, the Rangers have many viable options on the open market and their system.
Related: 2000 NHL Draft – 21 Goalies Selected Before Henrik Lundqvist
Could a current Rangers' defenseman switch sides and open up the door for an Alex Pietrangelo or a T.J. Brodie? Probably not. But if the Rangers and Gorton are as committed to the youth movement as they appear to be, expect an internal option to find themselves playing at the Garden in 2020-21.
---
---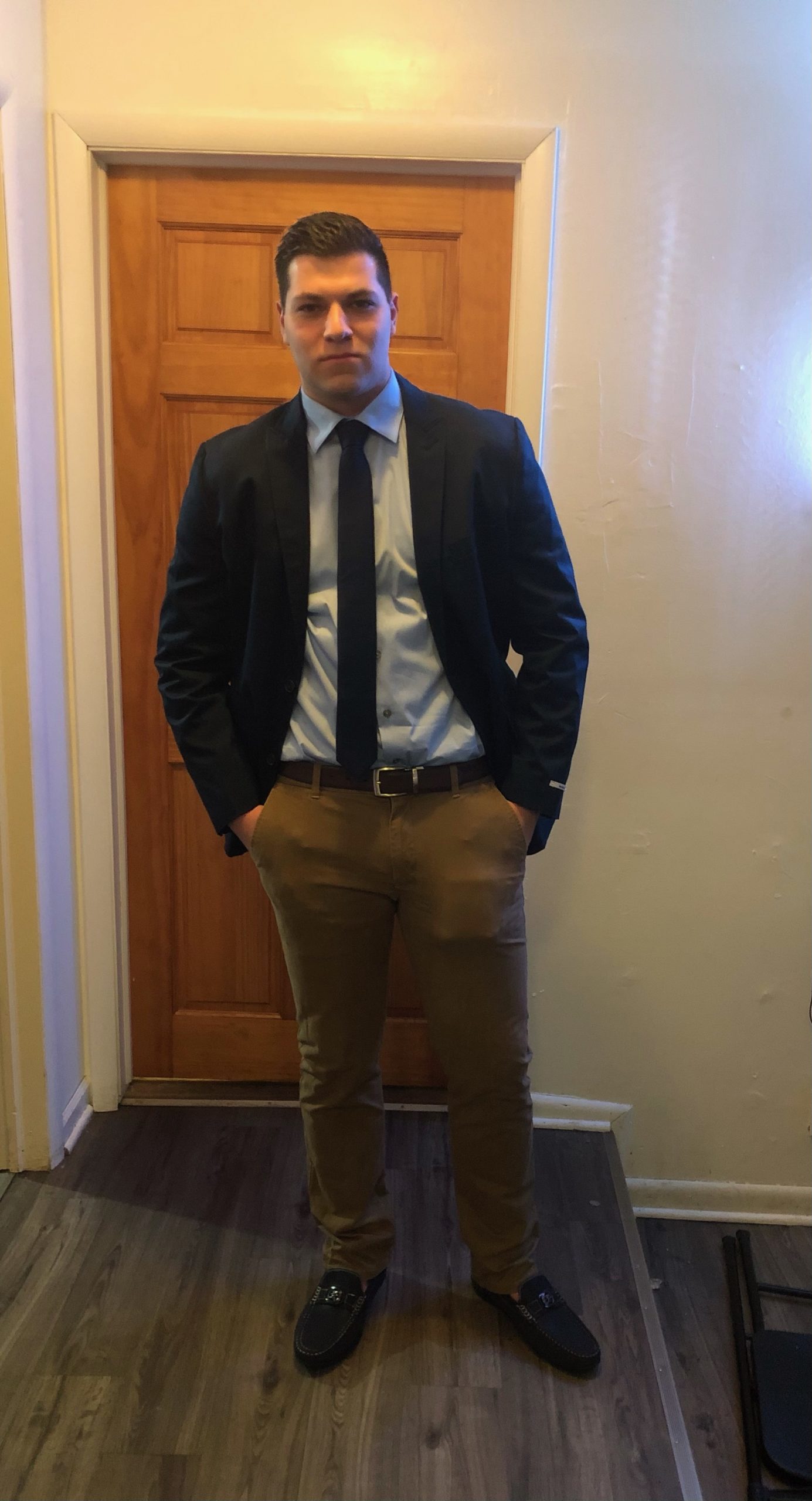 Brendan Azoff is a THW contributor and podcast host dedicated to covering the New York Rangers. His passion for hockey started when he first laced up the skates at three, growing into his love for writing and talking about the greatest sport in the world. His podcast, The Backcheck, breaks down the Rangers, Islanders, and NHL news and can be found on The Hockey Writers Podcast Network and Belly Up Sports. Brendan has been writing about the Rangers and the NHL for over two years, with his content also found on Puck Prose, Blue Line Station, and E2G Sports. If you want to connect with Brendan and stay up-to-date on his posts, follow him on Twitter. He is always available for content ideas and interviews, don't be afraid to ask!