With just over a week to go before the NHL's free agency period begins, the biggest fish on the market, St. Louis Blues captain and cornerstone right-handed defenseman Alex Pietrangelo, remains unsigned. That means that as seconds tick off the clock, general manager Doug Armstrong has less and less time to re-sign the first-ever player to lift the Stanley Cup in a Blues' sweater, which Pietrangelo did in 2019.
In this article, we won't analyze the value of a potential free agent contract. We won't look at Pietrangelo's other suitors, and we won't dwell on the legacy the Blues will lose if they let their captain walk. All of those subjects deserve their own article, and there is plenty of time to write them should he leave.
In this article, we will focus exclusively on the cold reality the Blues face: a future without Pietrangelo is a future likely without further Stanley Cup success. Many fans do not want to acknowledge that reality, but a look at the captain's value to his team, coupled with a look at the strength of the competition, coupled with a profile on the top defensemen for recent Cup winners, will clearly illustrate that without their cornerstone, the Blues' championship foundation will crumble quickly.
Pietrangelo's Significance
Were this an article about the legacy the Blues will be giving up on should Pietrangelo leave, this fact would be central: if he re-signs with the Blues on what is expected to be an eight-year deal, Pietrangelo will easily become the franchise career-leader among defensemen in practically every statistical category. For a franchise that has had the likes of Al MacInnis and Chris Pronger play for it, that speaks volumes about how good Pietrangelo really is.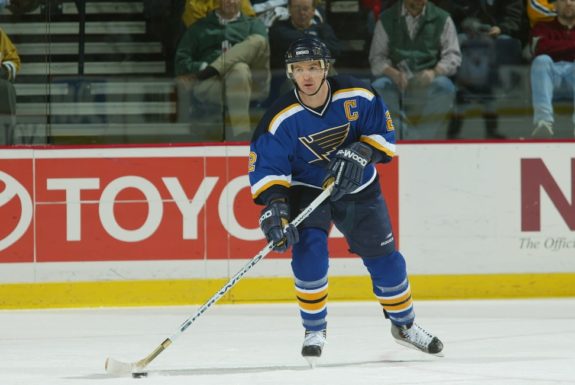 Pietrangelo has already played 758 games for the Blues and passed MacInnis in game-winning goals by a defenseman last season. He currently trails MacInnis by just two career points and has already surpassed both MacInnis and Pronger in games, assists (341), and defensive point shares (48.7).
But career totals are not why the Blues need to retain Pietrangelo. The team's captain has averaged over 24 minutes a game every season since 2011-12, and is just seventh in the NHL in TOI (24:48) over the last ten seasons. In that time, he is also seventh in points (447), seventh in even-strength goals (74, tied with Roman Josi), and fourth in even-strength assists (217). He is eighth in blocked shots (1,366) and fifth in games played (741).
One statistic reads even louder than any other: since the 2010-11 season, Pietrangelo ranks eighth in the league — and third among defenseman (behind only Brent Burns and Erik Karlsson) — in point shares (PS) with 86.3. He leads names like Evgeni Malkin, John Tavares, Drew Doughty, Patrice Bergeron, Jonathan Toews, and Anze Kopitar in that category. Most of those names are future Hockey Hall of Fame inductees, which speaks to the kind of player Pietrangelo is. He is clearly the best player on the Blues, and they cannot afford to lose him.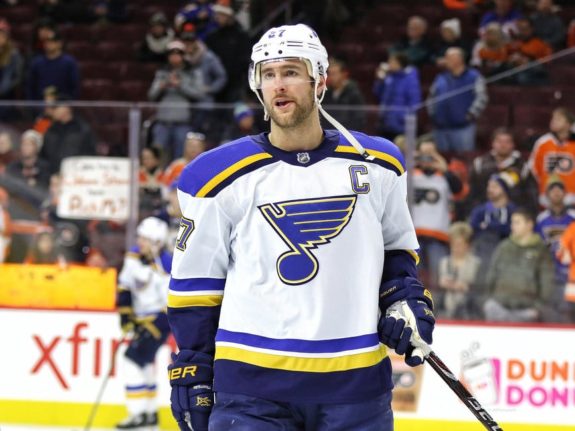 Before we move on, many Blues fans suggest Colton Parayko can step into the role voided by Pietrangelo; however, they are not all that comparable. Parayko is a fantastic defenseman, but over the past three seasons, he trails Pietrangelo by 56 points and 7.8 PS. He is a terrific player, but he simply isn't a replacement for his captain. Few defensemen are.
A Strengthening Central Division
Pietrangelo's departure would coincide with a strengthening Central Division, particularly on the blueline. The Nashville Predators' captain Roman Josi just captured the Norris Trophy. Cale Makar of the Colorado Avalanche just took home the Calder Trophy for the League's top rookie. Two of the other best blueliners in the Central, Miro Heiskanen and John Klingberg, reached the Stanley Cup Final.
Josi and Pietrangelo were both named to the League's All-Star team after the season — first and second team, respectively. They joined John Carlson and Victor Hedman as the four defensemen on that list, fitting, as those four were the four highest-voted names for the Norris Trophy. Pietrangelo finished in fourth with 527 votes.
Earlier this month, NBC Sports took a look at the evolution of defensemen in the NHL. While Pietrangelo was not specifically covered in the article, he is an example of what the league's defensemen are evolving into: he is an intelligent, responsible defenseman who is strong in his own end but equally capable in the offensive zone. Elite defensemen of that mold hardly grow on trees, and few teams that have them choose to let them go.
Defense and the Stanley Cup
The old saying "defense wins championships" may be cliche, but in the NHL it is certainly true. In the past ten seasons, counting last night's new champions, seven different teams have hoisted Lord Stanley's Cup. None of them have done it without a cornerstone defenseman. Last night, Hedman won the Conn Smythe Trophy with the Tampa Bay Lightning. He was indispensable to his team throughout the entire postseason. Before that, Pietrangelo and the Blues won. The captain scored the Cup-winning goal in Game 7, and was third on the team in playoff points and first in minutes.
Before Hedman and Pietrangelo, there was Carlson, who came into his own during the Washington Capitals' 2018 postseason run. Kris Letang has been a cornerstone throughout Malkin and Sidney Crosby's time with the Pittsburgh Penguins. The Chicago Blackhawks' defensemen may be much-maligned for their contracts now, but one can hardly imagine their winning three Stanley Cups since 2010 without the two-headed blueline monster of Duncan Keith and Brent Seabrook. Beyond them, there are Drew Doughty and Zdeno Chara, two of the most consistent defensemen of the decade.
The point does not need belaboring: with few exceptions, teams simply do not win the Stanley Cup without a franchise cornerstone defenseman. If Pietrangelo leaves as a free agent, the Blues will be without one, and as we already discussed, even Parayko does not seem primed to evolve into the role. Armstrong must heavily weigh this reality before letting his captain walk.
Reunion or Divorce?
The old adage in sports goes: "once you're in the playoffs, anything can happen." Of course, that can prove true. Who would have seen the Blues, one of the worst teams in the league at midseason, reaching the playoffs and winning a Stanley Cup in 2019? Few could have. But when the moment came, it was Pietrangelo who streaked into the zone and buried the second goal of Game 7 of the Stanley Cup Final with 7.9 seconds left in the first period.
That goal would seal the Blues' fate as champions. Now, just over a year later, it seems impossible that the Blues are facing the prospect of losing their leader. Negotiations are tense, and it is anyone's guess whether a deal gets done. But it is clear that Pietrangelo prefers to stay.
Based solely on gut instinct, a reunion still seems the most likely outcome. A divorce simply doesn't make sense for either side. But this close to the wire, it is foolish to ignore the possibility. And if the Blues consider letting Pietrangelo walk, they should recognize that if the door closes on their captain, the window will shut on their Stanley Cup pursuit as well.
---
---
Stephen Ground is an author with The Hockey Writers and is co-host of the Two Guys No Cup Podcast. He enjoys studying the numbers and providing fresh looks at various stories.