The New York Rangers made it a priority during the off-season to fortify their organizational depth at both the forward and defense positions.
Now, less than one week into the regular season that depth is already being tested.
Veteran defenseman Dan Girardi went down with a hip flexor injury Saturday night against the St. Louis Blues, ultimately playing less than half the game. He will not dress Monday night against the San Jose Sharks, and is out for an indefinite period, joining fellow top four defenseman Kevin Klein on the sidelines. Klein will miss his third straight game with back spasms.
More bad news awaited the Rangers Monday with reports that rookie winger Pavel Buchnevich is suffering from back spasms. He, too, won't play against the defending Western Conference champion Sharks at Madison Square Garden tonight.
Buchnevich will miss tonight's game v Sharks with back spasms. Girardi out with what is now called groin issue rather than hip flexor.

— Larry Brooks (@NYP_Brooksie) October 17, 2016
So how will the Rangers fare without three of their regulars in the lineup?
Forward Thinking
The team is carrying 13 forwards on the roster so Josh Jooris, a healthy scratch in the first two games, slides into the lineup, if not into Buchnevich's spot on the top line alongside Mika Zibanejad and Chris Kreider.
That spot to the right of Zibanejad and Kreider will go to Rick Nash, who opened the season on a line with Kevin Hayes and J.T. Miller. This should provide a boost to Nash, who has not recorded a point yet while trying to find some chemistry with Hayes and Miller. Zibanejad, who has four points in the first two games, and Kreider, who has two goals and two assists, are both playing at an extremely high level, and have been since the start of training camp.
Buchnevich has been a good fit on that extremely creative, fast line; but one would think that Nash, just two seasons removed from a career-best 42 goals despite his scoring woes a year ago, has the experience and talent still to capitalize on the chance of skating with the two hottest forwards on the team.
During Monday's morning skate, Jesper Fast moved up from the fourth line to take Nash's spot on the third line, centered by Hayes. While it could be argued that the more offensive-minded Brandon Pirri should have been the fourth liner moved up, to play alongside more like-minded forwards, head coach Alain Vigneault clearly wants Fast to some defense on the line. It is the same reasoning why Nash started on the Hayes line in the first place, though, of course, he has more offensive upside than Fast.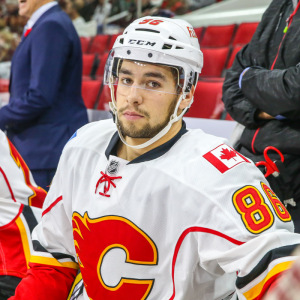 As for Jooris, who will be making his Rangers debut, after spending the first two years of his career with the Calgary Flames, he fits into a fourth-line role with the Rangers and is a solid penalty killer if Vigneault chooses to add him to that mix. Playing with Pirri and Michael Grabner, Jooris, who scored 12 goals as a Flames rookie in 2014-15, could generate some offense on the fourth line; though his main role will be to play solid defensively and physically against the big, skilled Sharks.
It's unclear how long Buchnevich is going to be out of the lineup, but in the short term, the Rangers are set. If this is a nagging injury that lingers, the team may decide to really test its depth by calling up rookie center Boo Nieves from Hartford. Nieves, the former University of Michigan Wolverine and second round pick by the Blueshirts in 2012, impressed Vigneault late in camp with his speed and hockey smarts after missing most of the preseason with an undisclosed injury.
Looming in the near distance is Oscar Lindberg, who will bolster the team's depth at forward when he comes off injured reserve, likely in early November, following off-season hip surgery.
Blueshirt Blue Line
With both Girardi and Klein out of the lineup, Adam Clendening and Dylan McIlrath, numbers seven and eight on the depth chart, will be on the Blueshirts' blueline, at least for Monday's tilt against the Sharks.
Clendening has done a solid job filling in for Klein the first two games. The soon-to-be 24-year-old, who had a very strong preseason after signing on as a free agent this past summer, has been good in his own end while paired with rookie Brady Skjei and has moved the puck nicely on the second power play unit. On Saturday, when Girardi was injured, Clendening stepped up and logged more than 19 minutes of ice time.
The Rangers are still trying to figure out what they have in Clendening, and this early season audition is good, both for him and the coaches. He was an AHL All-Star, but has just 52 games of NHL experience and is now on his fifth team in three years. No question, though, acquiring him vastly improved the Rangers' blueline depth this season.
Clendening's strong preseason pushed former first round pick Dylan McIlrath down a rung in the pecking order of Blueshirt defensemen. Now the rugged and popular McIlrath will get a chance, at least for one night, to show what he can do.
As a rookie last season, McIlrath did an exemplary job filling in for both Klein and Girardi when they were injured at different points in the year. Still, the 6-foot-5 bruiser only appeared in 34 games as Vigneault did not show a lot of faith in him when the regular d-men were healthy, a topic covered here before.
However, from an organizational point of view, if McIlrath is eighth on your depth chart, then you are doing something right in terms of quality depth at that position.
The Rangers will have their hands full tonight against the highly skilled and physical Sharks, and it will be a big-time test for Clendening and McIlrath and Skjei for that matter, as well as for the healthy veterans Ryan McDonagh, Marc Staal, and Nick Holden.
The good news on the injury front is that Klein did skate with the team Monday morning and is closer to making his season debut, and Vigneault said of Girardi today: "He is day to day…hopefully sooner rather than later."