It's the middle of October, and the Columbus Blue Jackets have yet to win a game this season. I feel like we've been here before. This seems awfully familiar.
Oh that's right, we were here last season too.
The Blue Jackets have a record of 2-12-0 in October since the start of last season. You don't get eliminated from the playoffs in October. But you now have the highest mountain to climb just to stay in the race. That mountain is even higher this season if you consider their upcoming schedule.
The Blue Jackets are off until Friday when they host the Chicago Blackhawks at Nationwide Arena. Then their next four are on the road, at Dallas, Los Angeles, San José and Anaheim. Dallas and Anaheim are the second game of a back-to-back.
If that wasn't enough, look at their schedule after getting home from California. They host Dallas, host Montreal, then travel the next day to play at St. Louis. In fact, the Blue Jackets play their next 13 of 14 against playoff teams from last season. The only game in that stretch against a non-playoff team is against Montreal. They'll likely have Carey Price back by then.
The Blue Jackets likely enter all those games as the underdog. It's not that they'll lose all these games, but it's a tall task nonetheless. Considering these Blue Jackets are the youngest team in the league, it's very possible we could be sitting here after those 14 games with the Blue Jackets winning 4 games or less.
This feels like doom and gloom. It seems to imply that the Blue Jackets have no chance moving forward and that they've played bad and will continue to do so.
There have been bad moments. But there have been really good moments too despite not winning a game yet this season. Better days are coming for this team, but it may take a while to get there.
Finding The Good
I was pleasantly surprised in a good way after watching the game tape of the Boston and San José games. I expected to come away disappointed in everything. After the way the Boston game ended, I was more concerned with the team's response after coach John Tortorella told the media "I don't think we're even close."
It didn't look good at first in the Sharks game. The Blue Jackets fell behind 2-0 while the top line of Boone Jenner, Brandon Dubinsky and Cam Atkinson continued their early struggles.
Then came the third period. It was by far the Jackets' best period of the early season.
Zach Werenski
Let's start with 19-year old Zach Werenski. I was curious to see how he would come out after having a tough game against Boston. I've always known him to come back in a positive way the next game after a bad one.
Once again, he didn't disappoint.
He scored his first NHL goal in typical Werenski fashion, using his deceptive shot to beat Martin Jones. But it was what he did in the possession game that really stood out.
Werenski and Seth Jones shined as a pair. What makes it even more impressive was that Werenski did his damage against everybody. Jeremy Crowe of Buckeye State Hockey illustrated this well for us.
https://twitter.com/307x/status/787659191968145410
https://twitter.com/307x/status/787659488278917120
Jeremy nailed it with that last sentence. It looked like he belonged. What a profound statement that is when you consider that he is just 19 and playing as the team's top left-side defender. The upside is immense. Once he gets more experience under his belt, he'll thrive even more.
If there is one thing Werenski needs to improve on, it's his play away from the puck. That's common with young players first entering the league. Coach Tortorella addressed this after the Boston game. He said that it's a learning process, but went out of his way to praise what he saw from Werenski. He's only going to get better. It's just a matter of time before he's viewed as one of the league's top defensemen overall.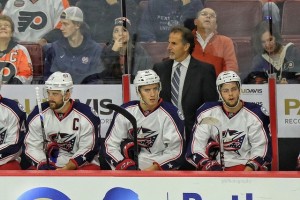 Coach Tortorella
The head coach is instrumental on the team especially when they are as young as they are. He wants to stay patient given the growing pains the team will endure. But sometimes, he must make changes because of the way the veterans are playing.
Tortorella made his move later in the San José game. Veteran Sam Gagner played just two shifts in the third period. The rest of the lineup got shuffled. Matt Calvert and William Karlsson got promoted as they were the team's best players from the start of the game. The result was encouraging.
The Blue Jackets outshot the Sharks 14-9 and had plenty of chances to even the score. There was energy on all lines after Tortorella changed them up. If they can play games like they did the third period on Saturday night, the Blue Jackets will soon see positive results in the win column.
This is worth monitoring over the next several games. Tortorella wants to stay patient, but he might not have a choice if the team needs a boost. He plans on tinkering with some line combinations in practice leading up to Friday's game. Here's what they look like from Monday's practice. Changes aplenty it seems.
#CBJ lines: Calvert – Dubinsky – Atkinson; Saad – Wennberg – Foligno; Hartnell – Karlsson – Anderson; Jenner – Sedlak – Bjorkstrand/Gagner.

— Aaron Portzline (@Aportzline) October 17, 2016
Sergei Bobrovsky
The Blue Jackets are 0-2, but not because of Sergei Bobrovsky. Turnovers killed the Blue Jackets in the Boston game. Bobrovsky was the reason they were in the San José game. He stopped 35 of 37 shots and earned the third star of the game honors. He looks healthy and confident. Better days are coming if this keeps up.
The Top Line
If there was an area of concern, this is it. Dubinsky's line was on the ice for every goal against in the Boston game. It didn't get better in the San José game. They all looked lost. I don't recall a two-game stretch where I've seen Boone Jenner play worse.
It's not a lack of effort hurting them. It's that they try to do too much. Tortorella specifically said this of Jenner. He wants to see him and the line simplify things. Whether it's get the puck deep or make the right play, Tortorella wants to see more simplicity.
These aren't bad players. They're good players who had two bad games. Better days are coming for this trio.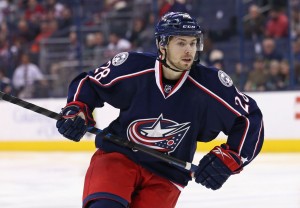 The Main Takeaway
Young players will have growing pains. Mistakes will happen. If there's anything we can take away from two early bad games, it's that better days are coming. But it might not happen right away.
That upcoming schedule is brutal. The team could struggle against better competition. I'm more concerned about their development than wins and losses at the moment.
The Blue Jackets were up 3-1 on Boston but were very sloppy. They ended up losing. The Blue Jackets fell down 2-0 to San José. They lost 3-2 but was happy with the tape.
We have to look beyond the box score to see the direction the Blue Jackets are going. The defense is coming together if Werenski continues his early brilliance. Bobrovsky is still Bobrovsky. The offense could struggle at times, but goals will come.
In the end, I like where this team is going. They're building from the back. There will be many nights of pain and frustration. But there will also be nights of excitement. Better days are coming for the Blue Jackets, but with lots of growing pains along the way.