Line shuffling and the New York Rangers seem to be synonymous this season. Head coach Gerard Gallant has habitually changed the lines mid-game and on off days, overthinking and mismanaging his lineup. He has made questionable decisions this season, but to his credit, he still has the Rangers in the thick of the playoff picture.
---
---
I never pretend to know more than an NHL coach, but from an outside perspective, the changes that need to be made seem abundantly clear. For example, some players like Jimmy Vesey and Barclay Goodrow have played well for the Rangers but are currently playing out of their roles.
There needs to be an ideology shift on Broadway that allows the Rangers' head coach to utilize his players in the roles that are best suited for them. During their recent 3-2 overtime loss to the Toronto Maple Leafs, Gallant saw that Chris Kreider was playing poorly and demoted him for Vesey.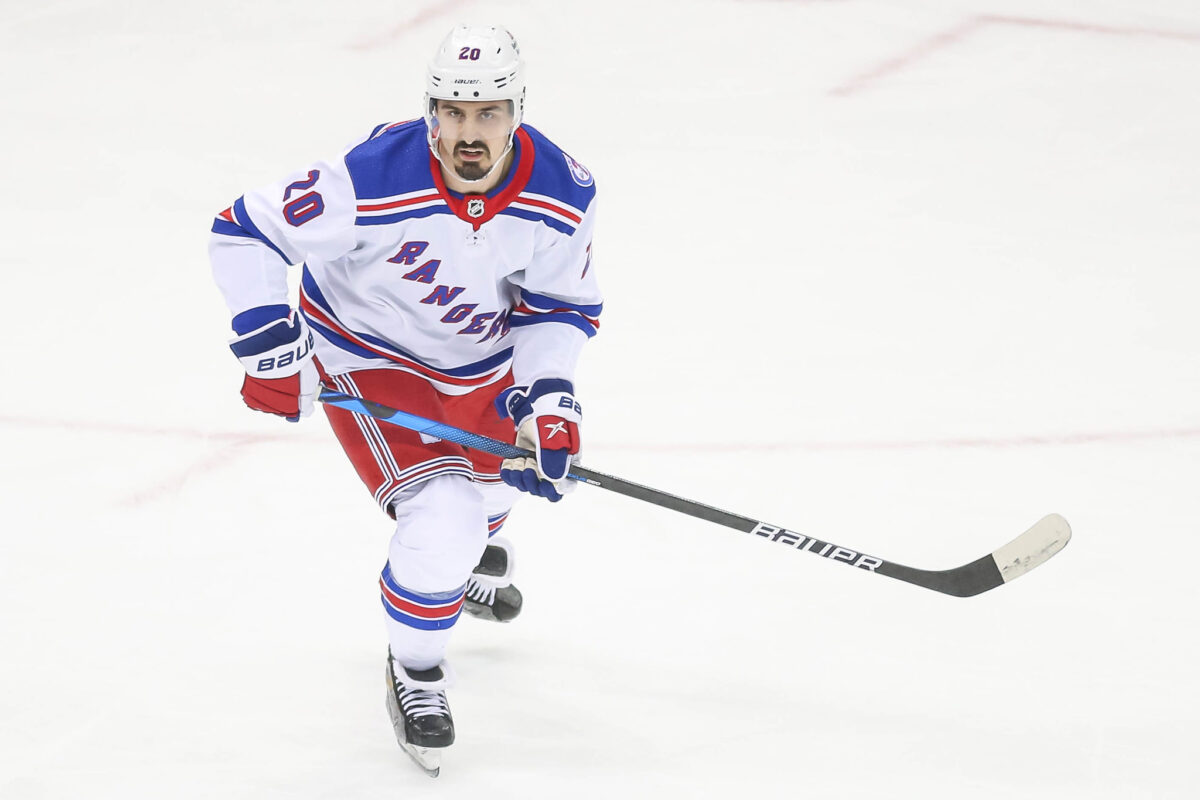 Vesey was playing on a line with Vincent Trocheck (who had a rough game in his own right) and Barclay Goodrow. Surprisingly, that line had the top Corsi For percentage (CF%) for the Rangers that night before Gallant broke them up, per Natural Stat Trick. The trio registered a 75 CF% in five minutes of ice time.
The lineup tinker made by Gallant created a line of Kreider, Trocheck, and Goodrow, which had a 25 CF%, the lowest of any line that night. At the same time, the second-lowest mark, at 35.29 CF%, was Vesey, Mika Zibanejad, and Artemi Panarin. Instead of redistributing minutes to other lines, Gallant overmanaged, and the Rangers wound up with two underperforming lines.
Gallant Needs to Trust the Rangers' Youth
Gallant put Alexis Lafreniere, Filip Chytil, and Kaapo Kakko back together to form the 'Kids Line' again, which was a marvelous decision. They were undoubtedly the best Rangers' forward group, generating eight scoring chances while yielding just two and scoring both of the Rangers' goals.
The problem that Gallant ran into was not the line itself but their usage. It has been evident throughout his Rangers' tenure that Gallant favors experience like many coaches. Unlike others, he remains steadfast in that approach, despite the game evolving in front of him.
Despite their tremendous night, the 'Kids Line' played nearly two minutes fewer than the top-two lines. Gallant refused to put them out there more frequently despite a terrific game from all three youngsters, and in the end, it came back to haunt him.
On a night where players like Kreider and Trocheck struggled, they saw 17:22 and 18:59 time on ice, respectively. Lafreniere (15:00), Chytil (15:25), and Kakko (16:05) all saw fewer minutes. These three forwards should have received the higher minutes, especially considering the level of their games last night compared to the veteran forwards.
Related: Rangers Need to Move Chytil to 2nd Line Permanently
---
Latest News & Highlights
---
I have no problem with the kids not receiving 20 minutes of ice time a game, especially when their performance warrants less. But when they are so clearly, analytically, and through the eye test, the best forward grouping on your bench, you must play them more than those who have underperformed.
Gallant chose not to; in the end, it was another point that escaped the Rangers' grasp.
Gallant Needs to Learn From His Mistakes
Following the 3-2 overtime defeat, the Rangers' bench boss can either progress and learn from the combinations he has put out there or regress and keep the carousel of combinations moving.
Prior to stacking the top line by adding Panarin to Zibanjead and Kreider's wing, Kakko was on there having a lot of success. We know the 'Kid's Line' shows great value, but the rest of the lineup tends to be weaker when they all play together.
Ideally, the 'Kids Line' is only formed in late-game situations when a goal is needed; stacking that line and the top line to generate offense. Kakko should rejoin the top line with Kreider and Zibanejad, while Panarin joins the 'Kids Line' playing alongside Chytil and Lafreniere.
The Rangers' third line would then be Trocheck centering Goodrow and Vesey, a line that worked in the first period of Wednesday night's game and could turn out to be one of the best third lines in the league. On paper, this all sounds great and logical, but only one man has the ability to put this into reality.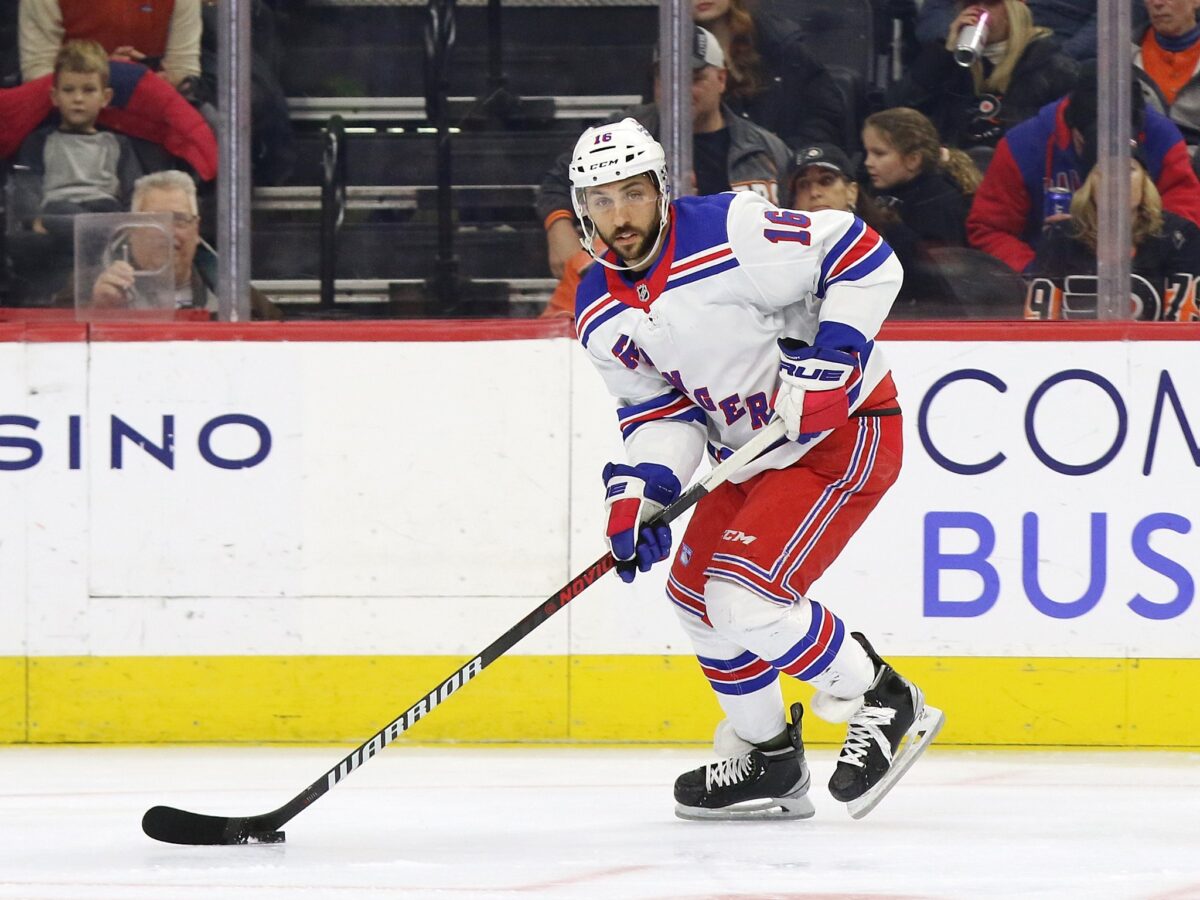 Gallant has the blueprint for success in front of him, and he needs to follow it. Lafreniere, Panarin, and Chytil have played only 4:49 together this season at five-on-five. It is a combination that remains unproven but seems poised to be lethal. Panarin's vision, Chytil's shot, and Lafreniere's willingness to go to the net would mesh beautifully.
In the end, Gallant's willingness to play the youth will make or break the Rangers' season. Will he instill confidence in them and give them the minutes needed to flourish? Well, that remains the final lineup question for Gallant.