It's natural to feel down about the New York Rangers' performance thus far. It's not even a knee-jerk reaction because the losses keep coming. Given the team's copious talent, it's understandable to be frustrated. With the recent news that young forward Filip Chytil is out for the next four-to-six weeks, the road ahead looks bleak. 
As of today, the Rangers sit second-to-last in the league standings and dead-last in their division. But, many knew the season would be brutal. In the long run, it'll make success sweeter, it's just going to take time to get there. One beacon of hope, however, is Alexandar Georgiev.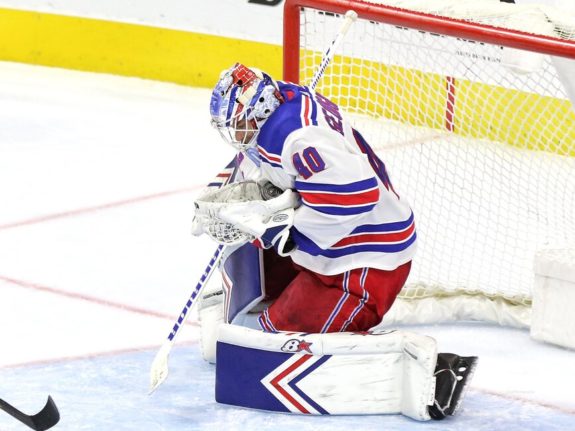 Common problems that are apparent this season have long been troubling the club. Weak face-offs, a lack of aggression, and taking too much time to make plays, are all themes of the past — to name a few. These issues are not going to sort themselves out after a handful of games. But, despite that, Georgiev's goaltending is one of the few bright spots thus far. His counterpart, Igor Shesterkin, looked shaky start after start, which helps highlight Georgiev's success.
Georgiev has a 2.66 goals-against average (GAA) while, Shesterkin remains at a 2.98. 
A Closer Look at Georgiev's Numbers
In Georgiev's three games this season, he has a .896 save percentage (SV%) with one win and two losses. He also has one shutout under his belt, which came against the New York Islanders, one of the tougher teams they've played so far. He's faced 67 shots and only allowed six goals; half of those goals were from last night's game alone. 
Again, the Rangers' defense has abandoned its netminders, fully exposing their last resort to protect the net. Too often, opponents can breeze past the Blueshirts and face the goaltender one-on-one. Georgiev was not always satisfactory, but he appears to be the best option right now. 
Comparatively, Shesterkin has a .886 SV% after stopping 78 of 88 shots faced in his four matches. But those numbers don't reflect the oddly simpler goals he does not stop.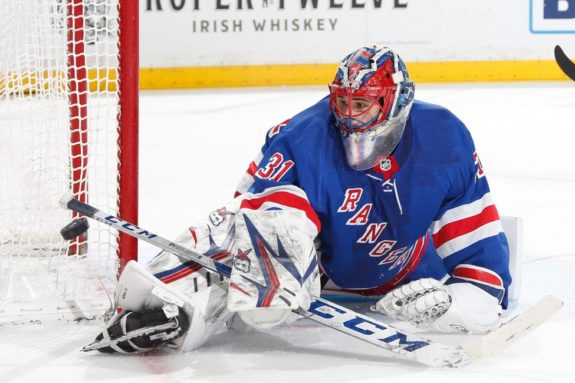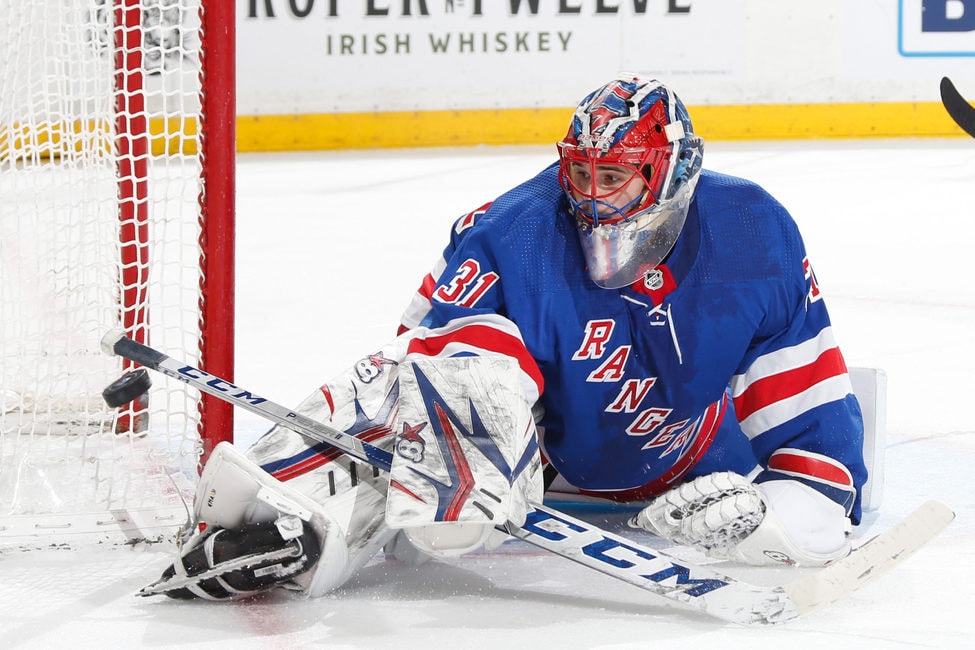 Yet, when you compare Georgiev's numbers to the league's other goaltenders it's simply not good enough. Giving up three goals a game is not good enough. There are 26 goaltenders ranked above Georgiev with a better GAA in one or more games. 
The team is struggling to make things work, but of all the worrisome areas, goaltending is one of the least concerning, as Georgiev has an established NHL history, and can turn his lackluster performance around.
Last Night Against the Buffalo Sabres
Though Georgiev has one less start than Shesterkin, he has made a strong case to start more often. Indeed, the club shouldn't be riding one goaltender, but Georgiev showed he can be reliable in this small sample size. During last night's 3-2 loss in Buffalo, Georgiev looked solid, especially after a strong start. He did not give up a soft goal, though he was only mildly tested.
He faced 24 shots and allowed three goals, two on the power play. The first Buffalo goal, launched to Georgiev's far side from the slot, was the first power-play goal with defensemen Jacob Trouba and K'Andre Miller on the ice. The second-period goals, both from the Sabres, started with a breakaway goal that left defenseman Tony DeAngelo in the dust.
The last power-play goal sniped again from the slot, beat Trouba and Georgiev behind him. Georgiev faced a harder time stopping the first and last goals that were shot through traffic. The penalty-killers did not help. Even with an early lead last night, it still wasn't good enough. 
It's no secret the Broadway goaltenders have high expectations placed upon them this season. The team did as well, but as the season forges on, issues are becoming clearer. Shesterkin hasn't found a way to settle in yet, often making the hard saves but unable to make the easier stops. 
We may see several changes this season, but for now, the Rangers have viable goaltending from Georgiev. As they ride this painful four-game losing streak, the Rangers meet the Sabres again tomorrow night and will look to turn their season around, but with Shesterkin in net. 
---
---