In this edition of Toronto Maple Leafs News & Rumors, I'll share the news that's both emerging after Tuesday night's game and also from the organization. Last night, the Maple Leafs beat the Calgary Flames 4-3 in a very good hockey game – obviously, better from the Maple Leafs' perspective.
Related: Keefe Changes His Mind: Maple Leafs' Lehtonen Ready for Prime Time
The team played simple, careful, and effective hockey. Although the offense continues to be led by its big guns – Auston Matthews and Mitch Marner, one difference between this season and last season is that the team's defense seems much improved. Certainly, starting goalie Fredrik Andersson is benefiting from that improvement.
Item One: Justin Holl Has Been Playing Well This Season
Justin Holl scored an assist on Wayne Simmonds' goal to open Tuesday night's 4-3 road victory. Holl has been quietly playing well throughout the season. As a result, his scoring has improved much over his previous seasons with the team. His skating time last night of 22:38 of ice time in 29 shifts suggests just how much head coach Sheldon Keefe has come to rely on his shutdown partnership with Jake Muzzin. Holl is being counted on for heavy ice time, and he's delivering.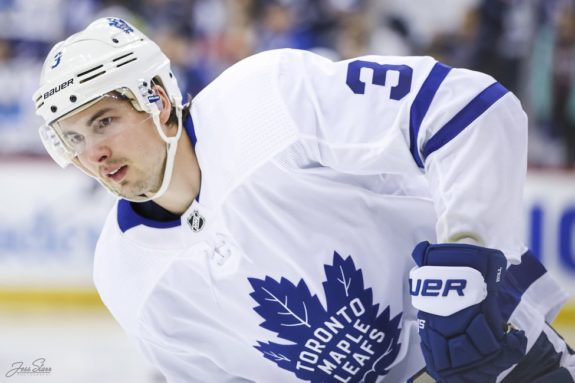 Holl's assist on Simmonds' goal was his fifth of the season. Last season was Holl's best ever, and he scored only two goals with a career-high 18 points in 68 games. Even with this season's shortened and compressed schedule, Holl's on pace for a second career season in a row insofar as offense output goes.
Item Two: Travis Boyd Scores His First Goal of the Season in Last Night's Victory
Travis Boyd played his first game of the season last night against the Flames: he also scored his first goal. The 27-year-old forward isn't new to the NHL. He's had a couple of solid seasons with the Washington Capitals. During the 2018-19 season, he scored five goals and 15 assists in 53 games. Last season, with the Capitals, in 24 games he scored three goals and seven assists. He's capable of adding value to the Maple Leafs roster this season; specifically he offers a reliable rest for some of the older players – specifically, last night that player was Jason Spezza.
Related: The Best of 'Mr. Goalie' Glenn Hall
Boyd's goal was crucial because it came just a minute after Johnny Gaudreau's goal to cut the Maple Leafs' lead to 2-1 early during the second period. Boyd quickly restored his team's two-goal lead. Although the Flames were able to tie the Maple Leafs later in the game, the Maple Leafs never lost that initial lead.
Item Three: Auston Matthews Continues to Play Strong at Both Ends of the Ice
From my perspective, Matthews is always Matthews. However, what were seeing regularly is a young player blooming into a two-way star. That is, I believe Matthews is more committed than ever to working hard and becoming successful both on offense and on defense. His first game back after his injury on Sunday afternoon might have been a bit tentative, however this game wasn't tentative in the least.
The result was a two-point night for Matthews; he scored both a goal and an assist in the 4-3 road win. Matthews currently has a three-game goal-scoring streak, with at least one point in each of the past five games. He's scored four goals and seven points during that scoring run. That total ranks him tied for second in the NHL's scoring lead.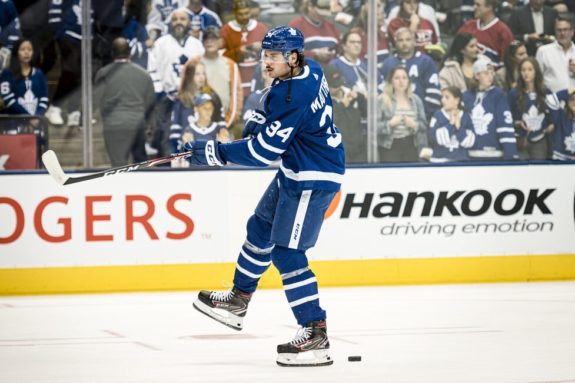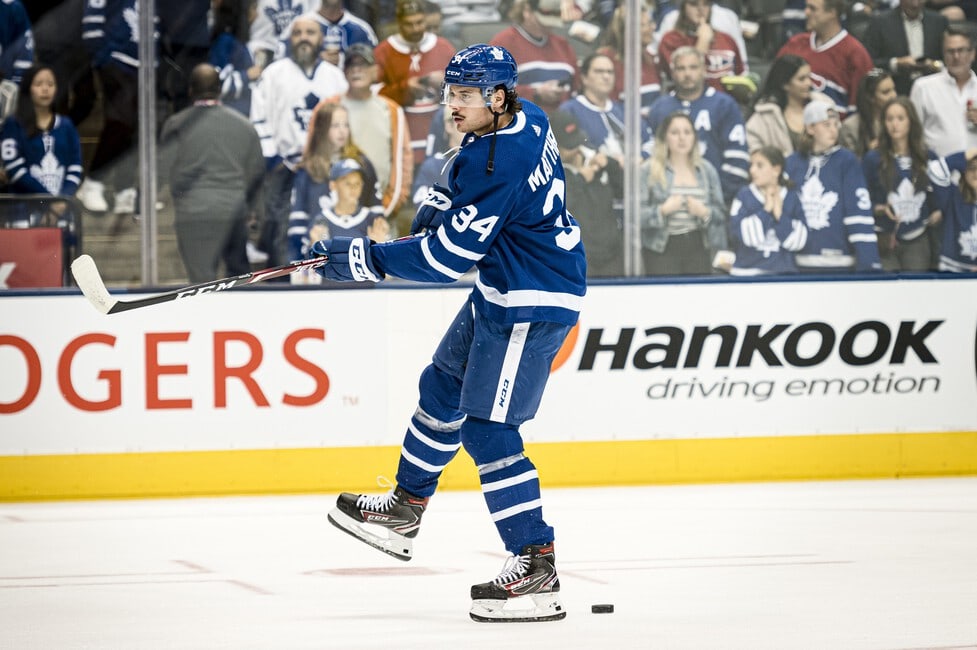 It's also interesting how much Matthews has improved in the face-off circle. During last night's game, he won 11 of his 17-faceoff attempts (for a rate of 64.7 percent). Interestingly as well, his time on ice was limited to only 18:45 minutes and 23 shifts.
Perhaps the most important thing Maple Leafs fan should be excited about is that Matthews seems completely recovered from what was generally called the "upper body injury" that kept him out of a game earlier this week. Looking at the team's upcoming schedule, Matthews will be skating against his new best friend in Edmonton – Connor McDavid – on Thursday evening.
For Maple Leafs' fans who hadn't heard, McDavid and Matthews spent considerable time together working out (and hanging out) in Arizona prior to the 2020–21 regular-season under supervised workouts from former NHL star Shane Doan. It's always fun for fans to see McDavid and Matthews go head-to-head. There is no question McDavid remains the  NHL's best player; however, my call is that Matthews is sneaking up on him.
Item Four: Mitch Marner Has Yet Another Multi-Point Game
Mitch Marner scored both a goal and an assist against the Flames and skated a total of 20:03 minutes during his 27 shifts. For Marner, that's now three straight multi-point games in a row and five multi-point games in his last six. His season's totals have now reached five goals and seven assists (for 12 points) in eight games.
I was surprised by this statistic, but Marner is leading all NHL forwards in time on ice (24:03) with teammate Matthews coming in at fourth place at 23:07 minutes. For those Maple Leafs fans who care, the Los Angeles Kings' Anze Kopitar (with 23:52) and the Winnipeg Jets' Mark Scheifele (with 23:32) rank between the two young Maple Leafs' stars.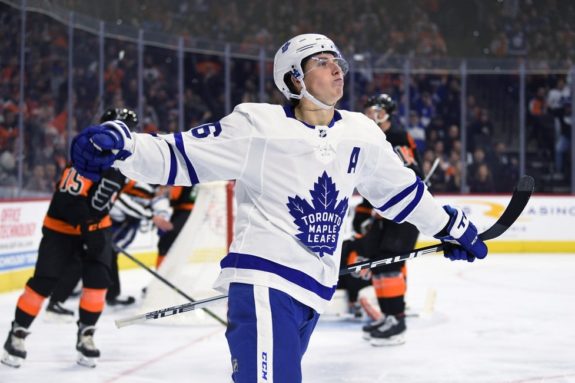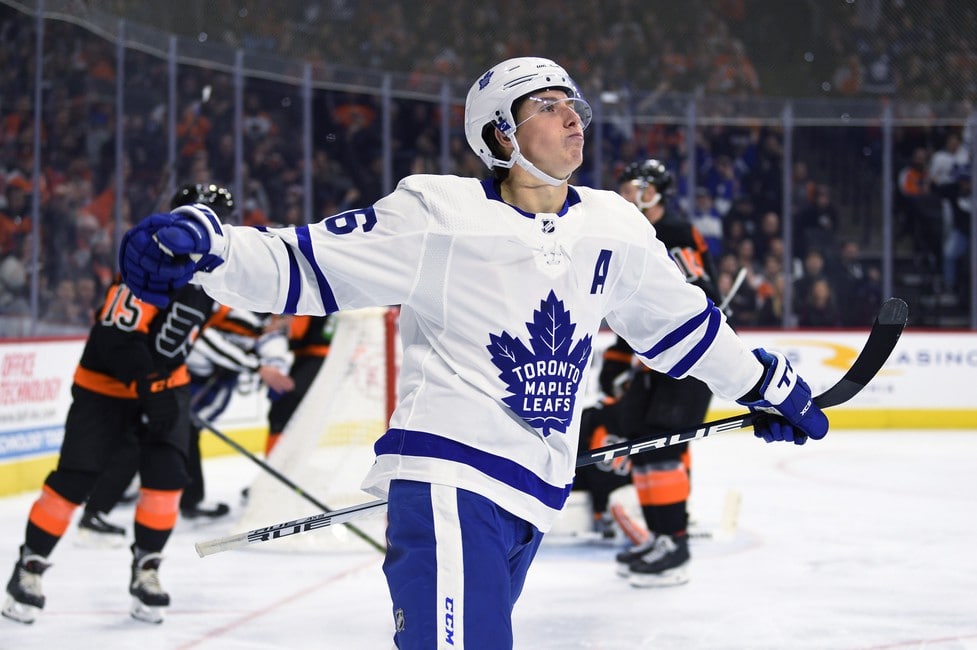 Coach Keefe's deployment of his own stars is considerably different than former Maple Leafs' head coach Mike Babcock. Babcock typically limited his best players' minutes each game.  Obviously, that philosophy is working during this seasons condensed schedule. The Maple Leafs, through solid play, currently are on top of the North Division's standings.
By the way, Marner is tied for the NHL scoring lead with McDavid with 12 points. 
What's Next for the Maple Leafs?
With backup goalie Jack Campbell injured during the first Flames' game, the Maple Leafs' goalie situation has become a bit more tenuous. Fortunately, Anderson has looked good in goal. However, although Sheldon Keefe recently suggested that Michael Hutchison is an improved and more confident goalie since last year's playoffs where he helped the Colorado Avalanche almost reach the Stanley Cup, Maple Leafs fans probably are less than thrilled with Hutchison as the current backup.
Related: Maple Leafs' Frederik Andersen: Slowly But Surely Finding His Game
To take Campbell's place, the Maple Leafs have added young goalie Joseph Woll to its taxi squad. Last year, Woll struggled during 32 AHL games with a goals-against-average of 3.75 and a save percentage of .880. Moving Hutchinson to the team's temporary number two spot means the Maple Leafs needed another body on the team's taxi squad.
Honestly, I can't imagine this happening, wouldn't it be interesting to see Woll play a game or two in the NHL?
The Old Prof (Jim Parsons, Sr.) taught for more than 40 years in the Faculty of Education at the University of Alberta. He's a Canadian boy, who has two degrees from the University of Kentucky and a doctorate from the University of Texas. He is now retired on Vancouver Island, where he lives with his family. His hobbies include playing with his hockey cards and simply being a sports fan – hockey, the Toronto Raptors, and CFL football (thinks Ricky Ray personifies how a professional athlete should act).
If you wonder why he doesn't use his real name, it's because his son – who's also Jim Parsons – wrote for The Hockey Writers first and asked Jim Sr. to use another name so readers wouldn't confuse their work.
Because Jim Sr. had worked in China, he adopted the Mandarin word for teacher (老師). The first character lǎo (老) means "old," and the second character shī (師) means "teacher." The literal translation of lǎoshī is "old teacher." That became his pen name. Today, other than writing for The Hockey Writers, he teaches graduate students research design at several Canadian universities.
He looks forward to sharing his insights about the Toronto Maple Leafs and about how sports engages life more fully. His Twitter address is https://twitter.com/TheOldProf