The first two pre-season games have seen several different players wear Ranger blue, but the fact is that not everyone has had the start that they were hoping for. The guys below have come out strong, and are giving the coaching staff some tough decisions to make. Everyone knows that the Rangers are a very tough team to crack so were seeing guys play hard to put themselves in a position to be the first one call up when an injury occurs.
Dylan McIlrath
Throughout the off-season there were several reports that McIlrath had taken a step forward in the AHL and thus far those reports seem to be on the button. In previous seasons the big defender would look to knock players into next month on every shift, and take his job as a scrapper a bit to seriously; but to this point the big defender has looked solid. His skating has been much smoother, he has a better idea of when to pinch into the offensive-zone, and he has been making short crisp passes when he gets pressured. McIlrath is pushing to be a third pairing defender with the Rangers, but Kevin Klein may not be the only one in competition for his job; if McIlrath makes this team then Tanner Glass looses his value. The big bruising defender has great reach and he's been showing that he can hang with speedy opponents. Rangers' Head Coach Alain Vigneault spoke about McIlrath after the game against the Devils on MSG, "I thought he had a good night, I mean he made some little low plays when he had the puck, I thought his gap was good; so overall I liked his game tonight." If he does get cut it will likely be at the end of this camp.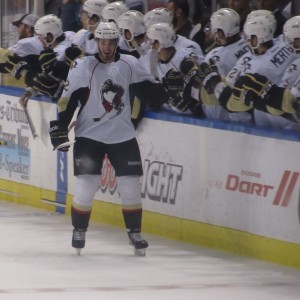 Jayson Megna
Megna played in both games and was showing off his hands, speed, and hard shot. The forward was also showing some poise with the puck; some of the newer guys seems to get running around to try to force a play, but Megna has just stayed with his assignments and jumped in when he sees a chance. It still isn't likely that he make the team, but his two goal game against the Devils should certainly put him on the teams radar as a potential call-up.
Magnus Hellberg
Hellberg got an opportunity in each of the first two games and he was good. What I notice about him is that he sometimes looks a bit clumsy, but that has a lot to do with the fact that he's 6'5″. He's given up four goals in his two half-game stints and he does seem to sink a bit deep into his net. The good thing about him is that he is showing that he's strong when shooters are in close and he does well challenging shooters one-on-one. Hellberg wasn't cut through the first round so he is still in the running for the back-up job.
AV says Raanta and Lundqvist will not handle duties alone in final four games, which suggests more time for Hellberg

— Steve Zipay (@stevezipay) September 23, 2015
Brian Gibbons
In the team's first pre-season game it was hard not to see Gibbons. He was zipping around the ice blocking shots, and in the offensive zone he showed some slick passing ability. He has great speed and the awareness to create offense in limited space may push the Rangers to take a longer look at the forward. Gibbons is another one of those guys who could play anywhere in the line-up but to me he seems better suited in a top-nine role, so he has to keep shining if he wants to grab a job. At this point he seems to be in the same boat as Megna.
Luke Adam
He has been getting to the net and playing a heavy game. He has five shots through the first two pre-season games, but to me the best part about Adam is his willingness to go to the net and his ability to win battles on the boards. He is one of the only Rangers that I've seen really battling in front consistently and he could give this team a different element at forward. He isn't very fast, but he can still keep up with the play and could push for a spot on the fourth-line. One criticism of the Rangers last season was that they didn't get to the front of the net enough, and Adam seems to be setting himself up to be a solution to that issue.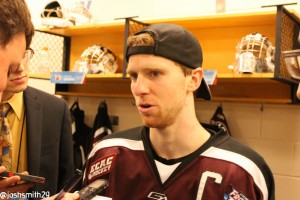 Mat Bodie
He had two goals in the game against Philadelphia on Tuesday and showed off his slick offensive abilities. He scored on a backhander in close and again on a slap-shot from the circle. Bodie has shown some good instincts with the puck, and has the ability to make fore-checkers miss. As good as he looks he still seems so thin, so the defender may have to add some beef. He's a long shot to make this club, but he is putting himself in a good position to be a first call-up. Alain Vigneault spoke after the game to Blue Shirts United about the defender, "he's got a real good stick, knows how to put it defensively, and when he's got the puck on his stick, most of the time he makes the right plays." Bodie plays an offensive style that is compatable with the Rangers' system.

Ryan Bourque
Bourque is another guy who got to play in the first two games, and he has been all over the ice using his speed. He had an assist Monday night against the Devils, but seemed to step it up on Tuesday against the Flyers. Bourque plays the kind of speedy hard-working style that the Rangers love and his involvement in all three zones is standing out. This year he seems a bit faster, and much more confident with the puck. At the moment he looks like a guy that could grind in a fourth-line role, but also put up some points when the opportunities are there. As good as he has looked the winger would do himself a big favor if he could pick up some more points in the coming games.
Oscar Lindberg
Lindberg has a goal in each of the first two games. The Swedish forward works hard in all three zones and always seems to make smart plays with the puck. Lindberg finishes his checks, moves the puck well, and when he gets chances he can score. Lindberg has always been one of the guys that could crack this club out of camp, but I have to say that his game seems to have taken a step forward from last season. He seems stronger, more poised, and confident. Lindberg doesn't look like he will grab a center job, simply because the Rangers have several options at the position; but his good work on the wing against the Flyers certainly help his chances of landing on this team.
My Take
For teams to be good in this league, they need depth; not just four lines, but even a few guys in the AHL would could step right in when needed. Some of these guys are competing to take someones job, and others are looking to be that call-up. For the Rangers, it's great to have so many guys working so hard, but unfortunately for the players, not everyone will land in the NHL.