In March, I wrote about four players on the New York Rangers who won't be back next season. I want to revisit the topic now that their season ended in a Game-7 loss to the New Jersey Devils on May 1. New York has committed plenty of cap space to core players such as Artemi Panarin, Mika Zibanejad, and Chris Kreider, among others, and with restricted free agents Alexis Lafreniere and K'Andre Miller needing extensions this offseason, management doesn't have much to work with this summer.
---
---
The organization will be making some roster changes, following their performance in the playoffs, and they've already parted ways with head coach Gerard Gallant. Here's a look at four players who are unlikely to return for the 2023-24 season.
Vladimir Tarasenko
Vladimir Tarasenko was a significant trade deadline addition made by general manager (GM) Chris Drury. New York felt they needed an upgrade at right wing in their top six. Tarasenko's name was linked to several other organizations, but the Rangers acquired him from the St. Louis Blues in a multi-player deal on Feb. 9.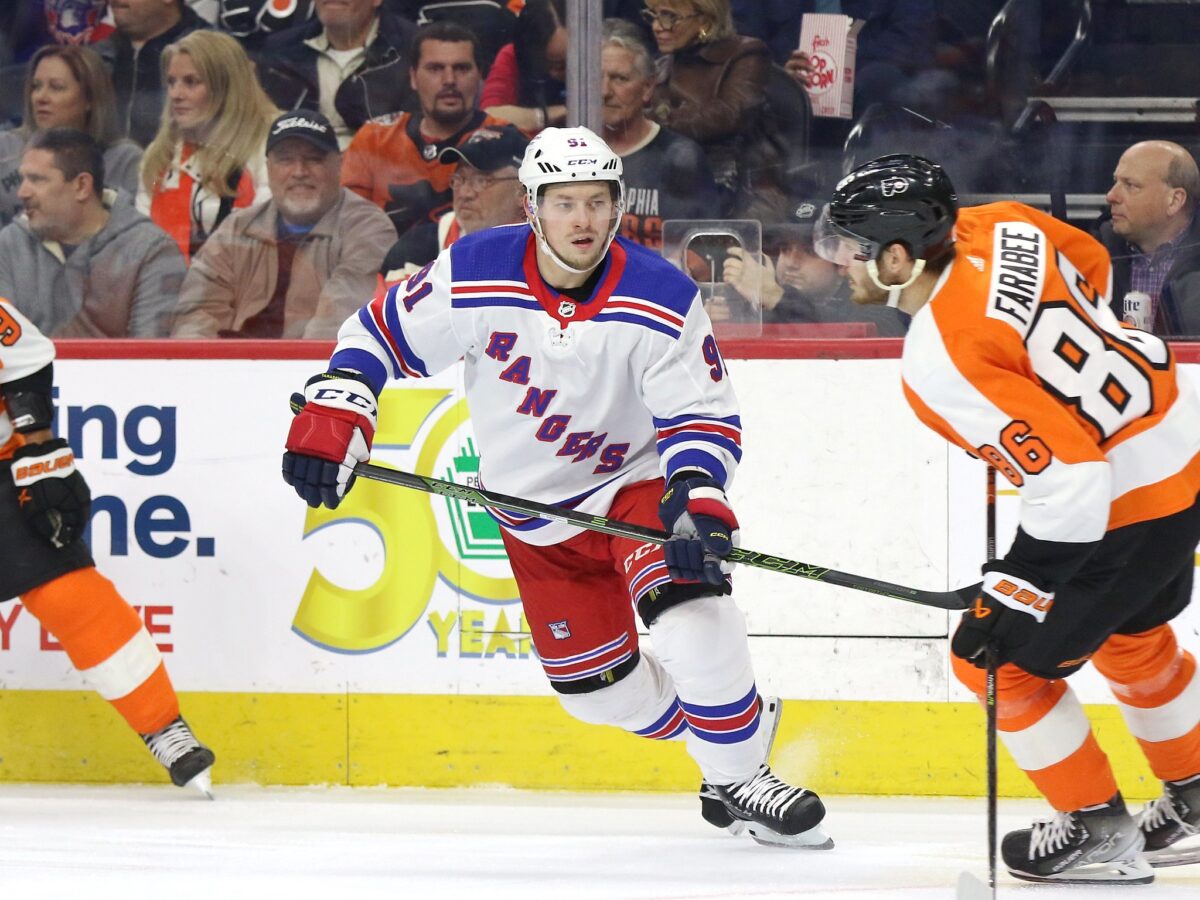 With the Rangers, Tarasenko scored eight goals and 13 assists in 31 games. Before the trade, he had 10 goals and 19 assists in 38 games with the Blues. Aside from two consecutive injury-plagued regular seasons in which he played 10 games in 2019-20 and 24 contests in 2020-21, his production in 2022-23 was among the lowest of his NHL career. His 18 goals were the fewest since he scored eight during his rookie season in 2012-13, while his 32 assists were his fewest since he totaled 22 during 2013-14.
His performance during the first-round series against the Devils was inconsistent, as he finished with three goals and one assist in seven contests. It's uncertain if Tarasenko is on the decline, but he will still likely command a multi-year deal with an average annual value (AAV) of $5.5-7 million per season on his next contract, and it won't be with the Rangers.
Related: Rangers: 3 Free-Agent Destinations for Vladimir Tarasenko
The Rangers cannot afford Tarasenko's potential AAV if Lafreniere and Miller agree to extensions. Unrestricted free agent Tyler Motte should return next season after being reacquired at the deadline. Motte would be another contract that gets in the way of the former Blues forward returning next season. Look for Tarasekno to sign a multi-year contract with another playoff-contending club this summer.
Barclay Goodrow
Barclay Goodrow seems like an unlikely player to be moved, considering the contract he signed with New York following his trade to the club on July 17, 2021. He will not be a free agent until after the 2026-27 season, but management needs to free up cap space, and the 30-year-old has a modified no-trade clause that includes a 15-team no-trade list.
---
Latest News & Highlights
---
The Journal News reporter Vincent Z. Mercogliano mentioned Goodrow as a trade candidate in the May 2 edition of The Jeff Marek Show on Sportsnet 590 The Fan. "A guy like Barclay Goodrow is someone I would keep an eye on," Mercogliano said. "He brings a lot of grit and defensive ability that they probably need more of, but (they are) also paying $3.6 million a year for a fourth-liner. If (the Rangers) were able to move that salary, that would maybe open some slots where (the organization) could target guys that would add speed to this lineup."
Goodrow is underrated as a defense-first forward, but Drury will be exploring all his options this offseason to improve the club. To Mercogliano's point, the GM may acquire or sign players known for their speed since it was a glaring weakness during their first-round series against the Devils, and to free up cap space and improve the roster, he might be forced to trade a player like Goodrow.
Kaapo Kakko or Alexis Lafreniere
Kaapo Kakko (second-overall pick) and Lafreniere (first-overall pick) were selected by the Rangers in the 2019 and 2020 NHL Drafts, respectively. Both have had mixed results in their time in New York. Neither has blossomed into a top-six player like other high picks in recent years, and former head coach David Quinn received criticism for how he handled the playing time of his young players. In Gallant's two seasons behind the Rangers' bench, he has favored playing veterans over young forwards.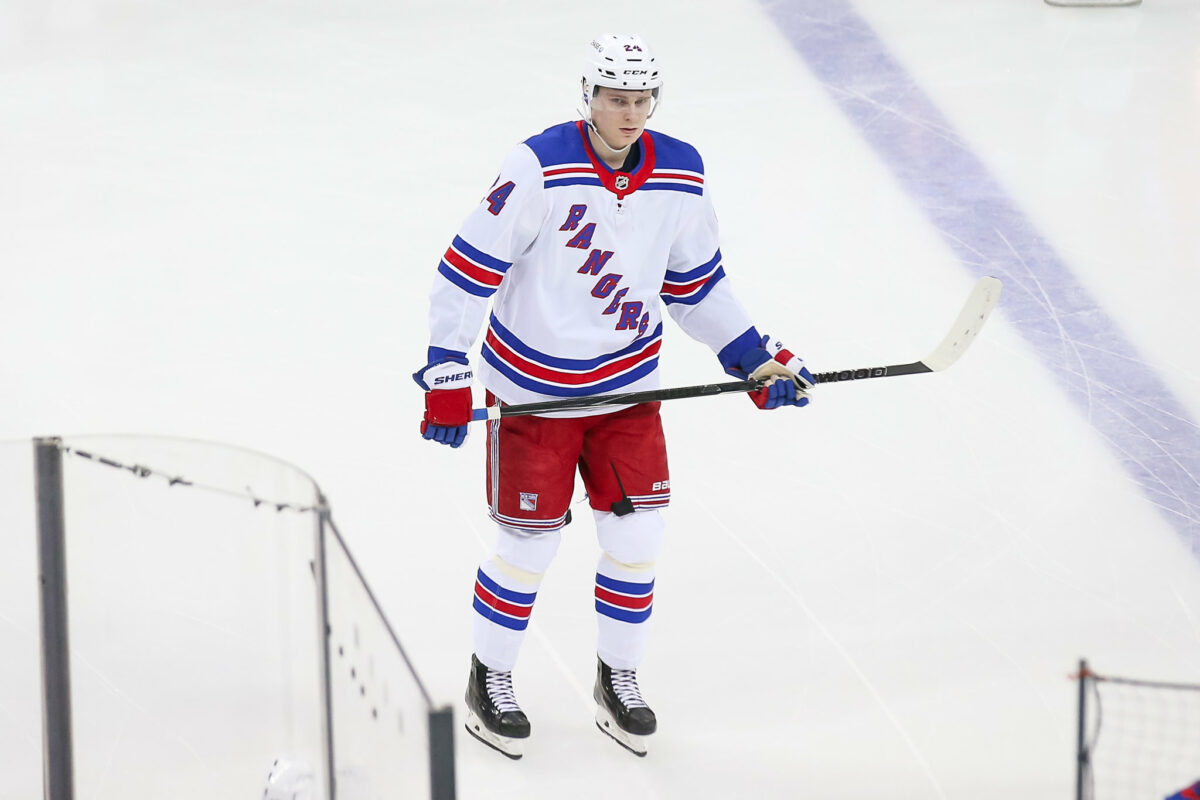 Do Kakko and Lafreniere have a future in New York's top six? The Rangers may not be the best club for them to receive steady minutes. If Tarasenko and Patrick Kane sign elsewhere this offseason, Kakko would have an opportunity to play a bigger role on the right wing. However, there is also the chance that management adds offensive players, which will again limit Kakko's ice time.
Lafreniere continues to be stuck behind Panarin and Kreider. Both forwards are locked into long-term contracts, and Panarin has a no-movement clause. Kakko and Lafreniere's futures with the Rangers are in question. Even if it's unlikely both are traded during the same offseason, it's possible one will be moved this summer.
Patrick Kane
Aside from Game 2 against the Devils when he scored a goal and two assists, Kane struggled to be a difference-maker. He was clearly limited by a hip injury that has bothered him for the last few seasons. Unless he undergoes surgery or treatment this offseason, his production will continue to decline.
Like Tarasenko, Kane wants to play for a team whose Cup window will be open for the next few years. At the moment, it's difficult to know in which direction the Rangers are headed. Their lack of cap space, their disappointing performance in the 2023 Playoffs, and the head coaching change have created uncertainty around the organization. Kane might want to sign with a club that is still in the Stanley Cup Playoffs. Management has to decide whether signing him to a multi-year deal is in their best interest.
Miller is another young player who needs a new deal after an underwhelming postseason. Drury could trade him instead of Kakko or Lafreniere, but considering he is a top-four defenseman, the club will likely keep him. However, if Miller is traded, New York could bring back Niko Mikkola on an affordable contract.
The Rangers are at a crossroads this offseason. Panarin, Zibanejad, Kreider, Adam Fox, and Jacob Trouba are all signed to expensive contracts with no-movement clauses (except Fox). It is unlikely Drury will move Zibanejad or Fox, nor should he. Kreider and Trouba each have 15-team no-trade clauses, but they do not begin until 2024-25. Drury will have to make some tough decisions this offseason to find some cap space.