There are so many talented prospects within the Detroit Red Wings organization and that's well known at this point. For example, Simon Edvinsson and Elmer Soderblom are two recent Swedish Hockey League (SHL) products that just made the switch to the American Hockey League (AHL) this season. It's no secret that the SHL produces highly skilled players, especially for the Red Wings.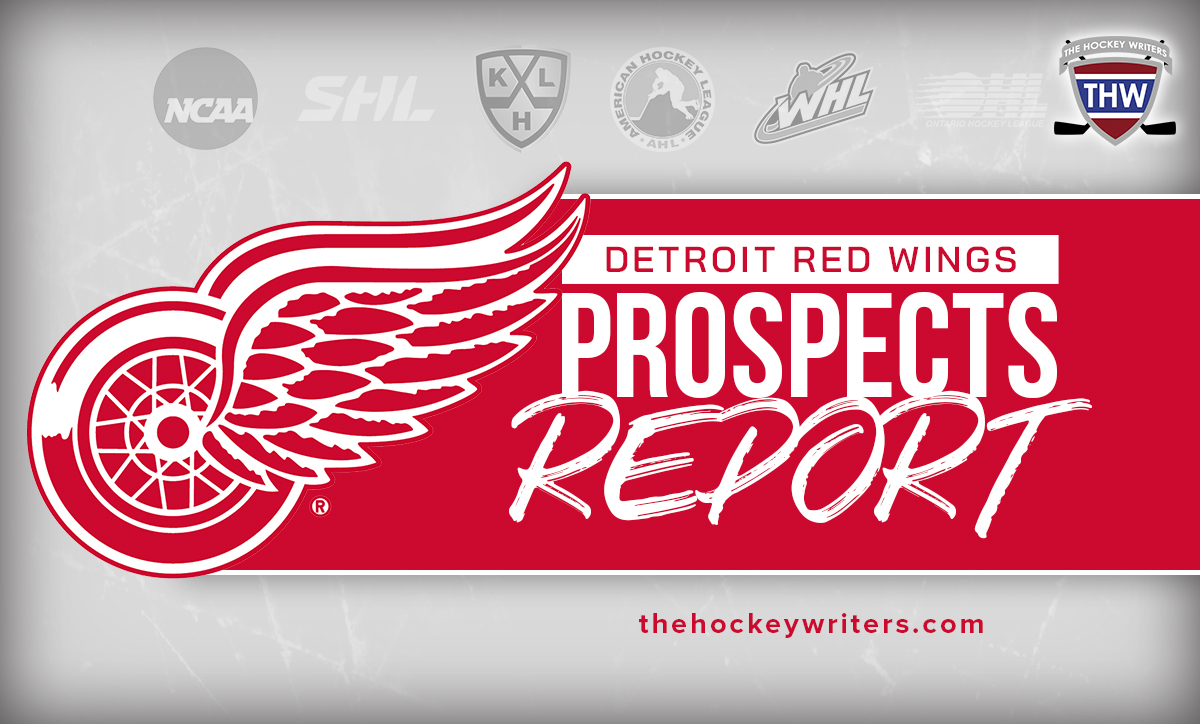 Currently, the Red Wings have six prospects playing in the SHL and each of them is worth talking about. So much talent makes it really difficult to pick a singular favorite, so here are my top three!
3. Liam Dower Nilsson – Frölunda HC
Drafted back in the fifth round of the 2021 NHL Draft, Liam Dower Nilsson has been incredible for Frölunda so far this season. The 19-year-old center is in his third season in the SHL and has made huge strides in his development. He is still bouncing back and forth between the SHL and HockeyAllsvenskan, which is Sweden's mid-tier professional league, but his progress has been notable.
Above all else, he's a playmaker. His remarkable two-way game and hockey IQ make him stand out and warrant a place on my top three SHL prospects list. He's definitely a work in progress but he is a reliable teammate and has plenty of potential to be a strong bottom-six center in a North American league one day. Even if he's not the flashiest guy on the ice, his presence in the locker room and defensive skills make up for it by a mile.
Dower Nilsson lacks an offensive side to his game and that's been reflected in his stats sheet. This season he has played a combined total of 50 games between Frölunda and Västerås IK for a total of 20 points – one goal and four assists with Frölunda and three goals and 12 assists with Västerås IK. A center lacking offense can be a bit of a red flag but I believe that he has enough other skills to make up for it.
"He is a playmaker, a passer, a set-up man, the player who feeds you the puck through three layers of defence right on your tape at the goal-mouth and the quarterback of your power play. Dower-Nilsson understands defensive vision and reactions and uses that knowledge to his advantage… Some of the power play tricks of Dower-Nilsson, you almost can't teach. His deception and foresight should combine to create some highlight-reel passes at the next level."

– Elite Prospects 2021 Draft Guide
He's not ready to make the jump up to the NHL and it'll likely be quite some time before he is. Not every prospect is a fresh off-the-shelf NHL-ready kind of guy, but that does not make him any less impressive. However, once he is able to play a complete season at the SHL level, it will be a lot easier to picture him making the transition to playing hockey in North America.
---
---
2. William Wallinder – Rögle BK
Next on my list is a defenseman with a knack for helping out on the offensive end of the ice. Now in his second season in the SHL with Rogle, William Wallinder has seen a lot of success. He's solidified his spot as one of the Red Wings' best prospects, and deservedly so. It isn't every day that you can find a 6-foot-4 defenseman with such a strong offensive upside as well as a strong defensive foundation.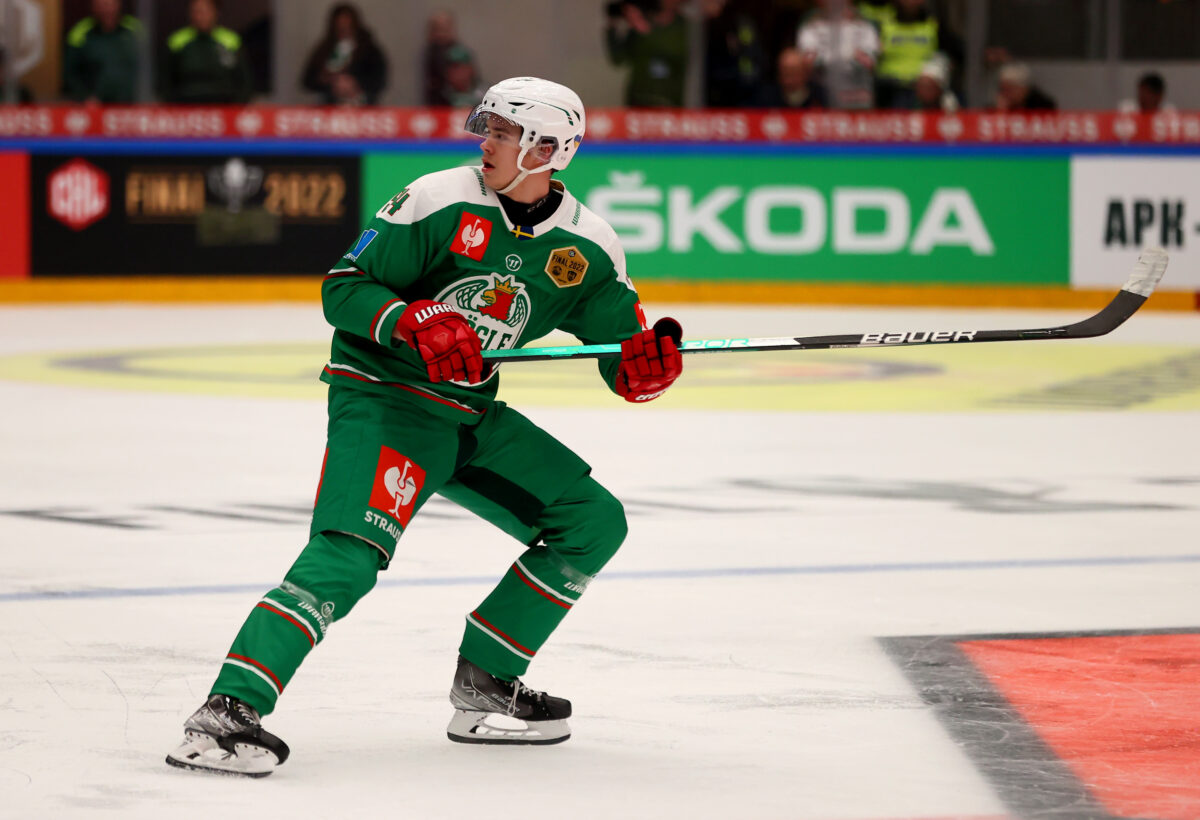 He was drafted 32nd overall back in the 2020 NHL Draft and was one of the best skating defensemen in his draft class which stood out to Detroit's scouting department. His size, skating ability, and knack for getting good passes off down the ice made him a great deal for a second-round draft selection.
Related: Red Wings' William Wallinder Is A Diamond in the Rough Prospect
---
Latest News & Highlights
---
Wallinder drives play in the offensive end and is always looking for ways to get the puck on the sticks of his teammates. His presence on the blue line is valuable since he is able to work the puck down the ice as well as provide coverage in the defensive zone. Having a defenseman with such a strong offensive toolkit is a great thing for the Red Wings, as it is sometimes a rarity to come by.
"What I was really drawn to was his desire to make impactful plays with the puck, and his poise with the puck. Some guys are rushed with it, and some guys you can't rush them no matter what you do — they are just going to make the cool, steady-eddy play, like wait you out, and he does that. And he had that even then."

– Chris Abbott (from Red Wings prospect William Wallinder is delivering on his tantalizing toolkit at Rögle," The Athletic, January 26, 2023)
This season, Wallinder has seven goals and a stunning 19 assists, which gives him the 33rd most assists in the entire league. That might not seem like a hugely impressive stat, however, this is a 20-year-old defenseman playing in a league full of grown men who have years of pro experience under their belt. He also has the third most points on Rogle's roster with 26 total through 49 games.
Like his teammate Marco Kasper, I feel very confident in saying that he will be making his North American debut during the 2023-24 season. Being able to be in the SHL with Frölunda for a full season helped get him on the right path and he's not looking to slow down any time soon. He has developed and refined his game so much both offensively and defensively that there's little to no way to deny that he's ready to make the jump.
1. Marco Kasper – Rögle BK
Number one on my list just so happens to be the one non-Swede; Marco Kasper. The Red Wings' most recent first-round pick has been tearing it up this season and boy oh boy is it fun. Selected just this past year in the 2022 NHL Draft, he has no shortage of things to be excited about. Through 48 games, he has eight goals, 14 assists, and a plus-7 rating. 
Related: Red Wings Get the Center They Need in Marco Kasper
The 2022 NHL Draft class was full of insane talent and Kasper was picked by the Red Wings over players such as Matthew Savoie and Conor Geekie. Heading into the draft, a strong center was at the top of the wishlist as Red Wings scouts evaluated their options. Upon being drafted, he almost immediately became their top center prospect and man is he something to be excited about.
Kasper ended up winning the eighth overall pick largely due to his reliability and strong two-way game. His upside is huge and the 2022-23 season was a year of many improvements for him – including the physical aspect of his game. This newly-enhanced physicality keeps him in it on both ends of the ice and makes him a force to be reckoned with for players twice his age. On top of that, he can shoot the puck, make smart plays, and lay pivotal hits with ease.
"I like every part of his game. I think he's a strong skater, I think he moves the puck well, I think he sees the ice well. I really love how hard he competes and drives to the net. So, I wouldn't really point to one part of his game that I think really stands out. I think he's good at everything."

– Steve Yzerman (from "Red Wings prospect Marco Kasper is powering through the SHL: 'He can kind of do it all,'" The Athletic, January 31, 2023)
People are already beginning to speculate that he will make his North American debut next season as he has had a breakout campaign with Rogle. He's been absolutely incredible so far this season and I cannot wait to see where he lands next fall. The Red Wings signed him to an entry-level contract this past July, so the stepping stones for him to come to Detroit have been laid. Honestly, I think that he's good enough to walk straight onto the Red Wings roster come next fall and fill the role of a second or third-line center.
I know that I have said it before and I'll say it again – there is absolutely no shortage of Red Wings prospects to keep an eye on. The SHL is a great place for highly skilled young players to develop their skills before coming over to North American leagues such as the AHL and NHL. It will be exciting to see what the offseason brings for Dower Nilsson, Wallinder, and Kasper and hopefully we will be seeing some of them in Detroit soon!