By Mike Miccoli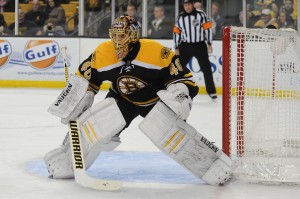 Before the puck even dropped, one could imagine what the Boston Bruins and San Jose Sharks would look like on the ice based on what they did the night before. You'd probably guess that the Bruins would seem lifeless after coming off of a 5-2 victory over the Buffalo Sabres, while the San Jose Sharks would appear well-rested after having the night off in Boston, preparing for their game against last season's Eastern Conference Champions.
You'd guess right.
After the Sharks outshot the Bruins 16-3 in the first period, it became painfully obvious which team was more prepared. For 59:59.52 of the hockey game, the Sharks had the upper-hand, even after Jarome Iginla opened up the scoring with his first goal as a Bruin late in the second period.
Hockey games are 60 minutes long for a reason.
With .8 seconds left in the game, David Krejci tipped in a shot flung at the net by Adam McQuaid to clinch the 2-1 win for the Bruins. It was pretty remarkable for a team playing in their second game in as many nights against a San Jose club that had yet to lose a game in regulation. Even after their win against the Sharks on Thursday, it was clear that the person they had to credit the most was the one who didn't play the night before.
Tuukka Rask put on a clinic for the Bruins, bailing out the flat-footed team on numerous occasions with highlight reel saves, after getting the previous night off in favor of Chad Johnson's first start for the black and gold. Rask stopped 38 of 39 shots, masterfully regaining his composure after letting up an early third period goal to Patrick Marleau that tied the game for San Jose.
"I just wanted to get a good start," said Rask after the game. "Sometimes it's better when you face a lot of shots in the first period. You kind of get yourself into the game if you're able to save the pucks. It's more of a mental challenge, to force yourself to be at work and be fully aware of what's going on out there."
Rask lowered his save percentage to .957 and goals-against average to 1.26 in his sixth win of the season. On the year, Rask has only let up ten goals in eight games. It probably should have been more than that tonight.
"We felt like we should have had better legs to start with," said Rask. "They were sitting here waiting for us so we were expecting maybe to be able to match their intensity at the start but we obviously didn't."
For much of the game, Rask was the reason why the Bruins weren't down by a larger margin. The Sharks ended up outshooting the Bruins 39-14.
"We never want to use excuses, but we weren't as good in back-to-backs," said Iginla who is now riding a three-game point streak after his goal tonight. "When you're the team waiting, you always want to come out and jump on them and we got jumped on tonight in the first period. San Jose had an opportunity to wait and they're playing really well, so they just used that to their advantage."
The Bruins, now riding a four-game win streak, will have a day off before welcoming New Jersey to Boston on Saturday night.
Follow Mike on Twitter for more Bruins updates, news, and commentary.