Rankings:
Minnesota
Boston College
Clarkson
North Dakota
Wisconsin
Cornell
Mercyhurst
Harvard
Boston University
Ohio State
Game of the Week
Quinnipiac at #8 Harvard, Fri. 10/25 @ 7 p.m. EST
The Bobcats are off to a great start to the season, posting a 5-0-1 record. Since being shut out in a 0-0 tie with St. Cloud State in their very first game of the year, they've outscored their opponents 21-4. Senior Kelly Babstock has already tallied 10 points, but Quinnipiac's younger players are really making a big difference. Freshman Emma Woods and sophomore Nicole Connery are, respectively, second and third on the team in scoring, and sophomore defenseman Cydney Roesler has made a huge jump this year on the blue line. Chelsea Laden also has been fantastic in goal, posting a 0.53 goals against average and .974 save percentage.
Harvard, though, should be much tougher competition than the teams the Bobcats have faced in their six games so far. This is the first game of the season for a young Crimson squad, and it should be a good match-up for them. Even with Marissa Gedman back, there's a lot of work to be done on the back-end for Harvard, so we'll see how they handle themselves against Quinnipiac's offense. The Crimson will also need to find some new go-to scorers this season, and talented freshman forward Sydney Daniels will be one to keep an eye on in that regard.
Top-10 Teams in Action
#1 Minnesota at Bemidji State, Fri. 10/25 @ 8:07 p.m. EST & Sat. 10/26 @ 5:07 p.m. EST
#2 Boston College at Syracuse, Fri. 10/25 @ 7 p.m. EST
#3 Clarkson at Cornell, Fri. 10/25 @ 4 p.m. EST; #3 Clarkson at Colgate, Sat. 10/26 @ 3 p.m. EST
#4 North Dakota at St. Cloud State, Fri. 10/25 @ 8:07 p.m. EST & Sat. 10/26 @ 4:07 p.m. EST
Lindenwood at #5 Wisconsin, Fri. 10/25 @ 8:07 p.m. EST & Sat. 10/26 @ 3:07 p.m. EST
#3 Clarkson at #6 Cornell, Fri. 10/25 @ 4 p.m. EST; St. Lawrence at #6 Cornell, Sat. 10/26 @ 3 p.m. EST
Maine at #7 Mercyhurst, Fri. 10/25 @ 7 p.m. EST & Sat. 10/26 @ 2 p.m. EST
Yale at #9 Boston University, Sat. 10/26 @ 3 p.m. EST; #9 Boston University at Northeastern, Tues. 10/29 @ 7 p.m. EST
What to Watch For
Providence and Northeastern will face off in a big home-and-home series this weekend. The Huskies, after being swept by Cornell last week, will look to right the ship against a team that they'll probably be competing with all season long for a spot in the standings. They need to find a way to score some goals; top players like Paige Savage, Brittany Esposito, and Kelly Wallace will need to be more consistent in that department. The Friars have some talented pieces up front but they need to take the next step and get their top lines clicking to put together a dominant offensive performance, which I think they're capable of. It'll be interesting to see if it'll be an even battle all series, or if one of these teams will be able to earn a sweep.
The Eagles will travel to Syracuse in what should be a pretty tough road contest for them. The Orange have been doing a lot of things well so far, so Boston College can't afford to overlook them. BC will be facing a very strong goaltender in Kallie Billadeau, who I think is perfectly capable of leading an upset bid for Syracuse. The Eagles just can't allow themselves to get frustrated. As long as they're mindful defensively they'll be able to focus on scoring even if Billadeau stands on her head. However, if they start giving up chances and possession to the Orange, it could lead to trouble.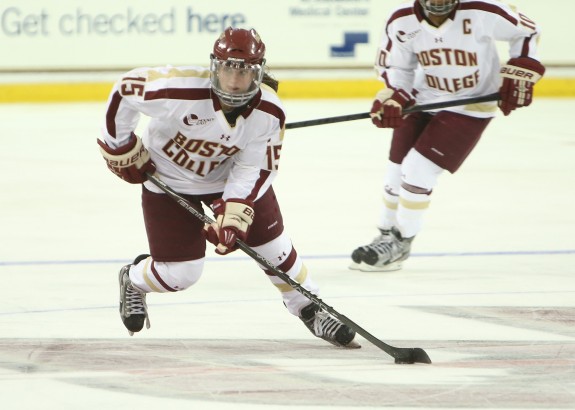 Minnesota-Duluth is winless in their last four games, having dropped three of those to North Dakota and Minnesota. The problem right now for the Bulldogs is not lack of effort, but lack of depth. They just haven't gotten enough out of their lower lines and defensive pairs to be able to outplay either of those teams, which is why this weekend is really important for them. They'll be playing a series against Minnesota State, and it's a good opportunity for the Bulldogs to gain some confidence in their entire line-up. The Mavericks can put up a good fight, though, so Minnesota-Duluth will want to come out ready to go, in response to the way things have gone the last couple of weekends.
Cornell welcomes Clarkson for a match-up between two teams who will both absolutely be gunning for first in the ECAC. After scoring only one goal in a series that saw them lose to and tie with Mercyhurst, the Golden Knights will be hungry for a big win here against a conference rival. They'll want to get their offense back on track right away in order to match the weapons that the Big Red have up front. Cornell will look to make use of those weapons and solve the puzzle that is Clarkson goaltender Erica Howe. The Big Red also face off against St. Lawrence this weekend as well, so it'll be interesting to see how they perform against the Saints after either winning or losing a big home game.
Gabriella is now in her third season of covering NCAA and international women's hockey for The Hockey Writers. She is the founding editor of At Even Strength, a website dedicated to providing full-time coverage and analysis of women's hockey. She is currently working towards a degree in Communication at the University of North Dakota, and is also interning with UND Athletic Media Relations. She can be reached on Twitter (@gabfun) or via e-mail (gfundaro10 [at] gmail [dot] com).