The 2018 NHL Combine is officially in the books. In all, more than 100 players from Europe, Canadian junior and U.S. college teams attended the event that was held in Buffalo for a fourth straight year. It is set to return next year as well.
Players were interviewed, measured, tested and generally put through the ringer mentally and physically. They were challenged at various stations: broad jump, vertical jump, agility course, bench press, pull-up bar and the Wingate bike test. It was the last chance for scouts to get to know a player before the NHL Entry Draft on June 22 and 23 in Dallas.
Watch the video below to see Dahlin at the Combine.
With the Buffalo Sabres holding the first-overall pick, there were a ton of eyes on presumptive No. 1 pick Rasmus Dahlin of Sweden.
Six Things We Learned About Dahlin at the Combine
1. Dahlin Has Size and Strength
At 18-years-old, he's already a big kid. Dahlin officially measured 6-foot-2 and three quarters and weighed in at 185.3 pounds. Beyond those pure numbers, his muscle tone was evident, especially during the bench press and Wingate tests. He recorded 10 pull-ups, crushing Casey Mittelstadt's numbers from last year's Combine and Sam Bennett's 2015 total — neither could complete a single one.
Dahlin cracked the NHL Central Scouting's top 25 list in three testing areas. He was sixth among the prospects in 'fitness duration' at 16 minutes, 1 second. He tied for 13th in wingspan at 77.50 inches. And he was 19th in body fat percentage at 8.96.
Just as Rocky trained in unorthodox ways to prepare for his fight against Ivan Drago, Dahlin has spent time training in sand. "When I was younger, I trained at a quarry that was full of sandhills that was an hour and a half away from home in Gothenburg. It was a hard way to train in the summer because it consists of huge sandhills," said Dahlin. "When you're running in straight lines, in sand, it's not easy. You have to run up and sometimes get stuck. It helps build the body and it's mentally challenging."
Related: 2018 NHL Combine Heights & Weights
2. Dahlin Is Not Just a Highlight Film, He's Human
It's easy to get caught up in the excitement of comparing Dahlin to All-Star defensemen. It's also easy to buy into the hype generated by thousands of highlight videos on Youtube. But, at the end of the day, Dahlin is an 18-year-old kid from Sweden.
He showed a lot of poise and confidence when surrounded by a media mob and was swarmed by paparazzi-like photographers. His every move was documented several times over but he handled it all like a professional. "It's the first time so many cameras," said Dahlin. "It's fun. I love it."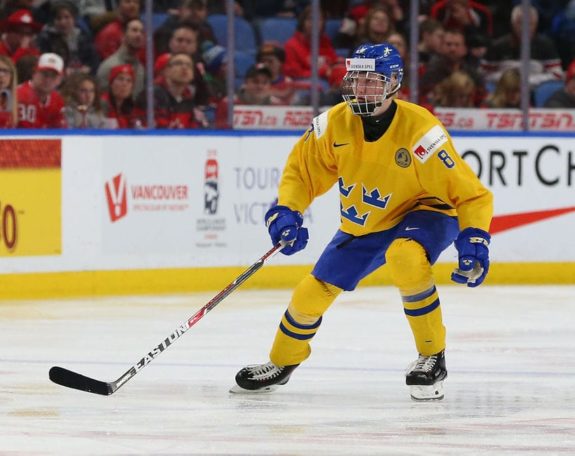 Dahlin met with the Sabres general manager Jason Botterill and got a tour of the facilities. "It was like all the other meetings," Dahlin said. "It was great. It was all fun in that meeting, it was pretty good."
Sabres coach Phil Housley wasn't at the Combine. In a bit of a role reversal, Dahlin admitted to watching some of Housley's highlights on the internet. "I saw some clips (Thursday), I saw some moves he did," said Dahlin. "It was pretty awesome to see, a skilled player."
3. Dahlin Won't Hide
Like many of the prospects at the Combine, and for that matter in the world, Dahlin admitted to playing Fortnite, the highly addictive game that starts with 100 players in a survival contest and the last one standing wins. "I'm a pusher. I want to push everybody," said Dahlin with a smile. "There are some guys that try hiding to win."
Sabres fans will hope this philosophy holds true on the ice. They know that regardless of the numbers and measurements of the Combine, stats only mean something if a player's head and heart are committed to doing whatever it takes to win. The Sabres need players with drive that can push one another. "I'm a player that wants to win. I hate to lose," said Dahlin. "I can bring myself and my competitiveness."
4. Dahlin Has Flow
His mighty blond mop was on full display during the Wingate aerobic bike test and pretty much every station. Hockey players are known for their flow and Dahlin didn't disappoint. Though his bushy locks might not have been the best choice for events that rate aerodynamic, streamlined success, like the broad jump and vertical jump.
That hair tho pic.twitter.com/PBa6gMawiE

— Matthew Bové (@Matt_Bove) June 2, 2018
5. Dahlin Isn't a True Buffalonian Yet

Facing the fact that he's destined for Western New York, Dahlin had his first taste of wings this week from the Anchor Bar. Apparently, they were a little too hot for his liking. "I actually ate chicken wings two days ago. It was good, but I probably took the [ones that were a] little too spicy. I've got to go with the mild next time. " said Dahlin with a smile.
Fans in Buffalo are already ecstatic about the Swede, so they'll likely look past his need to walk, or rather eat, on the mild side. It wasn't like he was dipping his wings in ranch dressing. That would not be acceptable.
Related: Emptying the 2018 Combine Notebook
6. Dahlin Knows His Next Home Is Buffalo
Dahlin tried not to acknowledge the Sabres' plan to select him. "Nothing is done, yeah, wait and see until that draft, what's coming up," he said. "Yeah, if I'm coming here, I would love to be here. I hear they have great fans and everyone loves hockey here. It seems like Buffalo is a great city."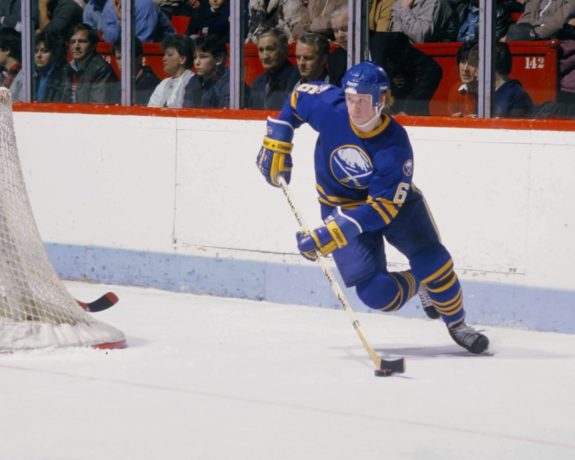 The last time the Sabres had a defenseman go from the NHL Draft to a full NHL season was 1982 when none other than Minnesota high school star and current Sabres coach Phil Housley made his debut. In his first season, the No. 6 overall pick recorded 19 goals and 47 assists for 66 points.
But before minds race with excitement and further comparisons, let's get to the draft in Dallas in a few weeks and hear Botterill call Dahlin's name.