What's The Grind Line? Apart from the once-famous line of Kris Draper, Kirk Maltby, and either Joe Kocur or Darren McCarty, The Grind Line is also The Hockey Writers' weekly column about the Detroit Red Wings. Jacob Messing and Tony Wolak are the muckers who make up THW's forechecking unit and sound off on Red Wings topics.
---
After a second straight season ending after 82 games, the Detroit Red Wings' rebuild will take the next step in 2018-19 with significant turnover on the first line.
With the departure of center Pavel Datsyuk and aging of Henrik Zetterberg, Dylan Larkin is primed to take over the No. 1 center role. His wingers are to be determined, but in this week's The Grind Line, we discuss a few options.
Tony Wolak:
Anthony Mantha – Dylan Larkin – Justin Abdelkader
If the past calendar year has proved anything, it's that Larkin is ready to become Detroit's No. 1 center.
After a breakthrough 2017-18 campaign (career-high 63 points), the Waterford-native finished off the year with a superior performance at the 2018 World Championships. As Jeff Blashill's top center for Team USA, Larkin played in all situations and produced nine points in ten games. Now, he's ready to fill the same role for the Red Wings.
Flanking Larkin on the top line would be Mantha and Abdelkader. Mantha took another step in his development this past season, with 24 goals in 80 games. Playing on the top line should see the big winger top 30 tallies in his third full NHL season.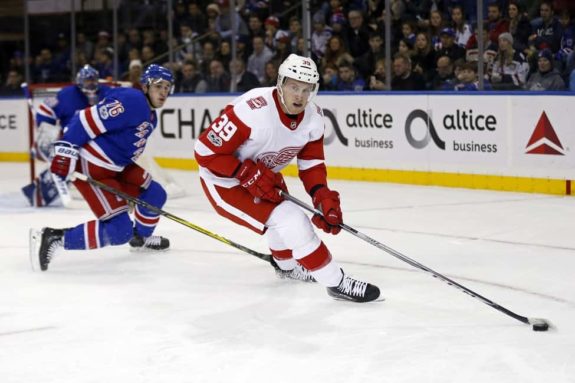 Opposite of Mantha, Abdelkader can provide defensive stability and some offensive contribution. He works well along the boards and can do the dirty work to help set up Larkin and Mantha in the attacking zone. Plus, Abdelkader has Blashill's trust to shut down opponents – or at least play against opponents' top players on a regular basis.
Larkin's line will not immediately assume the full responsibility of the top line, though. Blashill will likely keep Henrik Zetterberg in a No. 1B center role for the time being. And why not? The veteran continues to defy age-based expectations, constantly giving it his all, showcasing world-class creativity, and most importantly, producing at both ends of the rink.
Gustav Nyquist will likely resume his finishing role on Zetterberg's wing and could be joined by 2017 first-round pick Michael Rasmussen. After a stellar Western Hockey League (WHL) postseason, the Red Wings will give Rasmussen a long look in training campwith the hopes that he impresses enough to stick around. Playing Rasmussen on Zetterberg's wing would allow the 19-year-old to learn from one of the best and play meaningful minutes.
Related: Red Wings 2018 Prospect Update
If only the Red Wings had a top defensive pairing that could complement the top two forward lines. They'll certainly have a lot of defensemen to choose fromfor that role.
Jacob Messing:
Anthony Mantha – Dylan Larkin – Tyler Bertuzzi
Larkin is ready to assume the big minutes and two-way requirements of a top line center. Turning 22 years old in July, Larkin still has another level or two to his game and could have been a 70-point playerin his third season with a tad more puck luck. His speed, offense and playmaking will help his line mates reach another level, too.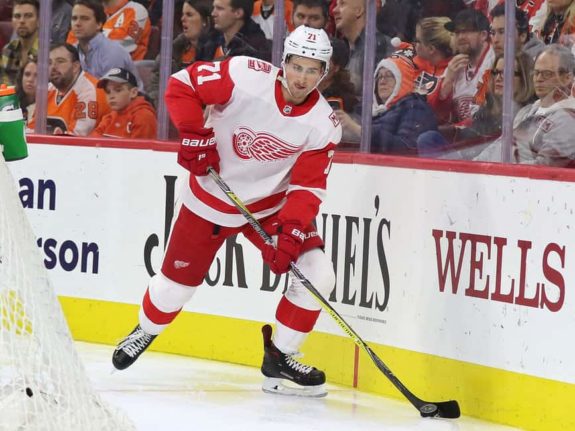 One of those line mates is almost a lock in Mantha, who is still learning how to use his 6-foot-5, 225-pound frame to his advantage. He posted career highs with 24 goals and 48 points with some flashes of what made him a two-time 50-goal scorer in juniors. He'll turn 24 in September and is taking the necessary steps to grow his gamein the offseason.
Let's take a quick journey to line No. 2. Zetterberg has aged gracefully and but at almost 38, he's entering the territory where less is likely more. He'll be flanked by Nyquist, a consistent linemate last season even through Blashill's regular line juggling.
Bertuzzi was a nice American Hockey League (AHL) graduate last season and brought tenacity to the team, playing primarily alongside Zetterberg and Nyquist in his 48 games. He was a pleasant surprise with seven goals and 24 points in that span. But that spot could be filled by one of Rasmussen or Evgeny Svechnikov out of training camp.
While his game is reminiscent of a solid third-line player, Bertuzzi has come a long way since being pegged as an over-drafted player in the second round (58th overall) in 2013. His scoring ceiling is higher than a third-line player and that could land the 23-year-old a nice audition on the top line with Larkin and Mantha as a young, head-turning line.