MONTREAL — Rasmus Ristolainen scored in overtime as the visiting Buffalo Sabres beat the Montreal Canadiens 6-5 on Thursday night.
Vladimir Sobotka and Jeff Skinner, with two each, and Conor Sheary scored in regulation time for the Sabres (8-6-2).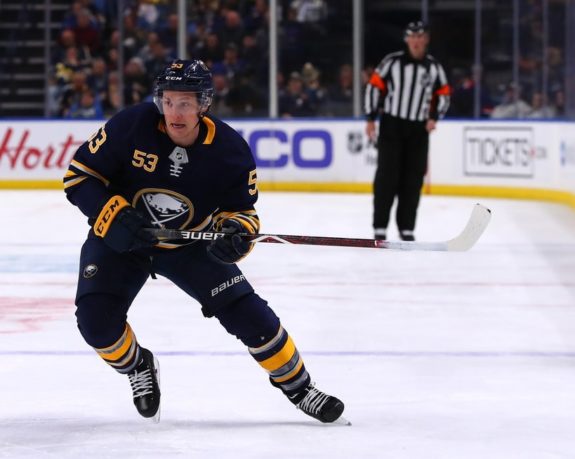 Linus Ullmark gave up five goals on 32 shots after two periods. Carter Hutton, in relief, made fives saves in the third.
Related THW Content: How Well Do You Know Your Goalie Trivia
Jonathan Drouin, Matthew Peca, Andrew Shaw, Tomas Tatar and Nicolas Deslauriers scored for the Canadiens (8-5-3). Max Domi, with three assists, extended his point streak to five games.
Carey Price made 25 saves on 31 shots.
With the game tied 5-5, Ristolainen scored the winner at 1:38 with a slap shot that blew right past Price after a failed 3-on-1 for the Canadiens at the other end. It was the only shot in overtime.
The Sabres took three leads in the first period but Montreal answered right back each time.
Buffalo went up 1-0 through Sobotka's first at 6:08 before Drouin equalized on a 2-on-1 with Domi at 9:14.
The teams then combined for four goals in the span of 1:46.
Sobotka gave Buffalo the 2-1 lead at 14:40 after Price failed to control a rebound in his crease.
Montreal tied it up just 10 seconds later when Peca netted his first in a Canadiens uniform on a bank shot from behind the net.
Sheary, playing his 200th NHL game, made it 3-2 at 15:52 before Shaw jumped on a loose puck in the crease to tie the game 34 seconds later.
The goals kept coming in the second period, with Skinner giving Buffalo a 4-3 lead at 5:34 just seconds after Jack Eichel hit the post.
Canadiens Defense Leaky Lately
The Canadiens have allowed at least four goals in five of their past six games.
Tatar got Montreal level again with his sixth of the season at 10:17 on another 2-on-1 with Domi, who leads the Canadiens with 19 points this season.
After tying the game four times, the Canadiens took their first lead when Deslauriers scored a short-handed goal — his first of the season — when he beat Ullmark between the pads at 18:03 of the second.
Skinner scored his second of the game 2:20 into the third period to make it 5-5.
It was the second meeting of the season between Montreal and Buffalo, with the Sabres winning 4-3 on Oct. 25.
Notes: Forward Joel Armia will miss six to eight weeks with a right knee injury. The Canadiens recalled forward Kenny Agostino from the AHL as a result.
Kelsey Patterson, The Canadian Press