Three years ago, when Brian Burke devoted every second of his time into getting Jonas Gustavsson's signature on the dotted line, the 'Monster' was perceived as a skillful goaltender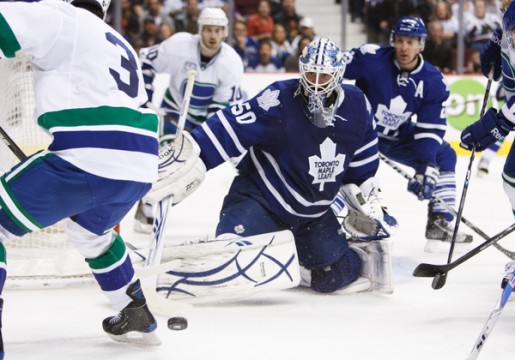 destined for NHL stardom after a very successful season with Farjestad BK of the SEL. He tore up Sweden's highest ranked league that year, posting phenomenal numbers on route to leading his team to an SEL League Championship. Add in a few consistent seasons prior, and you had yourself the best goalie not in the NHL. And of course, everyone wanted him. After all, which team didn't express even the  slightest of interest in Gustavsson? He was a dream product for each and every goaltending coach in the league. He was big goalie, who relied more on his athleticism and mobility to make a save rather than his size. However, that's not to say his size wasn't a big part of his game, as in his butterfly, he took up all of the bottom of the net, and covered most of the top with his 6'3, 210lb body. Gustavsson, arguably, was the biggest and most exciting hockey player to come out of Europe in a long, long time.
Three years later and Jonas Gustavsson may be forced to sell his Toronto condo.
To say the 'Monster' has been "bad" is extremely inaccurate. He's had to deal with three heart procedures in a matter of 10 months, was in the backseat in Toronto from day one, and has had the patented Toronto pressure on his shoulders to perform excellently. And predictably, he faltered immensely. Yes, he had his bundles of games where he would be just miraculous, but more often than not, he had long stretches of games where he would be inconsistent and quite simply, frustrating. One period, you would see the Gustavsson every envisioned coming from Europe, and then the next he would be the on Toronto's most wanted dead list. He had a knack for letting in the untimely, extremely costly soft goal. Coach Ron Wilson clearly reached his breaking point with the goaltender last season near January, when he shut down Gustavsson for the season after Jonas went a string of games letting 6 or more goals in.
This year was supposed to be a fresh start. He was supposed to fully healed and healthy, and mentally ready to compete for the starting job come training camp. As you may of noticed, an .876 save percentage through 4 starts wasn't exactly what most fans and coaches had in mind.
Now, that begs the question: is Jonas Gustavsson an NHL caliber goaltender, or is he out of place here in what many agree to be the most competitive and talented hockey league in the world?
My simple answer: No, he is not out of place. In fact, he's far from it.
Gustavsson, like mentioned, is an extremely, extremely skillful goaltender. His skating ability, as well as mobility and swiftness on his feet is unparalleled among all the goalies the Leafs have under contract right now. Add in his size, and you're looking at one hell of a goaltender. However, the single issue keeping Gustavsson from NHL stardom has been how mentally fragile he is. It's no secret he gets very quickly distraught and angered when he lets that squeaker in. It's crystal clear in the way he plays. When you have the Gustavsson mentally there, you have a goaltender how is very precise on his butterfly slides, very accurate with his angling with the puck, and stops every puck with authority. When you have the Gustavsson that is not there mentally, you have a goaltender that over slides when in his butterfly, is god-awful on his angling, and is evidently fighting the puck with the anomaly of a great save here and there.
The big question begged here is why can Gustavsson be so bipolar when in the net, jumping from being a great goalie in one game to a torrid one the next? It's simple, his playing style is being altered too much, so much that it's not for the better of him, but rather for the worse.
When Gustavsson signed here, he listed Francois Allaire as being on the biggest reason he chose Toronto over Dallas (who was reportedly the next choice). He stated he was excited to work with one of the best in the business, and was looking forward to what changes Allaire would make to his game to make him a solid NHL goaltender. Well, as it turns out, the 'changes' Allaire has implemented into Gustavsson's game have been negatively taken, and it's showed on the ice, obviously.
Allaire employs a blocking save type of teaching to his goaltenders, where he teaches his students to block the puck and corral their rebounds rather than be reactive. He teaches his goalies to play by the numbers, and be very calculative and logical on their decisions when in a game. Gustavsson's natural style has been just to read and react to the black piece of rubber coming at him. He was never one to play anything based on numbers, he would just, simply, react. And quite frankly, as shown in his SEL days and during stretches of optimism with the Leafs, it's shown. When he's on his game, he takes the little things Allaire has taught him like using his frame more effectively, and pouncing on pucks quicker, and implements them into his natural game, and it works greatly for him. When he's in his zone, he's almost never mentally shaken and is never inconsistent.
When he plays the 'blocking save' style over the reactive one, he gets himself into stretches of poor play, letting in those weak goals, thus getting to his head and completely destroying his confidence.
A question I asked myself is well, how can the Leafs get Gustavsson to play the way he knows how to all the time? One solution I found was to get his Swedish goalie coach – Erik Granqvist – to coach the goaltender full time. Another solution? Show the Monster he's got full confidence from his coaches by playing him more and more. However, the knock on that strategy is, well, we've got this really good goalie named James Reimer as our dedicated No.1, and he's not going anywhere.
After taking all this information into consideration – the fact when he's on his game, he's very precise on his angling, he plays more of a reactive style than squared, blocking style, and is never mentally shaken – it became obvious to me that Toronto just may not be the place for Jonas Gustavsson to become a consistent number one goaltender. I concluded that, for Gustavsson to thrive in the NHL, he would need to be on a team that is completely devoted to him and no one else. He's a goaltender that' improves with the more shots he sees, and he won't get that in Toronto. Reimer is here to stay, he's everything we need right now and he's going to be here for a very long time, and that puts Jonas in an unfavorable spot with the buds.
And that's why I came to the conclusion that in Toronto, all we'll see is the inconsistent, mentally broken Gustavsson, with the odd great game that will tease us with what could have been. All the factors point to that conclusion – Allaire being the 'guy' with goalies in Toronto, him being the number two to a goalie that never gets mentally shaken, and Toronto being the pressure cooker that it is. Combine that with only 25-35% of the starts, and unfortunately you have a recipe for inconsistency.
It's unfortunate for sure, because it" definitely sting to see Gustavsson thrive in an environment that is completely committed to him, but it's a necessary one, as he's just not an ideal fit.