Who was it that said "winning fixes everything"? The Dallas Stars' success in the still early season substantiates this theme. After a tumultuous end to last season, as well as a shaky offseason, the Stars have rolled through October of this season, posting seven wins in 10 games.
The team's chemistry and solidity thus far has validated the additions made by Stars' General Manager Joe Nieuwendyk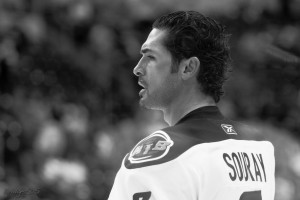 in the offseason. Reborn defenseman Sheldon Souray has proven that he isn't all washed up. Souray is sixth on the team in points (he has two goals and four assists in 10 games), and he leads the team in +/- with a +6 rating. Newcomer forward Michael Ryder is second on the team with three goals and is tied for second with a +3 rating. The Stars' front office has built nicely around the young assets of Jamie Benn, Loui Eriksson, Trevor Daley, and Kari Lehtonen. Last season, the Stars added Adam Burish and Alex Goligoski for veteran leadership; Ryder, Souray, Radek Dvorak, and Eric Nystrom have also been positive supplements this year to a burgeoning team. Last season, the Stars seemed to have obvious holes up front as well as on the blue line. This season, however, the team has above-average depth that shows in the fact that the Stars are able to put together a more robust 60-minute performance on a regular basis.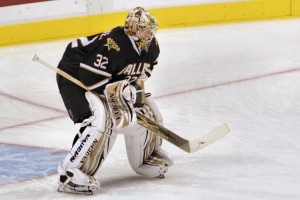 Similar to last season, Lehtonen has done a superb job in net. The young Finish netminder showed that he was a franchise goaltender when he nearly carried the team to the brink of a postseason berth. Thus far, in eight games this season he has a 7-1 record, a 1.84 GAA, and a 0.945 SV%. If Lehtonen continues on this track, Nieuwendyk would be well suited to lock the goaltender into a long-term contract.
Rookie Coach Glen Gulutzan has shown his system is a good fit for the Stars roster, boasting a strong "attack first" mentality that bodes well with the team's speed and depth up front. Gulutzan's contemporary approach to the game fits well with the rule changes that provide more ice and and protection for offensive-minded players. Players such as Eriksson, Benn, and Mike Ribeiro should flourish under Gulutzan's system, which boasts a tough dump-and-chase approach and long passes to capitalize on open ice, physicality, and speed.
With a shootout win against the Phoenix Coyotes sandwiched between two losses to the Los Angeles Kings, the Stars look to continue their early season success with a home game against the New Jersey Devils on Saturday, October 29. After a five-day break, the Stars are back at it again on Friday, November, 4th against the Colorado Avalanche in Dallas.
Tim lives in Dallas, TX, and serves as a Dallas Stars correspondent for the Sunbelt Hockey Journal. He has professional sportswriting and editing experience in print and online media.