After going 0-2-1 through their first three games to kick off the 2016-17 NHL campaign, the Anaheim Ducks have seemingly righted the ship. With wins in two out of three games in Week 2, the Ducks have shown that scoring more than two goals should bring about victories with ease throughout the rest of the year. Here is your Ducks Week 2 at a glance.
Week 2
Game 4: @ New Jersey – 2-1 L (Gibson)
Game 5: @ Philadelphia – 3-2 W (Gibson) – Garbutt GWG
Game 6: vs. Vancouver – 4-2 W (Gibson) – Ritchie GWG
Overall: 2-3-1 record, five points; 4th in Pacific, 9th in Western Conference
John Gibson Looking Shaky
After taking over full-time as the Ducks go-to man in the crease, Gibson hasn't exactly shown to be the calm and poised netminder we have gotten used to over the past couple seasons. On two separate occasions already this season, Gibson has let two players easily cross his crease to score around him. First was the overtime winner Josh Bailey scored for the New York Islanders:
Next, was Matt Read's goal for the Philadelphia Flyers:
Say what you want about the defense (it was awful on both plays), but Gibson commits far too soon on these plays and allows both Bailey and Read to walk around him without any impedance from him. If he is going to be that aggressive, he cannot go down so soon to allow players to deke him if he isn't going to at least attempt a poke check.
Besides these two players, Gibson has been seen seemingly swimming far too often in the early going. Frankly, he just looks shaky to start the season. We know Gibson is on his game when he is moving steadily with little movement to get from one place to another. The Ducks defense has played much better as of late, and if Gibson can elevate his game, it will be hard for teams to score against them.
Penalties Aplenty
Before the Ducks game with the San Jose Sharks, they were tied for third in the NHL with 30 penalties taken through six games. After taking five penalties in the second period in both games at New Jersey and Philadelphia, fans had to be asking if things had really changed with Randy Carlyle back at the helm.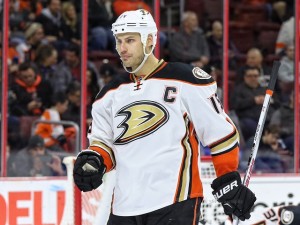 Ryan Getzlaf was showing the disgust that had seemingly disappeared with Bruce Boudreau behind the bench. However, Getzlaf is currently leading the NHL in assists with seven through six games.
The next question has to be asked: do the Ducks enjoy playing the villain role? Do they thrive off of the referees seemingly stacking the odds against them? After all, with players like Corey Perry, Ryan Kesler and Ryan Garbutt, your team is bound to have a reputation for playing close to the edge.
Penalties are often frustrating for fans, but if the Ducks thrive off of them, why play any differently? They seemed to rally in Philadelphia with questionable calls against them. Then again, the penalties cost them in New Jersey two nights prior.
Whatever the case may be, Ducks fans will probably have to get used to these kinds of games. Lack of discipline seemed to plague prior Carlyle teams, and so far it does not seem like that has changed.
Faceoffs
Thus far, the Ducks have been dominant on faceoffs. Depending on who you ask, faceoffs are either extremely important or meaningless. Regardless of what your stance is, the Ducks are first in the league.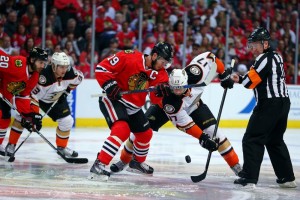 Looking deeper into the statistics, the Ducks have also won the most power-play and penalty-kill faceoffs in the league. Starting special teams battles with the puck is key in making sure you gain possession to either set-up your power play or get a quick clear to kill some clock on the penalty kill.
Of centers in the league that have taken at least 75 face-offs, Antoine Vermette (67%), Ryan Kesler (61.5%) and Ryan Getzlaf (57.1%) rank second, fourth, and 14th, respectively. Little things like faceoffs may not seem like that big of a deal in the regular season, but developing good habits in the regular season only leads to an easier transition into the playoffs.
Week 3
Game 7: @ San Jose, Tuesday, October 25 – 2-1 L in OT (Bernier, then Gibson after first period)
Game 8: vs. Nashville, Wednesday, October 26 – 7:30 PST
Game 9: vs. Columbus, Friday, October 28 – 7:00 PST
The Ducks try to build on their two-game win streak with tough tests against the San Jose Sharks and Nashville Predators this week. After Gibson stole a point in San Jose, the Ducks will try to keep their point streak alive with another tilt against the Preds.  The Nashville game will be the first time the Ducks face off against the team that knocked them out in seven games last spring.
---
Complete Ducks Coverage From THW
---
Highlight of the Week
Korbinian Holzer's beauty of a dish to Garbutt for the game-winner in Philadelphia.
Game. Set. Match. #LetsGoDucks pic.twitter.com/EQmLz4GG2f

— Anaheim Ducks (@AnaheimDucks) October 21, 2016
Minus of the Week
Sami Vatanen and Cam Fowler with a bit of a mix-up: (0:50 mark)