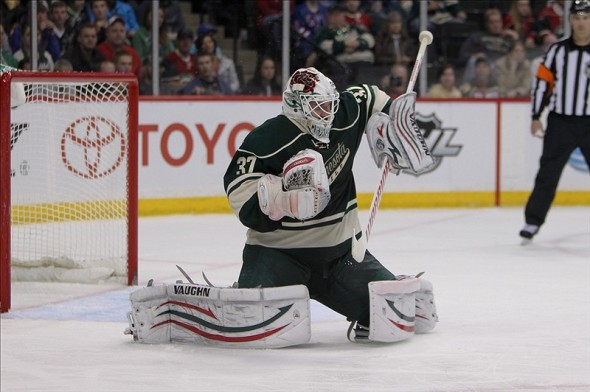 It's been a rough couple of days for Wild fans. For those of you who don't know, Minnesota Wild backstopper Josh Harding, drafted 38th overall in 2002, has been diagnosed with Multiple Sclerosis (MS). The lockout doesn't matter anymore. When something as bad as this hits the family, disputes are put into perspective and ultimately take a seat on the backburner.
Harding has a limited window of opportunity to play hockey and Minnesota high school hockey player Jack Jablonski will likely never play or even walk again. If you're NHL commissioner Gary Bettman, how do you explain the stupidity of the lockout to these guys who would give anything to lace up the skates and play the game that is the great love of their lives? With everything—both good and bad—that has happened in the past year, the Minnesota Wild have turned a corner in franchise history and are ready to take the NHL by storm. With that in mind, here are the four reasons why I believe Minnesota will (or could) win the next Stanley Cup.
Reason #1: Zach Parise and Ryan Suter. Wild fans have been drooling at the prospect of acquiring these two top-end players since the day they were drafted back in 2003. Chuck Fletcher has added elite-caliber talent to not only the Wild's offense, but defense as well. Parise joins an already lethal group of veteran forwards in Mikko Koivu, Dany Heatley, Devin Setoguchi, Matt Cullen and Pierre-Marc Bouchard. Suter vastly improves a young, but talented defensive corps that will only get better with the arrival of top defensive prospects Jonas Brodin and Mathew Dumba.
Reason #2: The Young Guns are arriving! Minnesota's prospect pool and farm system is bursting at the seams with elite blue chip talent at nearly every position. When the season starts, it's practically guaranteed that 2010 1st round picks Mikael Granlund and Charlie Coyle will be in a Wild uniform. Jason Zucker is also making a case for himself in Houston and would provide a very dangerous scoring threat skating with Cal Clutterbuck and Kyle Brodziak on Minnesota's third line. Consider him the Brad Marchand of this Minnesota Wild team.
Not very far behind Zucker are Johan Larsson, Brett Bulmer and Zack Phillips. However, another year down in Houston would be quite beneficial for Bulmer and Phillips who need to focus on their two-way play and skating, respectively. Too young to play in the AHL, Mathew Dumba, Raphael Bussieres and Tyler Graovac are tearing up the Canadian Hockey League and will make a significant impact for Houston when they finally arrive. Minnesota also has some great young talent in Juniors and in the NCAA in defensemen Nick Seeler (UNO) and John Draeger (MSU Spartans) and forwards Louis Nanne (BCHL), Adam Gilmour (USHL), Mario Lucia (Notre Dame), Erik Haula (UM Gophers) and Anthony Hamburg (RIT).
Reason #3: Depth. Last year, Minnesota's season went down the same time four of the team's top six forwards did. Bottom six players became top six players and unproven rookies and career AHLers became bottom six NHLers. The only bright side for Wild fans—aside from a high draft pick—was that there were now numerous rookie cards to collect.
This offseason, Chuck Fletcher added some great depth and grit to his team in Torrey Mitchell, Jake Dowell and Zenon Konopka. The Wild GM also added a great piece to the organization's defensive depth in Brian Connelly who played his collegiate career at Colorado College along with fellow Wild/Aeros teammates Nate Prosser and Chad Rau. Connelly is a sound blue-liner that can chip in offensively with excellent puck handling skills and a quick release. Between the youth infusion and the added bottom-six depth, Minnesota has what it needs to not only survive when the injury bug bites, but thrive.
Reason #4: Minnesota—as a state, organization and fan base—has the drive, passion and brotherhood to succeed. The Wild and its fans have endured much over the course of the team's short history in the NHL. Since its inaugural season in 2000-2001, Wild fans have endured the heartache of missing the playoffs all but three times. The Wild family, as a whole, has also suffered through the tragic deaths of former players and fan favorites Sergei Zholtok, Derek Boogaard and Pavol Demitra. The team also rallied, along with the rest of the world's hockey family, to support Benilde-St. Margaret's high school forward, Jack Jablonski, who became paralyzed after a brutal check into the boards from behind. Jack's positive attitude and never-give-up spirit was certainly motivation for a struggling Minnesota Wild team last season.
This season, Minnesota had it all going for them. Then, in typical Minnesota sports fashion, the lockout halted the momentum and excitement of the franchise. Now Wild goaltender Josh Harding, who had practically been crowned Minnesota's #1 netminder this summer with a new three-year contract, has been diagnosed with MS. This is a hard punch to the stomach for not only Josh and his family, but Wild fans everywhere. Josh is a guy who just hasn't had things go his way on the NHL level and is one of those guys you can't help but want to succeed. With injuries and the emergence of Niklas Backstrom, Harding has yet to claim the Wild net for his own. Then, after an incredibly rough season for Minnesota that saw him post a still respectable 13-12-4 record with two shutouts, a 2.62 GAA and .917 SV%, he was re-signed to a deal that many Wild fans thought signaled the beginning of the end for Backstrom. Harding finally had things going for him. He had a great job with a multi-year contract and a young family quickly expanding; now this.
What happens now? Josh has stated that he has no plans to end his career any time soon, nor should he. The Wild need to use this as motivation going forward into the season. Not just to win their first Stanley Cup in franchise history, but to win it for the families of Zholtok, Boogaard and Demitra; to win it for Jack Jablonski; to win it for Josh Harding. If I'm Mikko Koivu, Zach Parise, Dany Heatley, Mikael Granlund and every other player on that team, I'm going to make every hit, dish every assist, score every goal and give my all to see Josh Harding succeed. And, if I'm Koivu and Commissioner Bettman presents me with the Cup, the first person I hand it to is Josh Harding, because he deserves it.
Does this happen in reality? It's impossible to say for certain. However, all the pieces in the puzzle are there; it's up to Minnesota to put them together.