Last season was a big one for the Ottawa Senators, with the "Youth Movement" in full swing the team defied the predictions of a last place finish and made the playoffs, taking the Eastern Conference's top seeded New York Rangers to a seventh and deciding game, before bowing out in the first round. There were many things that went well for the team, but it was a major move made in Mid-December, that saw the Sens acquire center Kyle Turris, that shaped the team not only for the season but for years to come. The former first-round pick, third overall in 2007 by the Phoenix Coyotes, had not yet seemed to reach the level the Coyotes expected from him and didn't appear to be a great fit in Head Coach Dave Tippet's system. It was apparent that Turris would benefit from a change of scenery and although he signed a new two-year deal with Phoenix after a six week holdout to begin the 2011-2012 campaign, Turris played only six games before being moved to Ottawa for young defenceman David Rundblad and a second-round pick in the 2012 NHL Entry Draft.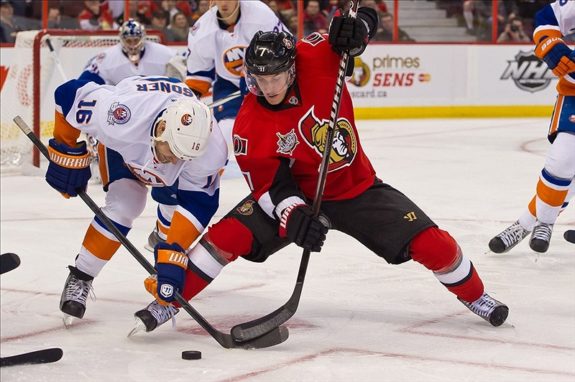 It was obvious right away that the move was the right one for the then 22-year old New Westminster, BC native, his bright smile was back ear to ear, and he seemed at home right away despite more media members surrounding him following his first team practice then he likely saw in weeks down in the desert. "When I heard I was traded to Ottawa, I was extremely excited to be a Senator and to be in a Canadian market, and all the fun that's going to come with that," Turris said. The Sens were certainly pleased to have him as well, believing he would be a key contributor right away as a second line center and no doubt hoping he may one day develop into the 25 to30 goal scorer many have projected. Ottawa Head Coach Paul MacLean echoed those sentiments speaking with the media following the deal, "I think he's a piece that makes us better today and for down the road as well. With the opportunity that we're prepared to give him, we feel he's going to demonstrate that he's a quality, quality player."
Turris rewarded General Manager Brian Murray and Head Coach Paul MacLean's confidence in him by getting off to a strong start and continuing that roll throughout the season, and not surprisely the team began to roll as well. He finished with career best marks in goals (12), assists (17), and points (29) in only 49 games with the Sens. The opportunity given to Turris was not lost on the young man as he told reporters, "Ultimately, it makes you a better hockey player, knowing that people have confidence in you and they're allowing you to play the way you can play because they believe in you." Turris also got another taste of playoff hockey in the seven game first round series with the Rangers and performed very well, playing big minutes and putting up three points in the seven games, including one of the biggest goals of his career, the game four overtime winner to even the series at two.
Sens GM Brian Murray recognized he now had a good young nucleus in Ottawa and an integral part of it in Turris. He wasted little time and went to work in the summer offering Turris a five-year extension worth 17.5- million, which Kyle was more than happy to sign. "I love it here in Ottawa. I love being a part of the organization and the people in it and the hockey team we have here, and I'm looking forward to being here for the next six years and hopefully past that." Murray knows the deal gives his team depth and talent down the middle and believes that he may now have the man to fill his top line spot if and when Jason Spezza relinquishes the role. "We see him as a solid, potentially better than second-line player going forward. We felt this was an opportunity for Kyle, as well as ourselves, to commit to a relationship that allows us to sign one of our core players for a period of time," said Murray.
While Turris' numbers weren't overwhelming on paper and he is still working to reach his full potential, he made big strides this past season, and it's reasonable to expect that if he was able to do what he did after being traded to a new team and playing a different system, he will only continue to better his game and numbers with some stability moving forward in Ottawa. He is after all only 23 years old and has all the attributes that made him worthy of his high pick only a couple seasons ago. Perhaps the best thing he has in Ottawa is a chance to play with and learn from fellow teammate Jason Spezza, who knows exactly what it means to be a young and talented player growing your game in a hockey hotbed like Ottawa. One thing is for sure, the Ottawa Senators showed the rest of the league and the pundits last year that they are building something special in the Canadian capital, and they won't be underestimated again when the puck drops on the new season.