written by @iancmclaren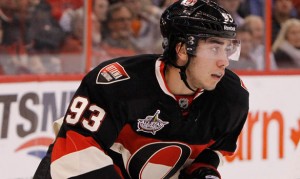 If the Swedish National Junior Team is going to successfully defend their 2012 World Junior Championship, they will need to find themselves a new hero.
It was announced on Thursday that the Ottawa Senators have decided that it would be better for Mika Zibanejad (the 6th overall pick in the 2011 NHL Draft) to remain in North America than for him to represent his country at the 2013 WJC in Ufa, Russia.
For those who have forgotten, it was Zibanejad who score the lone goal, in overtime, versus the Russians to clinch the Gold Medal.
The story of Zibanejad's WJC status first surfaced on Thursday morning out of Sweden, and came to light through this tweet:
https://twitter.com/steffeG/status/274102662977445888
The report was later confirmed by the Senators, along with this statement from Ottawa GM Bryan Murray:
We feel like keeping Mika here to play in North America is the best decision for his development. As a young player and person, he's learning how to play the North American style and continues to progress playing for Luke [Richardson, coach] in Binghamton. Our opinion is that the best way to continue his progress towards becoming an impact player with the Senators is to spend the full season here.
(from NHL.com)
These kinds of decisions are often hotly debated, and certainly the folks in Sweden may be none too pleased about "he who ended the 31 year WJC drought" not being able to suit up once again this year. But the reality is that while early January games in Binghamton may not be the most meaningful on-ice battles ever waged, it may indeed benefit Zibanejad long-term to get extended experience in one of the better professional leagues in the world, as opposed to duking it out internationally with and against fellow teenagers.
For his part, Zibanejad seems content with the decision, quoted as having said the following:
I'm fully trusting (in the Senators) right now and I'm just respecting their decision. I know where I'm going to be at Christmas. It feels good.

I have a contract with Ottawa and I pay close attention to what they have to say and I agree. I think it's good for me to stay here and get a full season in and not have to travel all the way to Russia and back just for two weeks or three weeks.

I had a really good experience at the world juniors last year. You want to make both (sides) happy, but that's not possible. Right now, I'm just going after what Ottawa wants me to do. (from the Ottawa Sun)
As noted earlier this week, the Binghamton Senators are currently on a 6-game winning streak, and although Zibanejad has only scored 1 G & 6 A in 16 games, the consensus is that his game is moving in the right direction, and there's no telling what a disruption in his AHL rhythm might do to that momentum.
In other Senators-related WJC news, it appears as though Kitchener Rangers F Matt Puempel's status may be in doubt after an injury suffered the other night:
As per Steve Spott, Senators prospect Matt Puempel out indefinitely with shoulder sprain. Status for WJHC in question.

— Patrick King (@PatrickNKing) November 29, 2012
If that's the case, Senators fan will have two less prospects to watch out for in January's early morning hours.
There are, however, a few others who have a shot at representing their home countries in Ufa; look out for news on those selections here in the coming weeks.