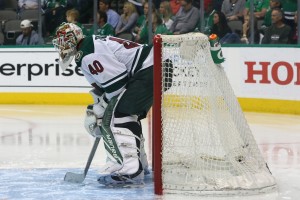 It wasn't exactly the goaltending duel it was made out to be, but the Minnesota Wild nonetheless stood tall on Thursday, beating the Montreal Canadiens 4-2.
In the end, Devan Dubnyk may not have been otherworldly. However, he was significantly more solid than Carey Price and stopped 32 shots in a game characterized by weird bounces, several lead changes and ultimately Minnesota's franchise-record-tying ninth straight win.
First Period
The Wild dictated the tempo of play to open up strong on the road. Forward Jason Pominville had one of the best scoring chances of the period, letting loose a shot from in close on the power play five minutes in, with Brian Flynn off for holding.
Price was able to handle that one and, despite being further shorthanded with Alexei Emelin out for (happy) personal reasons, the injury-riddled Habs eventually took charge in a relatively uneventful first frame.
Joel Hanley will play against the Wild tonight. He will replace Alexei Emelin, whose wife gave birth to a baby girl earlier today.

— Canadiens Montréal (@CanadiensMTL) December 22, 2016
Second Period
The floodgates opened in the second, with the teams exchanging markers and Minnesota overcoming two separate one-goal deficits.
Habs captain Max Pacioretty opened up the scoring shorthanded, going strong down the wing after defenseman Jared Spurgeon lost control of the puck at the Montreal blue line. With just defenseman Jonas Brodin back in the play, Pacioretty beat Dubnyk cleanly with a great shot for his 14th of the season.
At the other end, Minnesota-native Jordan Schroeder got his home-state team on the board on a quasi-wraparound, fooling Price with a shot the netminder should have had by all accounts. Three minutes later, Artturi Lehkonen responded for the Habs, backhanding a rebound off a Flynn shot in close on Dubnyk.
Remember how @Zeb_Habs kept telling us Lehkonen is the real deal?

His 7th goal of the year: pic.twitter.com/llFHz9ewKp

— Marc Dumont (@MarcPDumont) December 23, 2016
The lead didn't last, as, directly off a faceoff in Montreal's zone five minutes later, Jason Zucker fed Spurgeon for the game-tying goal. At the top of the opposite faceoff circle, the defenseman launched a perfect shot that pulled his team even again.
Third Period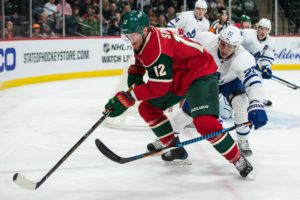 Eric Staal put the Wild up for the first time, scoring a shorthanded marker of his own off a similar play relative to Pacioretty's goal. Soon thereafter, the puck took a weird bounce in Minnesota's zone, with Brendan Gallagher missing a shot at an empty cage after Dubnyk went to play the puck behind the net.
That was probably Montreal's best chance to even the score, with Gallagher unfortunately figuring in on the final tally of the game, as, with Carey Price pulled, his pass hopped over Jeff Petry's stick at the Minnesota blue line. Zucker jumped all over the empty-net opportunity to secure the victory for the Wild.
---
Scoring Summary
FIRST PERIOD
No scoring
SECOND PERIOD
MTL – Max Pacioretty (14) assisted by Philip Danault and Shea Weber
MIN – Jordan Schroeder (1) unassisted
MTL – Artturi Lehkonen (7) assisted by Brian Flynn and Tomas Plekanec
MIN – Jared Spurgeon (2) assisted by Jason Zucker and Mikael Granlund
THIRD PERIOD
MIN – Eric Staal (11) assisted by Mikael Granlund and Ryan Suter
MIN – Jason Zucker (7) unassisted
THW Three Stars
First: Devan Dubnyk (32 saves)
Second: Jason Zucker (1 goal, 1 assist)
Third: Mikael Granlund (2 assists)
---
NEXT UP
Montreal Canadiens at Columbus Blue Jackets
Nationwide Arena – 7:00 p.m. EST on Friday, Dec. 23
Broadcast channels – FS-O, SNE, RDS
2016-17 Season Series: Nov. 4 – Blue Jackets 10 – Canadiens 0