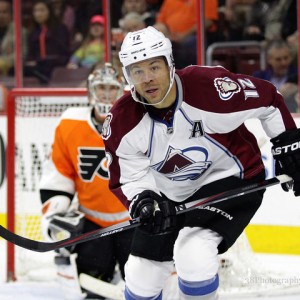 You get the sense the NHL's public-relations department got more of a workout than either the Montreal Canadiens or Colorado Avalanche Saturday night as the Habs cruised to a 10-1 win. For example, it may have been Jarome Iginla's 1,500th career game, but it was one he'd probably like to forget as the Avalanche gave up 10 goals for the first time in franchise history.
It was also the first time the Habs scored that many at the Bell Centre, becoming the first team since the 2005-06 Buffalo Sabres to both give up and score 10 goals in a season (as reported by CBC). That's obviously in reference to Montreal's 10-0 loss to the Columbus Blue Jackets on November 4.
For Habs fans, this game was probably more fun to watch, but that laughable sentiment is pushing it. Even the Bell Centre faithful opted against singing Ole, Ole, Ole as they often do when up by even just a goal late in a game, tempting fate just for the chance to rub opponents' faces in a lead.
There was no fate to be tempted in this one though, as the game was decided before it was 10 minutes old and the Habs had jumped out to a 5-0 lead.
First Period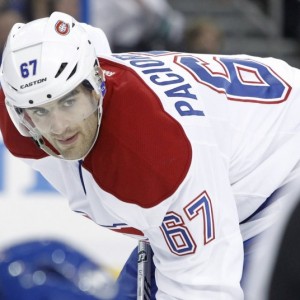 Fourth-line center Brian Flynn opened up the floodgates in this one 2:56 in on a jam play in front of Avalanche starter Calvin Pickard's net. Captain Max Pacioretty and Artturi Lehkonen made it 3-0 by the 7:12 mark, prompting Avalanche head coach Jared Bednar to make a switch and put in Semyon Varlamov.
Spoiler alert: It didn't work.
By the time the game was 13 minutes old, Pacioretty and Flynn had each added their second markers of the game and the score was 6-0. Coincidentally, the last time the Habs scored six in one period was on December 17, 1992 against the very same team, when they were the Quebec Nordiques.
In this one, each Habs player had a positive plus/minus rating after the first, which is just insane. Blake Comeau did manage to score respectability goal late in the period but it was all the Avalanche would get, unless we're talking heartache.
Second Period
Alexander Radulov and Pacioretty took turns assisting on each other's markers in the second (with Plekanec getting the secondary helpers on both, giving him his first career four-assist night and Pacioretty his fifth-career hat trick).
With just over three seconds to go in the period, Avs captain Gabriel Landeskog, back from injury, was called for roughing. Habs defenseman Jeff Petry made him pay on a shot from the point off the ensuing face-off that found its way in with just one tenth of a second remaining in the frame. That made it 9-1.
https://twitter.com/myregularface/status/807765756138033152?ref_src=twsrc%5Etfw
It wasn't so much the final nail in the coffin (as the game had been over way before that), as it was just an exclamation point on a really bad joke. It was still funny, but in the sense that it was hard to believe everything that could go wrong did for Colorado. While this game was a mismatch on paper, no one could have predicted this.
It actually got worse.
Third Period
Pickard was actually reinserted back in the net to start the third after it became readily apparent that it wasn't just him on the first three goals of the night.
That didn't stop Pacioretty from making him look foolish, scoring his fourth (first-ever four-goal game) as Pickard seemed to think he had the puck covered in the crease. It was instead loose right beside him. That brought an end to the scoring
https://twitter.com/myregularface/status/807773085432680448?ref_src=twsrc%5Etfw
Things turned ugly(er) when Habs defenseman Alexei Emelin went low on Avs forward Joe Colborne at 16:35, resulting in a skirmish and a clipping penalty.
Thankfully, Colborne seemed okay on the play. Mercifully, even for the innocent bystanders watching in the stands and at home, there were only a few minutes to go at that point.
Scoring Summary
FIRST PERIOD
MTL – Brian Flynn (1) assisted by Daniel Carr and Sven Andrighetto
MTL – Max Pacioretty (9) assisted by Tomas Plekanec
MTL – Artturi Lehkonen (6) assisted by Philip Danault and Andrew Shaw
MTL – Max Pacioretty (10) assisted by Andrei Markov and Tomas Plekanec
MTL – Paul Byron (9) assisted by Brendan Gallagher and Jeff Petry
MTL – Brian Flynn (2) assisted by Sven Andrighetto and Zach Redmond
COL – Blake Comeau (4) assisted by Nikita Zadorov and Nathan MacKinnon
SECOND PERIOD
MTL – Alexander Radulov (6) assisted by Max Pacioretty and Tomas Plekanec
MTL – Max Pacioretty (10) assisted by Alexander Radulov and Tomas Plekanec
MTL – Jeff Petry (4) assisted by Andrei Markov and Andrew Shaw
THIRD PERIOD
MTL – Max Pacioretty (8) assisted by Torrey Mitchell and Zach Redmond
THW Three Stars
First: Max Pacioretty (4 goals, including GWG, 1 assist)
Second: Tomas Plekanec (4 assists)
Third: Brian Flynn (2 goals)
---
NEXT UP
Montreal Canadiens vs. Boston Bruins
Bell Centre – 7:30 p.m. EST on Monday, December 11
Broadcast channels – NHLN-US, RDS, NESN
2016-17 Season Series: 
October 22 – Canadiens 4 – Bruins 2
November 8 – Canadiens 3 – Bruins 2