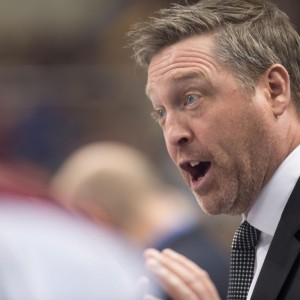 Saturday night's series-opening matchup between the Montreal Canadiens and Colorado Avalanche admittedly doesn't hold as much luster as it used to. That is, unless you're a Habs fans and are looking for as lopsided of a matchup as possible (on paper).
It used to be that the Habs and Avs had a fierce rivalry going, with Colorado having moved there from Quebec City (now over 20 years ago) along with the infamous Patrick Roy trade. Now that Roy is no longer even the head coach of the team (in favor of Jared Bednar), the closest ties the Habs seem to have to Colorado are a former Habs draft pick in Francois Beauchemin, who played one game for the team back in 2002-03, and Rene Bourque, who never seemed to play at all.
So, you have the Habs, who are tied for the most points in the league (39), hosting the Avs, who are tied for the least (21). That's a difference of 18 points, or essentially nine wins a third of the way into the season… or three less points than what Colorado has right now.
Of course, games aren't played on paper, unless we're talking about Habs head coach Michel Therrien's knack for fiddling with the lineup card. I mean, he's so good he takes it to a whole other video-game level, but that's neither here nor there.
The point is, with the Habs notorious for playing down to their competition (all due respect to Colorado), Montreal in relative injury trouble right now and Colorado potentially set to see one of their stars in captain Gabriel Landeskog return, anything can happen. Stay tuned.
---
Montreal Canadiens vs. Colorado Avalanche
Bell Centre – 7 p.m. EST on Saturday, December 10
Broadcast channels – SN360, CITY, TVAS, ALT
2016-17 Season Series: First Matchup of the Season
Colorado Avalanche – 10-14-1 – 21 Points
Road Record: 6-6-0
Hot Players: Nathan MacKinnon, Matt Duchene
Key Injuries: Erik Johnson
Projected lines:
Forwards:
Matt Duchene – John Mitchell – Mikko Rantanen
Rene Bourque – Nathan MacKinnon – Jarome Iginla
Gabriel Landeskog – Carl Soderberg – Mikhail Grigorenko
Andreas Martinsen – Joe Colborne – Blake Comeau
Defense
Nikita Zadorov – Tyson Barrie
Francois Beauchemin – Cody Goloubef
Fedor Tyutin – Patrick Wiercioch
Starting Goaltender
Calvin Pickard
[irp]
Montreal Canadiens – 18-6-3 – 39 Points
Home Record: 13-1-1
Hot Players: Max Pacioretty, Paul Byron
Key Injuries: Alex Galchenyuk, David Desharnais, Greg Pateryn
Projected lines:
Forwards
Max Pacioretty – Tomas Plekanec – Alexander Radulov
Paul Byron – Torrey Mitchell – Brendan Gallagher
Artturi Lehkonen – Philip Danault – Andrew Shaw
Sven Andrighetto – Brian Flynn – Daniel Carr
Defense
Alexei Emelin – Shea Weber
Andrei Markov – Jeff Petry
Nathan Beaulieu – Zach Redmond
Starting Goaltender
Carey Price
---
Game Notes
[miptheme_dropcap style="normal" color="#222222″ background=""]1)[/miptheme_dropcap] In spite of calls for supplementary discipline, Canadiens goalie Carey Price will not have a hearing with the league for punching New Jersey Devils forward Kyle Palmieri on Thursday night in Montreal's 5-2 win. Double standard? Perhaps. Do Habs fans care? Probably… because they're probably thinking it's Palmieri who should be suspended.
[miptheme_dropcap style="normal" color="#222222″ background=""]2)[/miptheme_dropcap] Gabriel Landeskog has his sights set on a return tonight for the Avalanche after a month on the shelf, while defenseman Erik Johnson remains injured with a broken fibula.
[miptheme_dropcap style="normal" color="#222222″ background=""]3) [/miptheme_dropcap] The Habs have recalled forward Michael McCarron and defenseman Mark Barberio from the American Hockey League to help them deal with their injury woes (Alex Galchenyuk, David Desharnais and Greg Pateryn).
[miptheme_dropcap style="normal" color="#222222″ background=""]4)[/miptheme_dropcap] One of the Avs' only hopes in this game may be their decent 6-6 road record (compared to their league-worst 4-8-1 home record). Of course, Montreal's home record is conversely the best in the league at 13-1-1. So, yeah… there's that.
[miptheme_dropcap style="normal" color="#222222″ background=""]5)[/miptheme_dropcap] Since starting the season, coincidentally, with that very same 13-1-1 record, the Habs have been just mediocre with a 5-5-2 record. The Avalanche meanwhile snapped a six-game losing streak Thursday night with a 4-2 win over the Boston Bruins.
---
This is the second of a four-game homestand for Montreal, which ends next Friday night. However, the schedule gets much tougher immediately after, with six sets of back-to-back games in the following six weeks and 12 of 18 games being played on the road. Needless to say, this is one game the Canadiens can't afford to let slip away as they find themselves in danger of wasting their historical start.