The excitement of the Buffalo Sabres development camp has come to end.  The week was, of course, highlighted by 2014 and 2015 top picks Sam Reinhart and Jack Eichel.  Throughout the week, however, other prospects shined as well.  This week was another great example of the talent in the Sabres prospect pool.  Here is my list of players who stood out during prospect development camp this past week.
Jack Eichel – 2nd overall pick 2015
Eichel was of course the main attraction heading into camp and the spotlight was on him nearly every moment he was on the ice.  He came into the week looking to make a good impression on the fans and the organization who drafted him.
Immediately, you could see why there has been a great deal of hype around the 2nd overall pick.  One of the most impressive things to me was seeing the long and powerful skating stride he possesses.  Eichel is able to hit top speed very quickly and pull away from defenders in the open ice.  When he combined his skating ability with his strength on the puck, defensemen were no match for him.
Of course Eichel displayed his excellent puck skills and vision throughout camp.  He had a few impressive goals and used his vision to set up teammates, as well as execute breakout passes to get his line out of the defensive zone.  On the final day of camp, Eichel showed off his powerful shot, who some scouts believed graded above first overall pick Connor McDavid.  In the 3 on 3 tournament Eichel ripped a powerful wrist shot over the goaltenders blocker and the puck went right through the net.  Obviously that doesn't happen very often, so you could hear the buzzing in the crowd from the fans who were in attendance.
#GottaSeeIt: @BuffaloSabres rookie Jack Eichel takes a wrist shot… and it goes through the net. http://t.co/n44cv5WWP5

— Sportsnet (@Sportsnet) July 13, 2015
To steal a line from GM Tim Murray, it wasn't all unicorns and ju ju beans for Eichel this past week.  During times of the Blue and Gold scrimmage he looked worn down.  It wouldn't be out of the question that Boston native would be exhausted after his NCAA season, Frozen Four, World Championships and lastly NHL Draft touring.  Some upcoming time away will be good for Eichel to get refocused for training camp.
Sam Reinhart – 2nd overall pick 2014
Reinhart was the player who really stole the show this week.  He entered development camp this year as almost the forgotten guy with the recent addition of Eichel.  The 19-year-old showed up to camp as a completely different player than he was just a year ago.  He added muscle to his frame and improved his skating by miles over last year.  He looked more confident and decisive with puck during drills and scrimmages.
Reinhart was the best player on the ice during the prospect scrimmage recording two goals and one assist.  He showed off his great hockey IQ on numerous occasions during the scrimmage and the puck always just seems to find him.  Reinhart isn't the flashy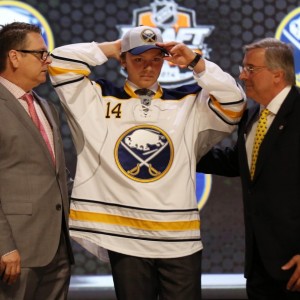 speed player that Eichel is, but his hockey sense is off the chart which always seems to put him in the right spot at the right time.  The way  he played this past week definitely puts him in a good spot heading into training camp and earning a spot on the opening night roster.
Jake McCabe – 2nd round pick 2012
McCabe is another guy who showed improvement over last season.  The former 2nd round pick has had a few games of NHL experience and you could tell.  He looked like the far superior player against others during camp.  He was in charge of shutting down Eichel during the scrimmage and was very successful holding him to 0 points.
McCabe is a guy to watch once training camp comes around.  Right now it looks as though the Sabres have an opening on the roster that will be up for grabs.  The 21-year-old is a wild card for the Sabres this season.  He could play so well out of the gate in training camp that the Sabres are forced to give him a look or he could be sent to begin the season in Rochester again.  During his post development camp interview, Murray indicated that McCabe was one of the players that stood out to him during the week.  If McCabe can keep playing the way he did it wouldn't be surprising to see him in the opening night lineup.
Evan Rodrigues – UDFA
Rodrigues is a guy that I was particularly interested in getting a look at.  He was signed this offseason as an undrafted-free-agent out of Boston University.  Prior to camp Sabres fans knew Rodrigues mostly as Eichel's line mate at Boston University.  However this week the 21-year-old winger showcased his potential.  I thought he was one of the best prospects throughout the entire week.
Rodrigues is a very smooth skater with good speed and he's quick in tight spaces.  He showed off his shiftiness with a few great moves throughout camp and a highlight reel shootout goal during the scrimmage.  The Canadian born forward finished the week by leading his team to a championship in the 3 on 3 tournament.  Rodrigues will be given the opportunity to earn a bottom six roster spot out of camp, but with the additions of David Legwand and Jamie McGinn, it seems like a tall challenge at this point.  It's more likely that he'll start the year in Rochester, but I believe he'll make an appearance with the Sabres at some point next season.
Oh my, did you guys just see what @evanr17 did?? #sick #nasty @TerrierHockey #BlueAndGold pic.twitter.com/htHqR8KMrY

— Buffalo Sabres (@BuffaloSabres) July 11, 2015
Vaclav Karabacek – 2nd round pick 2014
For the second straight year Karabacek had a very strong development camp.  He'll return to the QMJHL for another season, but his future is promising.  He's very strong on the puck and goes to the dirty areas to create offense.
The 19-year-old is a great skater and it allows him to get in on the fore-check quickly.  He looked very comfortable playing with Eichel in the 3 on 3 tournament.  The future is bright for the former 2nd round pick.  He gives the Sabres depth on the wing in the coming a years, which isn't currently an organizational strength.
Development Camp was very successful for the Sabres this year.  Over 17,000 fans showed up to watch a prospect scrimmage.  The city is buzzing about the team and excitement for next season in through the roof.  The future is bright in Buffalo and fans have a lot to be excited about.
Chad DeDominicis was born and raised in Buffalo, NY. Chad is currently a Buffalo Sabres contributor for The Hockey Writers. He is an avid sports fan and is passionate about the game of hockey. Chad works hard to share creative and quality content with his readers.