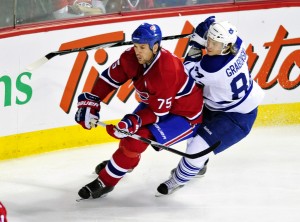 With the recent deals made in the National Hockey League, the tide has turned in terms of how valuable players are on the trade market. Since and including February 16th, there have been ten trades made. They've involved a total of 13 teams. Below are trades that have been made in "deadline season" so far, not including the Jeff Carter deal:
February 16, 2012
Anaheim acquires forward Ryan O'Marra in exchange for defenseman Bryan Rodney.
Philadelphia acquires defenseman Nicklas Grossman from the Dallas Stars in exchange for a 2nd-round pick (2012), and a 3rd-round pick (2013).
San Jose acquires forward Dominic Moore and a 7th-round pick (2012) from the Tampa Bay Lightning for a 2nd-round pick (2012).
February 17, 2012
Montreal acquires forward Blake Geoffrion, forward Robert Slaney, and a 2nd-round pick (2012) from the Nashville Predators for defenseman Hal Gill and a conditional 5th-round pick (2013).
February 18, 2012
Philadelphia acquires defenseman Pavel Kubina from the Tampa Bay Lightning in return for forward Jon Kalinski, a conditional 2nd-round draft pick (2012 or 2013), and a 4th-round draft pick (2013).
February 21, 2012
Colorado acquires forward Steve Downie from the Tampa Bay Lightning in exchange for Kyle Quincey.
Detroit acquires Kyle Quincey from the Tampa Bay Lightning for a 1st-round pick (2012), and minor-league defenseman Sebastien Piche.
Tampa Bay acquires forward Brandon Segal from the Chicago Blackhawks in return for forward Matt Fornataro.
February 22, 2012
Phoenix acquires Antoine Vermette from the Columbus Blue Jackets in exchange for goaltender Curtis McElhinney, a 2nd-round pick (2012 via Ottawa), and a 5th-round pick (2013 conditional).
Another move that affected the market was the re-signing of Tuomo Ruutu by the Carolina Hurricanes. The Canes and Ruutu agreed to a four-year contract extension worth $19 million Wednesday. The cap hit is $4.75 million per season.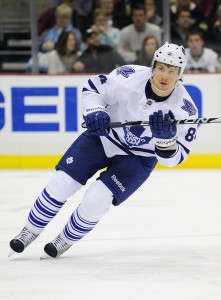 The Downie for Quincey trade has created the biggest stir of the trades listed above. Essentially, you could say that Tampa Bay GM Steve Yzerman traded Downie in exchange for a first round pick. It's a move that's confusing many people across the world of hockey. Personally, I'm quite impressed that Yzerman pulled it off.
Looking at the Hal Gill trade, you'll see that Montreal got a fairly good return in exchange for the towering blueliner. There's actually speculation that Gill will re-sign with the Habs when his season is Nashville ends. Even if he doesn't return to the Canadiens, they still get a second round draft pick and a Geoffrion out of it.
The Lightning also got a nice return in the Pavel Kubina trade. They get a couple of solid draft picks plus a potential call-up, in exchange for a defenseman who had clearly maxed out his time in Tampa Bay.
The biggest impact of those transactions might not have anything to do with how well the traded players perform on their new teams. They could very well have a huge impact on the teams still looking to move some of their current players. With deals involving players such as Downie and Gill getting such substantial returns, there seems to be no limit on how much a team can get in exchange for a roster player right now. Contracts have the same issue. If Tuomo Ruutu can get $19 million over four years at 4.75 per season, is it actually reasonable to expect that Toronto can re-sign Mikhail Grabovski for under five million a year? The answer is pretty straightforward: it's probably not reasonable. But does that mean Maple Leafs general manager Brian Burke trades him? Not necessarily. However, with the recent trades, what it does mean is that if Burke decides to ship out Grabovski, he could get a tremendous amount of current and future talent in return.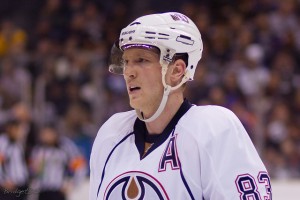 Similar questions arise when discussing Oilers forward Alex Hemsky. Most NHL Insiders are just about certain that Hemsky will be packing his bags very soon. With the recent trades that have been made, it's no longer a question of when or where; it's quickly becoming how much can Edmonton get in return? There's a good chane that a first round selection will be involved in the deal, and if Kyle Quincey can extract a first rounder from a team, exactly how much can the Oilers reel in for Hemsky?
The 2012 NHL Trade Deadline is on Monday, February 27. It will be very interesting to see how much return teams can get this year, as unlike past years, the limited number of available players, combined with the recent trades, has market values skyrocketing.
No longer is your favourite third line grinder worth a mere fourth round pick. Those days are over. If your hometown teams want to make a potentially valuable addition to their roster, they're going to have to pay for it. Big time.