There are just three days until the NHL trade deadline, and it's crunch time for teams who need the pieces to push them to a Stanley Cup playoff run or a complete rebuild.
The New Jersey Devils have a couple of needs they could be looking to fulfill, and as the New York Postsuggests, they might be searching for a center.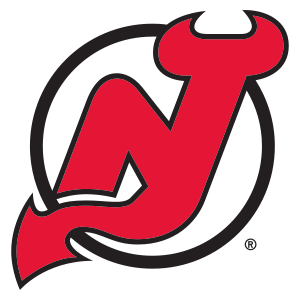 Travis Zajac, previously the Devils' ironman, has been limited to just eight games this year while dealing with an Achilles' tendon problem. He returned to the lineup in December after offseason surgery, but did not get far before his doctors encouraged him to stop skating. Although The Star-Ledger is reporting that Zajac is doing light skating and strengthening exercises, it's unlikely he will make a significant contribution this year.
The Devils have Adam Henrique and Patrik Elias performing well at center, but the majority of their top scorers are wingers, suggesting that the Devils could benefit from picking up another center.
Here are some names that have been mentioned in the latest batch of rumors that could come to New Jersey.
Brad Boyes, Buffalo Sabres
The Buffalo Sabres have been a major disappointment this year, and now seems like a good time to get a rebuild going. The Calgary Sun mentions Boyes as one of the players who could be on the move.
Although Boyes is playing right wing this year, center is his natural position. He came to Buffalo in a trade with the St. Louis Blues last year and had 14 points in 21 games. But this season, he has not contributed as much, as he has missed 13 games and only managed 13 points and a minus-five rating.
He ranks eighth on Buffalo with a 47.2 percent faceoff-win percentage and averages about 14 minutes of ice time, in addition to being ranked eighth with 2:11 of power-play ice time. He has the potential to contribute offense on the power play, as he has previously posted more than 10 man-advantage goals in a season. This would help the Devils' power play, which is ranked 18th in the NHL with a 16.7 percent success rate.
Boyes has a $4 million salary this year and will be an unrestricted free agent on July 1.
Paul Gaustad, Buffalo Sabres
Boyes' teammate in Buffalo, Paul Gaustad, could also be on the move as suggested by ESPN's Pierre LeBrun. Gaustad is described as a physical player and penalty killer who has also displayed strength in the faceoff circle.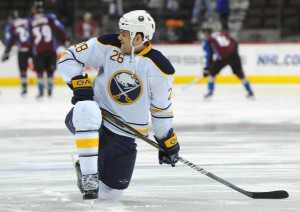 Gaustad has been with the Sabres his whole career and is an alternate captain. He is a consistent 20-30 point scorer and is on pace to post 24 points after starting off with 17 points in 54 games.
He is tied for first on the Sabres with a 56.2 faceoff-win percentage, which will be a huge help to New Jersey. They are 29th in the NHL with a team faceoff-win percentage of 46.8 percent.
He is also second with 2:52 of ice time on the penalty kill  and third with 94 hits.
Gaustad has a $2.5 million salary and is a UFA come July 1. He would be a good fit in New Jersey; however, Nick Cotsonika of Yahoo Sports reported earlier this week that the Sabres would like to re-sign Gaustad. Can a deal get done in time?
Marcus Kruger, Chicago Blackhawks
The Blackhawks are still a playoff contender, but they have their share of holes to fill, and the Chicago Sun-Times says that general manager Stan Bowman would be willing to part with younger players to get a top defenseman or an experienced center. First-year center Marcus Kruger was named as one of the players available.
The 21-year-old Kruger is in his first full season with Chicago and has 17 points in 52 games to date. He could have up to 24 points this year and is averaging about 14 minutes of ice time per game.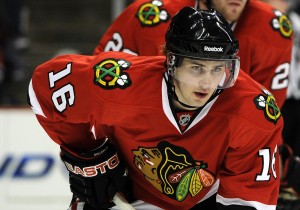 Kruger is extremely affordable, as he is making $715,000 this year and will get $900,000 in 2012-13. He is a restricted free agent after next season. The Devils already have one strong, young center in Henrique, and adding another one wouldn't hurt as Patrik Elias ages.
Samuel Pahlsson, Columbus Blue Jackets
Who on Columbus isn't available to be traded? Blue Jackets writer Aaron Portzline reports on Twitter that there is a strong market for Pahlsson. While it's not known which teams want him, New Jersey could be a possible destination.
At 34 years old, Pahlsson would bring experience to the Devils forward corps. He is also a Stanley Cup winner, having won the trophy with the Anaheim Ducks in 2007. He can give a team about 20 points a year, and he currently has 11 points through 59 games in his third season in Columbus.
He is also sixth with a 51.2 percent faceoff-win percentage and tied for fifth with 94 hits. His 2:24 of ice time on the penalty kill ranks fourth on the Jackets.
Pahlsson has a $2.65 million price tag this year and is scheduled to be a UFA in July.
Kyle Wellwood, Winnipeg Jets
The Winnipeg Jets are currently in third place in the Eastern Conference, so they might be wary of making any trades. However, if they decide to sell, the Calgary Sun suggests that Wellwood could be a possible trade chip.
Wellwood was a 40-point player earlier in his career, but his production largely dropped off over the years. After starting 2010-11 with Atlant Moscow of the KHL and posting eight points in 25 games, he came to the San Jose Sharks, where he had 13 points in 35 games.
He has experienced a resurgence this year, as he currently has 36 points in 61 games with Winnipeg. He is on pace to score 47 points, which would be a new career high. He is sixth with a 51.6 percent faceoff-win percentage and ninth with 2:03 of ice time on the power play.
Like Marcus Kruger, Wellwood comes with an affordable price tag. He is making $700,000 this year and will be a UFA in July. His career year could really help the Devils as Zajac continues to heal.