Entering his second year as general manager of the Detroit Red Wings, Steve Yzerman has a handful of decisions to make regarding the organization's rebuild. The team needs to improve and he knows it. So with all 31 NHL teams now focused on the 2020-21 season, Yzerman can ramp up roster management efforts.
Let's dive into the four most pressing questions Yzerman and the Red Wings need to address this offseason.
Related: Red Wings 2020 Draft Preview: Targets & Predictions
Red Wings' Goal-Scoring Woes
How can the Red Wings score more goals during the 2020-21 season?
Detroit's top line of Dylan Larkin, Anthony Mantha, and Tyler Bertuzzi combined to score 40% of the team's even-strength goals. Just about everyone else fell below league-average in terms of five-on-five goals for.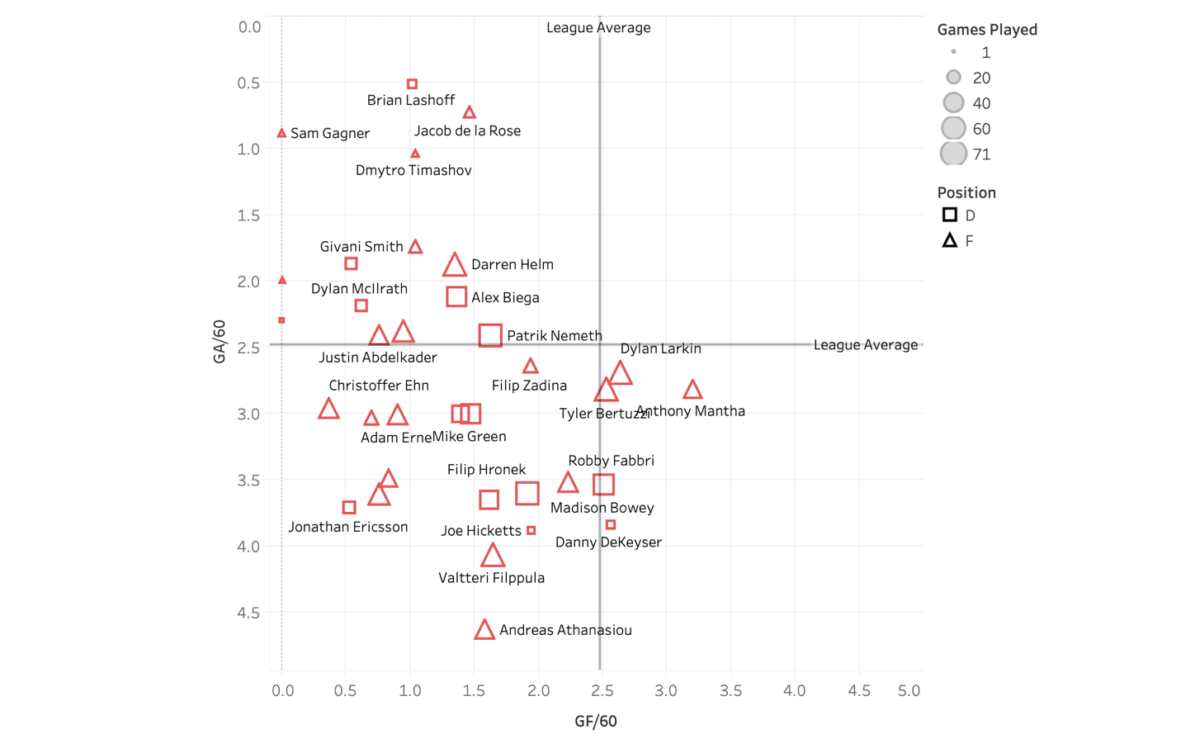 As you can see, the Red Wings didn't perform well defensively either, but more on that in a bit. On the offensive side of the puck, full seasons from Robby Fabbri and Filip Zadina should help in the goal-scoring department. Zadina, in particular, has been tearing up Czech Republic's top league as he waits for Red Wings hockey to resume.
Though the team re-signed Sam Gagner, I wouldn't rule out additional acquisitions just yet. Detroit could receive boosts from a middle-six unrestricted free agent (UFA) and/or their 2020 first-round pick. Erik Haula or Vladislav Namestnikov are UFAs to consider here. Both would upgrade Detroit's second or third line, as would Marco Rossi, Cole Perfetti, or Lucas Raymond. However, only Rossi appears ready for the NHL level, so there's no guarantee Detroit's top pick can jump in right away. 
A free agent defenseman like Torey Krug would also improve the team's offensive woes – if the Red Wings are able to sign him. Yzerman could swing a few trades this offseason to improve Detroit's offensive output as well. Can you say Robby Fabbri 2.0?
If none of the external options come to fruition, the organization will need to rely on their existing bottom-six players—plus prospects like Michael Rasmussen and Givani Smith—to provide a spark offensively.
Related: Red Wings Need to Draft a Forward at No. 4
Too Many Goals Against
How can the Red Wings reduce the amount of goals scored on them?
As I mentioned above, the Red Wings let in a lot of goals during the 2019-20 season. Before identifying solutions to prevent so many goals from going in, it's worth noting that Detroit's expected goals-against number at five-on-five was far lower than the actual amount of goals allowed.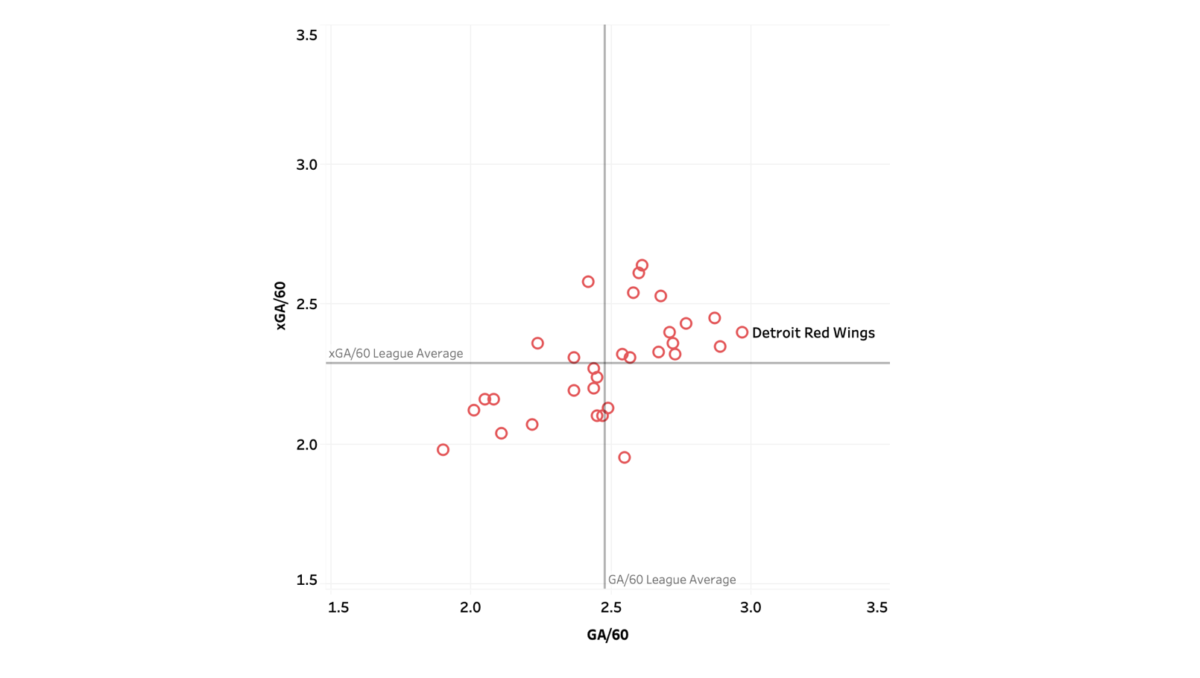 According to NaturalStatTrick, the Red Wings allowed 0.57 more five-on-five goals than expected. This was the second largest difference between expected and actual goals against, trailing only the Minnesota Wild, who had similar bad luck.
To address this issue, finding a competent backup goalie is the first step. Jimmy Howard and his 4.20 GAA won't be back. His replacement will come via trade (more on that later) or free agency. Thomas Greiss and Aaron Dell are two solid options, assuming Anton Khudobin, Cam Talbot, Corey Crawford, and Brian Elliott re-sign with their respective clubs.
Team defense is also an issue. The return of Danny DeKeyser will help, as will Moritz Seider, who could immediately step into a top-four role. New acquisition Marc Staal is more or less a replacement-level defensemen, but does provide some stability on the third pair. The Red Wings could also pursue a free agent defenseman to add depth. Erik Gustafsson, Justin Schultz, and Trevor van Riemsdyk are a tier down from Krug, but would improve Detroit's defense no less.
Related: Red Wings Gain Options With Staal Trade
NHL's Flat Salary Cap
Will Yzerman be able to take advantage of a flat salary cap?
The NHL's decision to move forward with a flat salary cap is a huge opportunity for the Red Wings. Depending on the contracts Anthony Mantha and Tyler Bertuzzi sign, Detroit could have around $10-15 million in cap space heading into the 2020-21 season. Meanwhile, teams in peril will need to shed salaries just to be compliant with the salary cap, let alone add new players.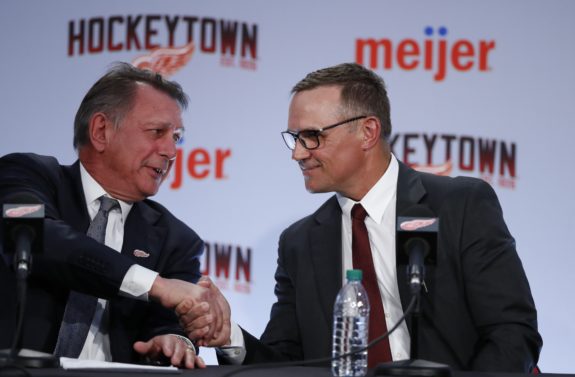 By taking on bloated contracts or unwanted players, the Red Wings can also accumulate draft capital and prospects. These sweeteners are commonplace for cash-strapped teams – just look at Yzerman's recent acquisition of Staal and the second-round pick that the Red Wings received.
Among the cap-troubled teams are the Arizona Coyotes, Pittsburgh Penguins, St. Louis Blues, Tampa Bay Lightning, Toronto Maple Leafs, and Vancouver Canucks. Can Yzerman swing another deal with one of these organizations? Acquiring another goaltender and/or a negative-value contract with a sweetener is not out of the question.
Red Wings Roster Turnover
Yzerman promised changes to the lineup; how can he facilitate this?
During a recent Word on Woodward video interview, Yzerman noted that Detroit's roster could look a little different next season.
"There will be changes in our lineup," said Yzerman. "Are some of our younger players ready? Ultimately, we don't really know because we won't have a normal preseason, we won't have had an opportunity to really assess them. Decisions will be made over a short period of time so I think it makes it a little bit more difficult as to know what to expect from our team starting off."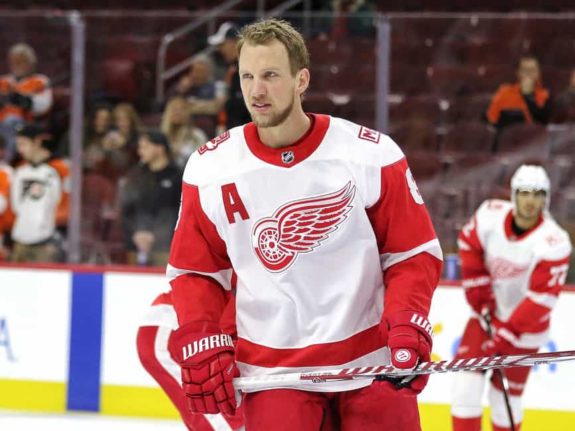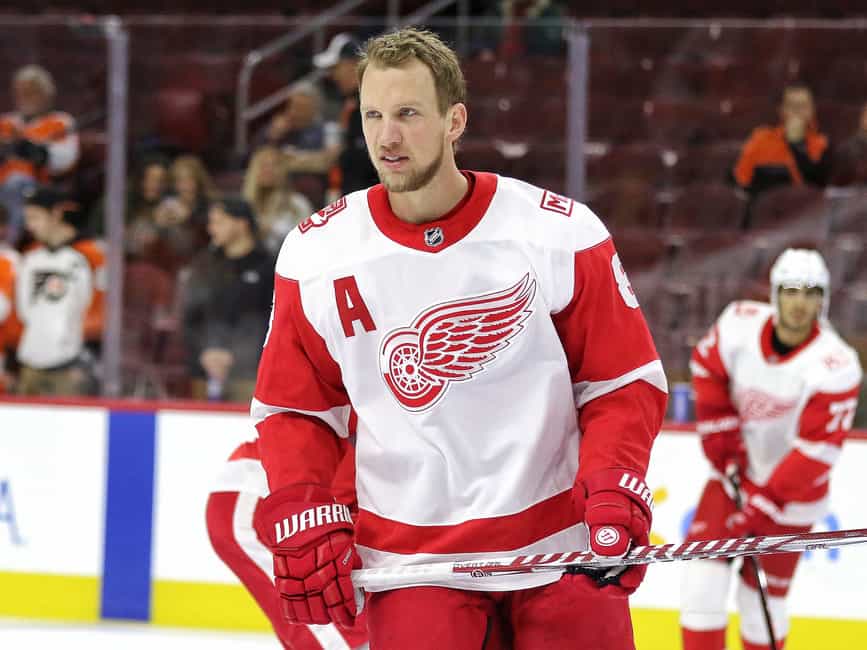 So far, we've talked about potential UFA signings, acquiring bad contracts, and prospect promotions. But if you're going to bring players in, others need to go.
Brendan Perlini will likely be non-tendered, so he's gone. Adam Erne could be in the same boat, too. The Detroit Free Press' Helene St. James has mentioned on multiple occasions the possibility of waiving Justin Abdelkader. But still, others would need to be trimmed off the roster if Yzerman is serious about those lineup changes. 
Final Word
Expectations may not be high for the Red Wings, but that doesn't prevent Yzerman from being aggressive this offseason. Answering all four of these burning questions—to some degree—will go a long way in Detroit's rebuild.
Data courtesy of NaturalStatTrick.
---
---