Since the Red Wings' general manager Steve Yzerman spun straw into gold with the Robby Fabbri deal, fans have been anxiously waiting for him to do it again. Now, as the 2020 offseason begins in earnest, more and more players have emerged as possible candidates to becomes Yzerman's next success story.
Related: Red Wings' 50-Goal Scorers
In fact, the next Fabbri-esque acquisition might not even come in the form of a trade. Teams across the NHL are cutting costs as well as their losses as an unconventional competitive and financial landscape stands before them. Because of this, a team like the Red Wings — a rebuilding club with deep pockets — should be able to roll the dice on some players.
One such player currently plays with the Columbus Blue Jackets and, although he isn't officially available, could provide the Red Wings with skill down the middle. But before we get into how Alexander Wennberg would fit in with the Red Wings, we need to assess his situation with the Blue Jackets.
Portzline Drops A Bomb
A few days ago, as the buyout window opened up around the NHL, Aaron Portzline of The Athletic dropped an article revealing that the Blue Jackets are deciding whether or not to buy out the 26-year-old center. Given the financial burden that the pandemic has placed on many organizations within the NHL, Wennberg sticks out as a possible buyout candidate because of the savings at stake.
"It's a decision that could save the Blue Jackets $10.7 million over the next three seasons — but only if they act now," Portzline wrote. "Because Wennberg was 25 years old as of this June — he turned 26 on Tuesday — the buyout, per the NHL's collective bargaining agreement, would require Columbus to pay only one-third of the money owed him over the remaining three years of his contract." (From 'Blue Jackets considering contract buyout of struggling center Alexander Wennberg' – The Athletic – 9/25/20)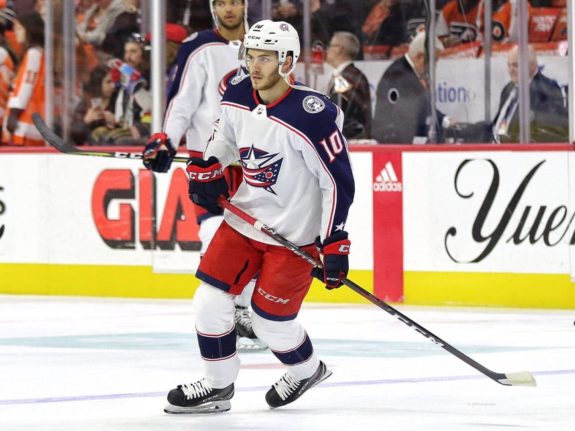 Portzline goes on to detail Wennberg's struggle over the last few seasons, including how he has been a source of frustration for Blue Jackets head coach John Tortorella. Though no indication has been given either way from the organization, there clearly seems to be some unrest over the situation. After all, it wasn't all that long ago that the native of Stockholm, Sweden was a rising star within the organization.
Rise & Fall
In his first 283 games across four seasons, Wennberg accumulated 154 points — a points-per-game (P/G) average of .54. He really burst onto the scene during the 2016-17 season when he recorded a career-high 13 goals and 59 points while averaging over 18 minutes of ice time.
It was because of this campaign that the Blue Jackets signed him to a seven-year pact with a cap hit of $4.9 million. At 22 years old, he announced himself as a top-six center for a franchise that has always lacked impact centers — until recently.
Given that 80% of his 201 career points are assists, you can imagine what kind of player this is when he's on his game. In fact, through 415 regular season games in the NHL, Wennberg has taken just 501 shots; that's a smaller shots-per-game rate than Valtteri Filppula, who routinely gets called-out for passing up shots.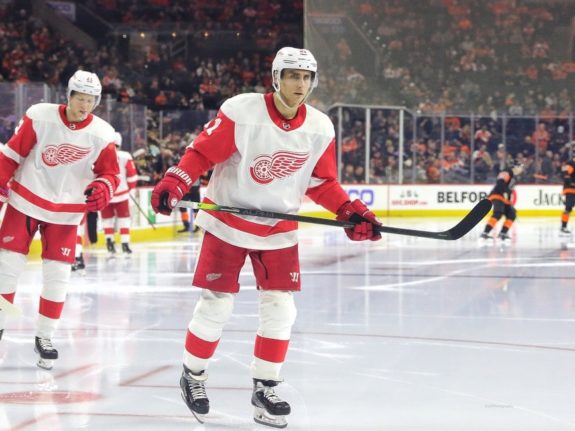 Given his own lack of finish, it's no wonder that Wennberg's P/G rate slipped over the last two seasons, from a rate of .54 down to a rate of .36. A player like him needs to bring out the best in his teammates in order to be successful. So, if he's not creating opportunities and sustaining offensive pressure, his role on the team will diminish quickly. This is evidenced by his average ice time of 15:53 over the last two seasons.
The Red Wings' Center Depth
Currently, the Red Wings have one true top-six center on the team: Dylan Larkin. They have plenty of guys on the roster who can play center — including Fabbri — but it's debatable whether any of them should hold down the center spot on the second line. Quite frankly, the team's biggest hole up front (besides an overall lack of impact forwards) is at that second-line center position.
The Red Wings have a couple of prospects that could eventually fill the spot in Michael Rasmussen (ninth overall in 2017) and Joe Veleno (30th overall in 2018.) Rasmussen, in particular, should have a legitimate chance to not only make the 2020-21 roster, but to slot in at center on one of the team's middle-six lines. While he's not exactly a playmaker, he is a big, strong body that can create space for his linemates. He also has good hands around the crease, which is where he'll find his ultimate value.
But as is the case with prospects, it is far from a given that Rasmussen or anyone else will be able to plug that hole in a meaningful way. That's why it shouldn't surprise anyone if Yzerman looks to provide Red Wings head coach Jeff Blashill with as many options as he can for that role. That's where Wennberg comes in.
Wennberg's Fit
With the likes of Fabbri, Filip Zadina and (hopefully) Evgeny Svechnikov on the wings, the Red Wings need somebody that can get them the puck. That's why Blashill used Filppula in a similar role this past season. As fans observed though, the 36-year-old is not the same version of himself that once recorded 66 points during the 2011-12 season.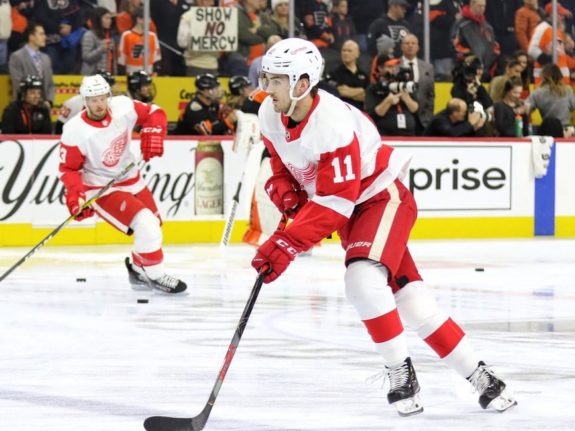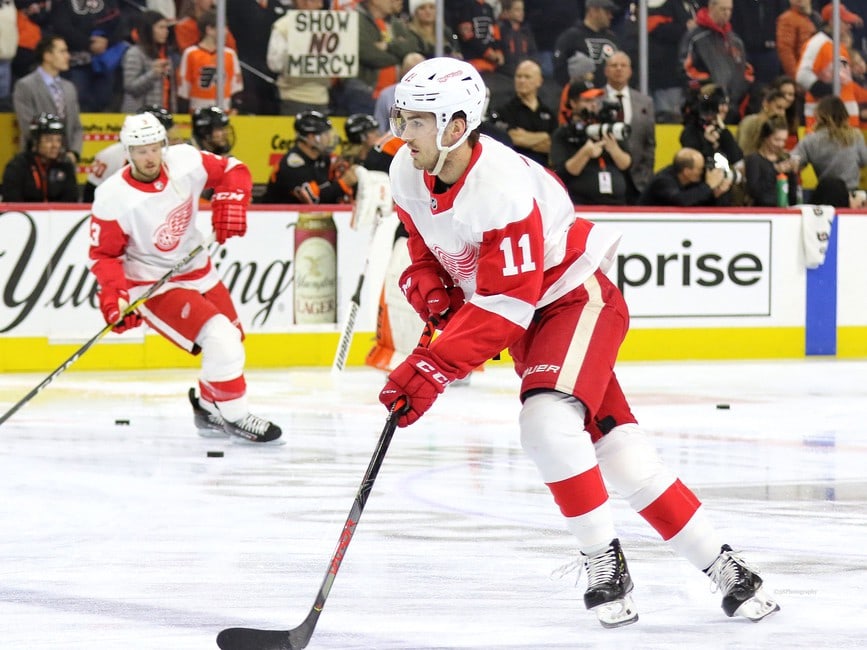 Being a pass-first type of player like Filppula, Wennberg is also a decade younger and, theoretically, a lot hungrier. His personal possession rates over the last two seasons are essentially break-even. He's not going to drive play by himself, but he has proven to be able to help bring out the best in his teammates.
Last season, Artemi Panarin — a Hart Trophy candidate this season with the New York Rangers — saw his possession stats increase during the time he played with Wennberg at even-strength. He has also positively impacted the possession stats of guys like Gustav Nyquist, Boone Jenner and team captain Nick Foligno, perhaps the biggest benefactor of playing alongside a puck-mover like Wennberg.
These findings suggest that Wennberg would look good alongside a player like Tyler Bertuzzi or even Darren Helm. Complete the line with a finisher like Zadina is capable of being and the makings of a solid middle-six line are there.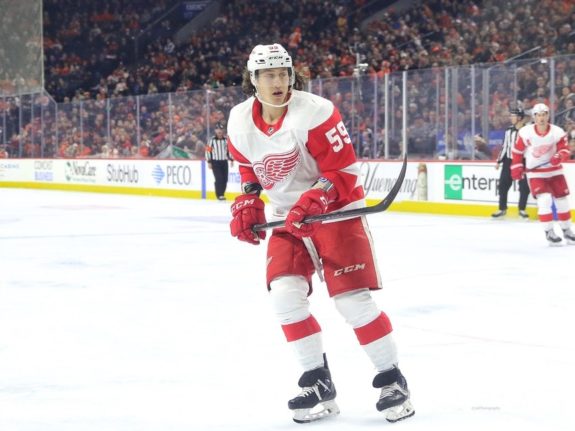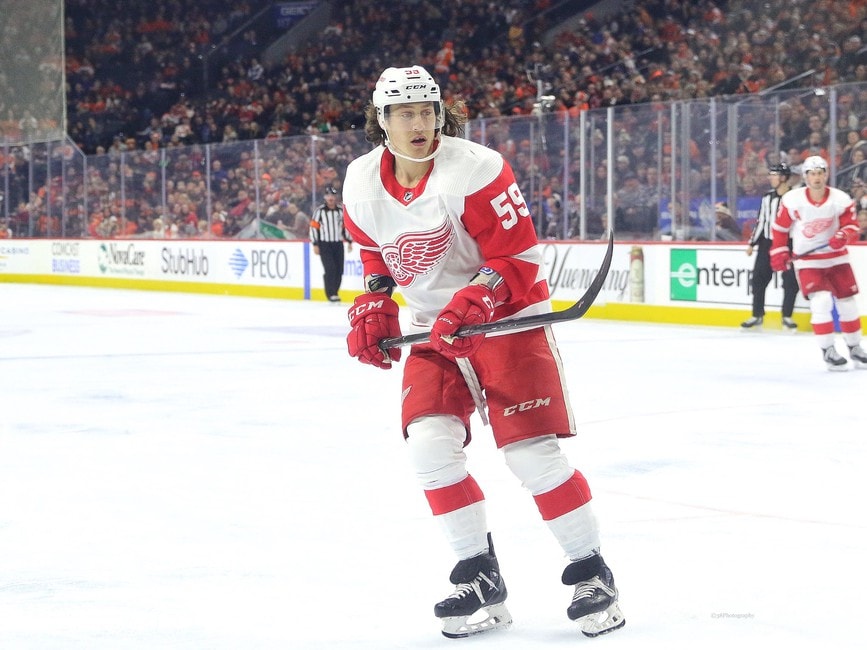 But that's just what the fancy stats say. There's no doubt that in terms of raw production totals, Wennberg has failed to meet expectations. It's why the Blue Jackets are considering a buyout, and it's why the Red Wings shouldn't sign him with the expectation that he's going to immediately solve all their offensive problems.
Cost
The Red Wings have cap space and, pending a buyout, Wennberg isn't going to sign for anywhere near his current $4.9 million cap hit. He's also not likely to receive anything more than a two-year deal on the open market. In terms of financials, this could be one of the most cost-effective options for the Red Wings.
There are some non-monetary costs that should still be considered, however.
Adding Wennberg likely shuts down the opportunity to target a high-cost forward like Kyle Turris with the goal of also acquiring additional future assets.
The move potentially prohibits a player like Rasmussen from getting valuable playing time in the NHL, especially with the uncertainty surrounding the AHL's season.
If the experiment works out, does Yzerman protect him instead of a prospect during the Seattle expansion draft?
All of this is to say that this isn't just a matter of rolling the dice and seeing what happens. There are many things to consider when adding any player, not just Wennberg.
A Gamble Worth Making?
If the Blue Jackets cut Wennberg loose, the Red Wings should absolutely give him a call. However, they shouldn't move mountains just to sign him. In some ways, it's as much of a gamble to roll with him in the top six as it is to roll with Rasmussen or Filppula.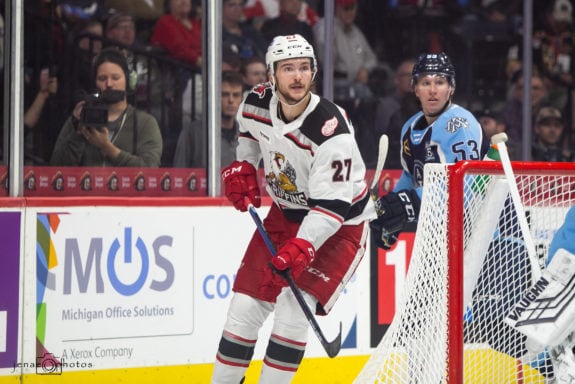 But the upside here is clear. If he's playing at his best, Wennberg has proven to be capable of posting between 40 to 60 points in a season — to put that into perspective, the Red Wings only had two players break the 40-point plateau this season. And if it all works out, the Red Wings will find themselves with a piece they can commit to for the future, or they can use him as trade/expansion bait.
Related: Red Wings' "Terrible" Ted Lindsay: Honoring a Lasting Legacy
If Wennberg becomes a free agent, it costs nothing but cap space and a roster spot to bring him to Detroit. Though Fabbri was acquired in a one-for-one trade, there were certainly doubts at the time about the quality of player that the Red Wings had acquired. There's no doubt that Wennberg would face the same questions. Just like when Fabbri arrived, it would be up to him to prove the naysayers wrong.
We'll see if Wennberg finds that opportunity in Detroit, Columbus or somewhere else entirely.
---
---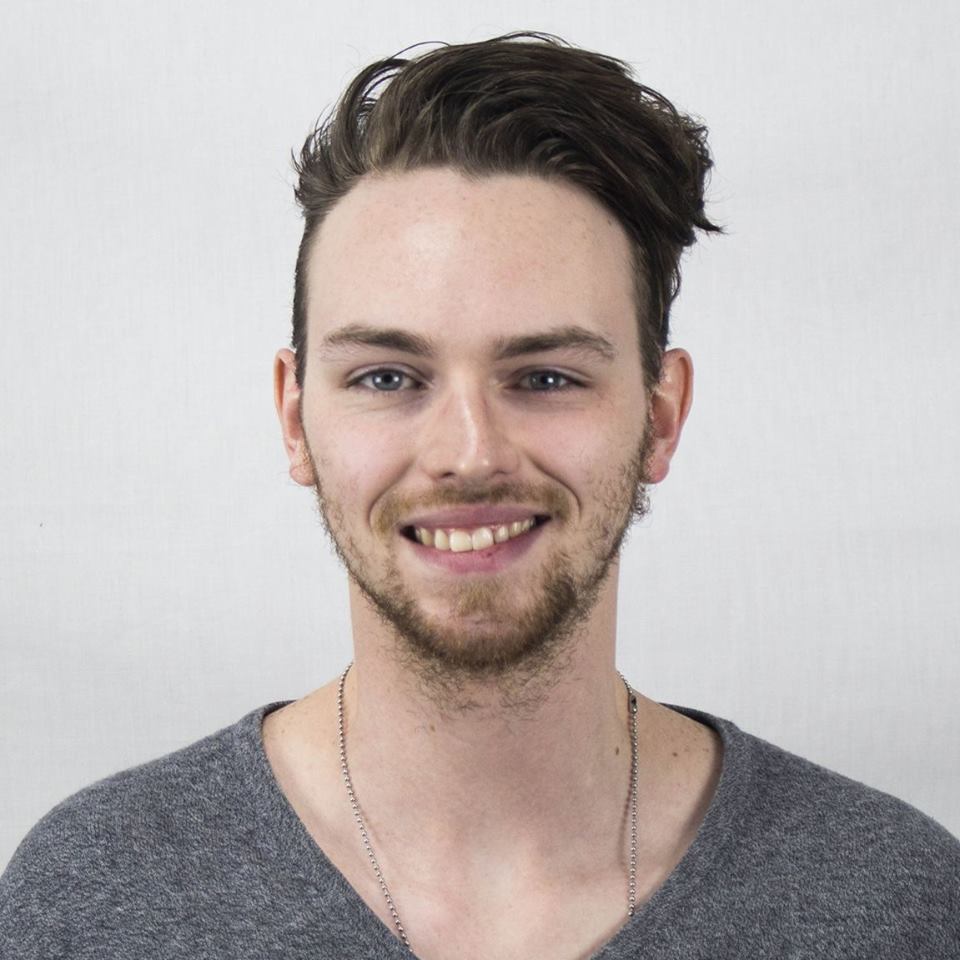 I am a Western Michigan University alum whose passion for hockey knows no limits. Dr. Pepper enthusiast. Catch me and my fellow Red Wings writers' YouTube show "The Hockey Writers Grind Line" which drops every Saturday.