What's The Grind Line? Apart from the once-famous line of Kris Draper, Kirk Maltby, and either Joe Kocur or Darren McCarty, The Grind Line is also The Hockey Writers' weekly column about the Detroit Red Wings. This week, Devin Little, Patrick Brown, and Tony Wolak are the muckers who make up THW's forechecking unit and sound off on Red Wings topics.
---
In this week's edition of The Grind Line, The Hockey Writers' Red Wings coverage team sounds off on a few of Hockeytown's trending topics, including Jeff Blashill's future, third jerseys, and prospects overseas. Let's dive in.
Related: Projecting the Red Wings' Opening Night Lineup
Does Blashill Survive 2020-21?
Since Blashill took over as head coach of the Red Wings, the team's record has gotten worse and worse each year. But an argument can be made that Detroit's young players are improving. Now in the final year of his deal, does Blashill make it through the season?
Tony Wolak: Yes
The Red Wings hit rock bottom last season, so it's only up from here. And because this season may be a little wonky due to COVID-19, I firmly believe Steve Yzerman will let Blashill finish the season and make his case for another extension before making a decision on his future this summer.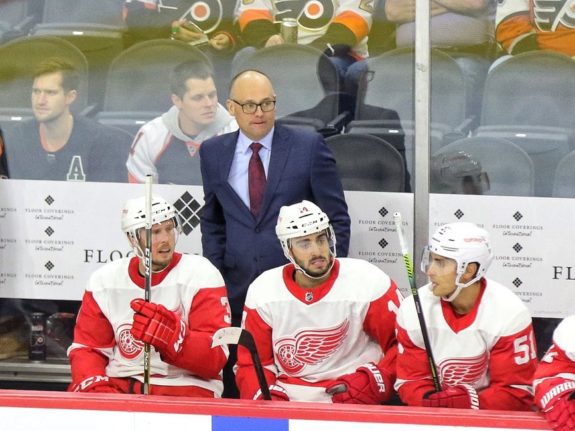 Pat Brown: Yes
Blashill has shown at every level that he's a quality educator, and you could tell after the team's 3-1 start last season that the core has bought into his brand of hockey. Given that the Red Wings now have two legitimate scoring lines, Blashill will be able to coach through the entire season while potentially proving he deserves another contract.
Devin Little: Yes
Quite frankly, unless the tires completely come off during the 2020-21 season, I believe Yzerman has no interest in a mid-season coaching change. I think that next year's offseason will be the defining moment of whether or not Blashill will remain with the Red Wings as they begin to turn the corner.
Related: Red Wings Expansion Draft Projections 3.0
Should the Red Wings Have Third Jerseys?
Adidas will be launching "Reverse Retro" third jerseys for the 2020-21 season. Apart from outdoor events, the Red Wings have stuck to their traditional red-and-white kits. Should they adopt a third jersey moving forward?
Tony Wolak: Absolutely Not
I'm fine with one-off alternate jerseys for special events, but that's about it. The Red Wings brand is tied to their Original Six roots; Detroit's red-and-white kits are about as classic as you can get. Don't mess with success. If anything, wear the white jersey at home more often. But don't rotate in a third jersey – that's not the Hockeytown style.
Pat Brown: Yes
I'm all for it. Yes, the classic red-and-white winged wheel sweaters scream authenticity, but no one's taking those away. It's a good way to engage a fan base that may not have the ability to attend many games in person next season due to the pandemic, and frankly, a marketing/revenue home run for a team that desperately needs it. Those jerseys will fly off the racks.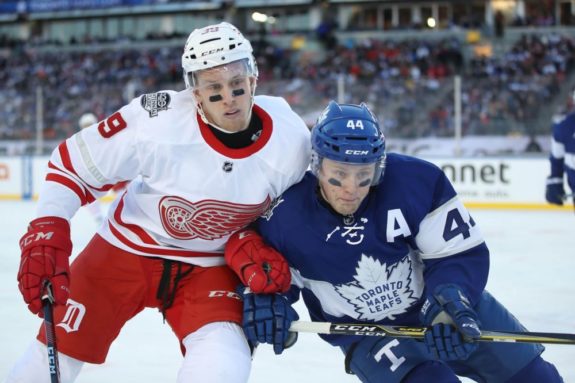 Devin Little: Open to the Idea
My initial reaction to this is no because of the same reasons that Tony presented. However, most of their fellow Original Six franchises have either attempted a third jersey or have committed to one over the course of their existence. I've loved most of the Red Wings' special jerseys that they've worn over the last decade, so I'm not entirely against the idea of adding another jersey to the rotation – it just has to be done right.
Related: Kraken Could Target These Red Wings in the Expansion Draft
Which Red Wings Prospect Has Been Most Impressive?
While we wait for the 2020-21 season to kick off, Detroit's top prospects are skating overseas. Which prospect has exceeded expectations so far?
Tony Wolak: Moritz Seider
You can make the case for a few Red Wings prospects, but Moritz Seider has been an absolute beast in the SHL. He's been a physical force, playing 20-plus minutes each game and has produced nearly a point per game so far. Seider's excellence at both ends of the SHL ice is even more evidence he's ready to play in the NHL once his season ends.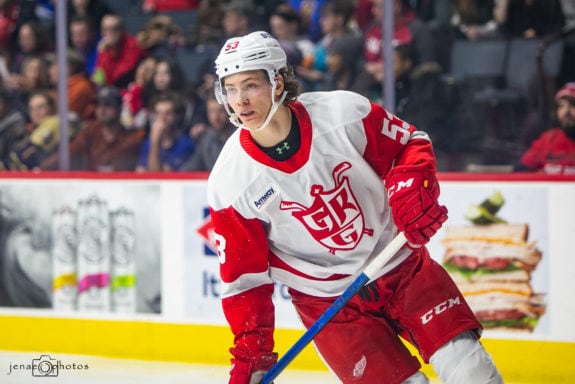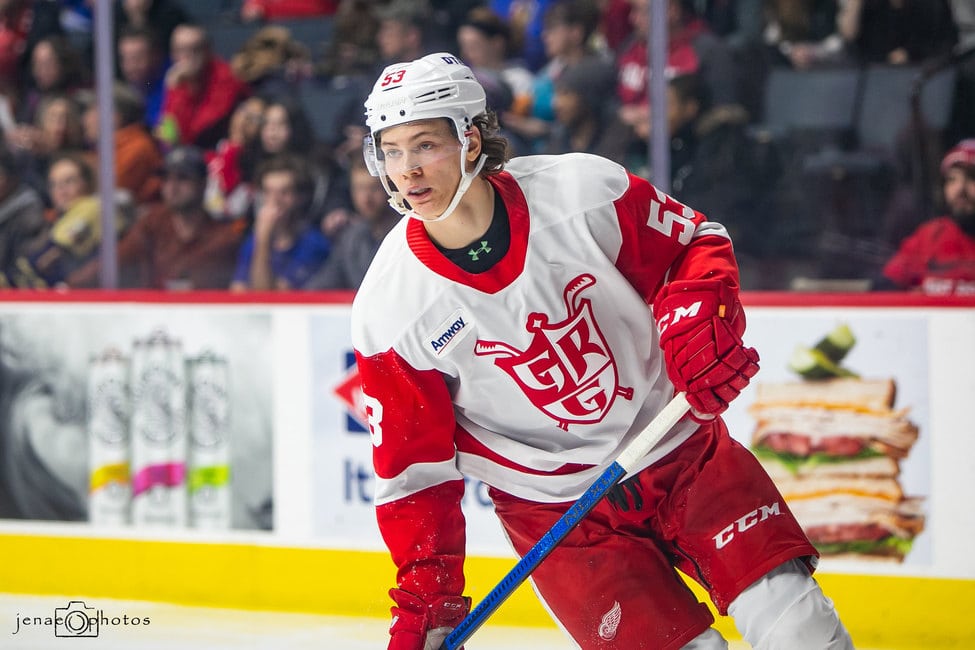 Pat Brown: Lucas Raymond
The 18-year-old has 10 points in 15 games with Frolunda HC in Sweden's top league, tying what he did in 33 games a season earlier. He's tied for the team lead in both points and goals, and that's with players who have much more experience playing professional hockey. Unreal. It's obviously too early to tab him as an NHL All-Star, but the fourth-overall pick's immediate impact in the SHL gives Detroit fans good reason to be optimistic about the future.
Devin Little: Jonatan Berggren 
It's a little unfair to name just one prospect here as Red Wings fans have been spoiled with overseas highlights over the last month. However, Berggren stands out because of how dominant he has been following two straight seasons that were cut short due to injuries. You often look for rust under this scenario, but he has been nothing short of an offensive catalyst for his team. Now you can really see what led the Red Wings to select him with the 33rd pick of the 2018 draft. 
---
---
More from The Grind Line
Want more Red Wings content? Tune into The Hockey Writers' Grind Line – a new weekly live show on YouTube and Facebook. We stream Friday nights starting at 8:00pm ET on The Hockey Writers YouTube channel. Check out last week's show below.