With uncertainty surrounding the schedules of nearly every hockey league in North America, NHL teams are loaning players to European teams on an increasing scale. The Detroit Red Wings have many prospects playing in Europe but they have a total of 10 signed players that are officially on loan status including one goaltender, five defensemen, and four forwards.
Two of the Red Wings on loan were considered roster players last season – the two Filip's – Filip Hronek and Filip Zadina. Hronek and Zadina have returned home to play in the Czech Extraliga where they have both enjoyed excellent starts. Hronek has collected seven points in six games with HK Hradec Kralove while Zadina has picked up three points in his first two games with Trinec Ocelari.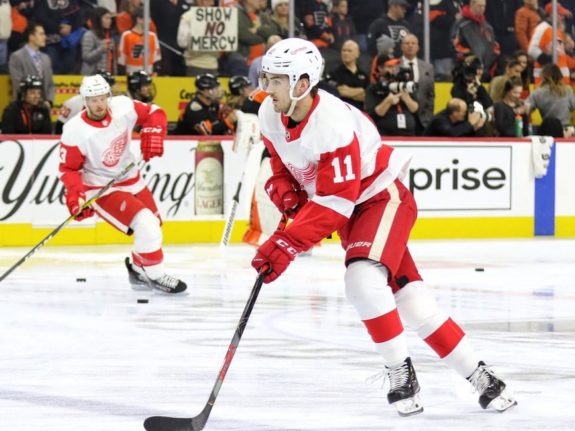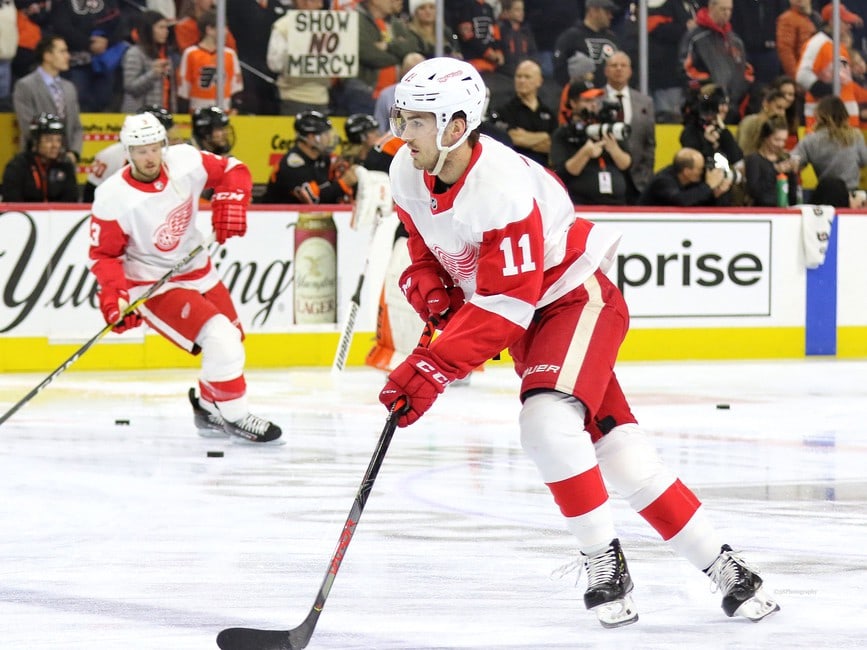 With an American Hockey League start date of February 5th, eight other Red Wing prospects under contract have been loaned to different teams throughout Europe. As such, the focus today is noting where each prospect has landed and how they are doing.
Matthias Bromé – Undrafted (Age: 26)
Late bloomer prospect, Bromé, has started his season back with Örebro HK of the Swedish Hockey League. The Red Wings signed Bromé to a one-year contract after a breakout 2019-20 season with Örebro when he managed 17 goals and 26 assists (43) over 52 games.
So far, Bromé has picked up where he left off by starting the season with three goals and nine assists in his first 14 games. As a 'mature prospect' Bromé will likely be given an opportunity to crack the Red Wing lineup when the next NHL season begins.
Michael Rasmussen – 9th Overall, 2017 (21)
After spending his entire 2019-20 season with the AHL's Grand Rapids Griffins, Rasmussen is likely eager to start fresh in challenging for a roster spot on the big club in Detroit. Rasmussen has landed in Austria with the Graz 99ers to ensure he continues his development.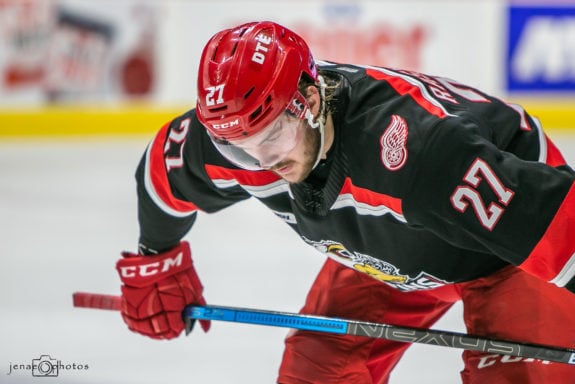 Candidly, I really have no idea how the Austrian professional league compares with other European leagues, but Rasmussen has had some early success with Graz. In his first three European games, the Surrey native has added two goals and an assist.
Joseph Veleno – 30th Overall, 2018 (20)
The former QMJHL star and two-time member of the Canadian World Junior team started his season with HK Malmö in the Swedish Hockey League. Over his first eight games with Malmö, Veleno has managed a goal and two assists.
Veleno will likely stay in Malmö for the remainder of the season to get a full season of development. However, Malmö is dead last in the league so Veleno would likely return to North America sometime in March when the Swedish regular season concludes.
Albert Johansson – 60th Overall, 2019 (19)
Johansson, a teenaged defenseman, is off to a great start with Färjestad of the Swedish Hockey League – in 14 games Johansson has contributed 3 goals and 3 assists from the back end.
It likely helps that the young Swede has been a part of the Färjestad club since 2014 and is familiar with the expectations with this group of athletes. Johansson's father, Roger, also won three Swedish Championships as a member of the Färjestad club so he has plenty of support in this situation.
Gustav Lindström – 38th Overall, 2017 (22)
Lindström is playing with Almtuna which plays in the HockeyAllsvenskan, the second-highest hockey league in Sweden. During his first 10 games with Almtuna, Lindström has contributed four assists.
During the 2019-20 season, Lindström spent time between Grand Rapids and also played in 16 games with the big club in Detroit. He will likely return to North America when NHL training camps begin as he vies for a full-time spot with the Red Wings.
Jared McIssac – 36th Overall, 2018 (20)
McIssac finished his junior career last season with the Moncton Wildcats of the QMJHL. He and his family probably never dreamt that his first professional hockey game would be played in Finland but that is exactly what happened. McIssac signed with Hämeenlinnan Pallokerho (HPK) of the SM-liiga or the Finnish Elite League back in September.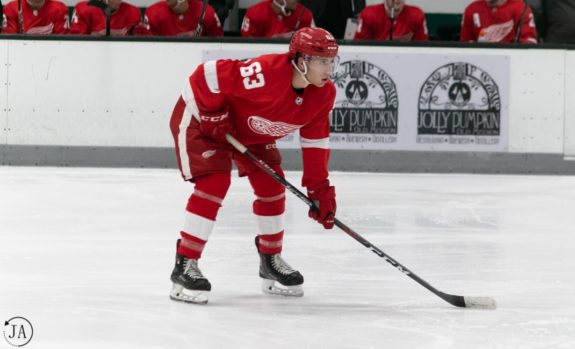 However, the 20-year-old only factored into one game before injuring his left shoulder. Unfortunately, the injury required surgery in late October, and McIsaac is expected to miss five to six months of action. He previously underwent a similar procedure on his right shoulder prior to the 2019-20 season.
Moritz Seider – 6th Overall, 2019 (19)
The big German defender chose to play in Sweden instead of returning home to the DEL in Germany. Specifically, Seider is playing for Rögle BK in the southwestern city of Ängelholm.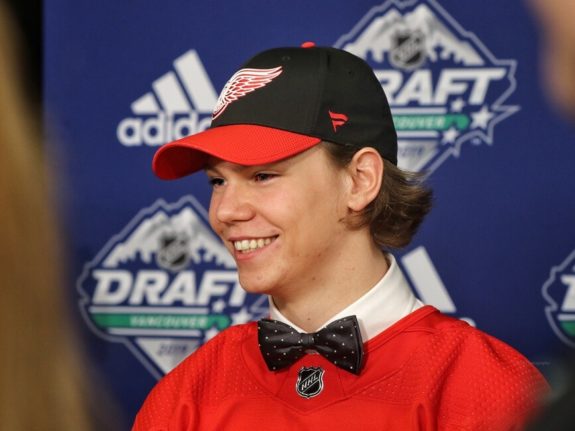 Seider has been off to a cracking start with Rögle collecting a goal and five assists in his first six games. Currently, Rögle sits in second place behind Swedish hockey league powerhouse Frölunda HC.
Filip Larsson – 167th Overall, 2016 (22)
Larsson is the Red Wings lone goaltending prospect currently on loan in Europe. The Stockholm native joined fellow Swedish prospect Lindström in Almtuna. In three starts, Larsson has posted a 2.99 goals-against average, and .900 save percentage. 
Larsson split time between Grand Rapids and the Toledo Walleye of the ECHL. On paper, His first year of professional hockey in North America was a bit of a struggle. Perhaps his time back home in Sweden's second division will help get his game back in form.
Stay tuned for more European updates on Red Wing prospects over the next several months.
---
---
Saskatchewan born, Alberta raised / Former dual sport collegiate athlete / Jack of all trades – master of none, but a Masters degree / Junior Hockey Scout / Most importantly, a Father.
Detroit Red Wings Coverage