Third-year pro Jayce Hawryluk is one of a few new players to join the Vancouver Canucks this offseason, but unlike his fellow newcomers, Nate Schmidt and Braden Holtby, who each have polished resumes and will step into starting roles, Hawrykuk isn't guaranteed a spot with the big club. That being said, just because he hasn't had much success at the NHL level in three years, doesn't mean the potential isn't present. But how do we know? Well, let's look at Hawryluk's past to see if we can predict his future.
On Oct 19, when Elliotte Friedman announced that the Canucks had signed Hawryluk to a one-year deal, the team became able to see if the right-winger, who they had their eyes on in the 2014 NHL Entry Draft before having him snatched away by the Florida Panthers in a move that landed the Canucks Thatcher Demko, will get a trial run with someone they thought had potential three years ago.
This type of low-cost/low-risk contract is exactly what the Canucks needed this offseason and Hawryluk's one-year contract, that's two-way and worth $800,000 in the NHL and $200,000 in the AHL, allows management an opportunity to see if the former draft prospect who became a WHL scoring machine can bring that production to the big league.
Past Performances Write an Intriguing Origin Story
During the second round of the 2014 NHL Entry Draft, the Canucks liked Hawryluk but ultimately went with Jared McCann at 24th overall instead. McCann had a nice, albeit brief career as a Canuck until he was traded to the Florida Panthers in 2016.
Back to that draft. As Hawryluk slid, Canucks management and scouts began to discuss selecting him, but he was selected by the Panthers at 32nd overall just before the Canucks picked again at 36th overall. Instead, they landed a pretty awesome consultation prize, Thatcher Demko.
After Hawryluk was drafted, he returned to the WHL's Brandon Wheat Kings where he went off. In 58 games, he scored a mind-boggling 106 points, 47 of which were goals. Soon he'd join the Florida Panthers AHL team, the Springfield Thunderbirds, scoring 32 points in 31 games in the 2018-19 season. The Panthers soon handed him a sweater, which he'd wear for 42 games in the NHL that season.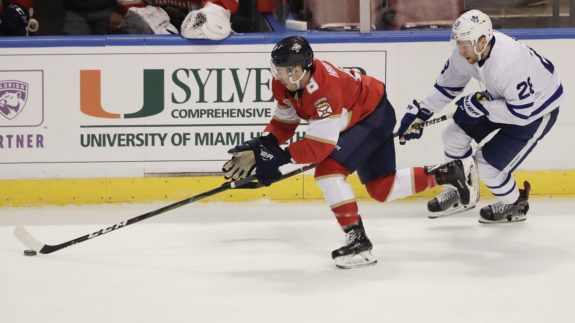 After that, Hawryluk played 15 games with the Panthers until he was placed on waivers and chosen by the Ottawa Senators to play another 11 games before the season ended abruptly. Adding misery to the undesirable outcome, Hawryluk and a few of his Senators teammates were diagnosed with COVID-19. He was fine, but the 10 points he produced in 26 games was not. This is likely the reason why Vancouver Canucks general manager Jim Benning was able to sign the fiery former draft target to an agreeable one-year deal.
The multi-positional abilities that Hawryluk brings to the Canucks as a right-winger who can line up at center are exciting, but looking down the middle of the roster, the top-three dot spots are a lock. But it's the right side that gets a little murky and one injury (God forbid), could thrust a player with a bumpy past into the starting lineup.
This is something that I can certainly see happening, which is unfortunate, but that's the nature of the game and with the unknown element of COVID-19 designations, it, to me, seems certain that Hawryluk will get a shot on the Canucks. When that happens, if he were to get hot, the speedy, defensive-minded winger could end up in the top-six or nine, while playing on the penalty kill (PK), where his hustle and ability to stip the puck would come in handy. Surprisingly, that's a role he has yet to fill in the NHL.
I think he'd be good on the PK and could excel in a top-nine role. He plays hard and he's not out there to make friends.
"We're not out there to be friends," said Hawryluk. "Even if you know the guy off the ice, you're out there to do one thing and that's win the hockey game. And if that's a chirp here and there to throw a guy off his game or just let him know, 'If you want it, I'm here to give it to you,' I feel like that's just part of my game."
His attitude and aggressive net presence earned him a few goals last season and injury or not, this blue-collar hard worker is going to fit right in wearing Canucks blue.
Can a Similar Narrative Foreshadow the Future?
One look at Hawryluk, who stands 5-foot-11 weighing an athletic 196 pounds, may appear buff and intimidating off-ice, but on-ice, near teammates like Tyler Myers (6-foot-8, 229 pounds), he doesn't strike fear in hockey players. To me, he resembles another former Florida Panther and current Vegas Golden Knights winger, Jonathan Marchessault (5-foot-9, 180 pounds), a slick player who early in his career, while playing with a still very talented Tampa Bay Lightning team in 2015-16, played 45 games and scored 18 points (7G/11A). Those numbers almost mimic what Hawryluk produced in his first year in the NHL.
As mentioned above, while lacing up for the Panthers in 2018-19, he played in 42 games and scored 12 points (7G/5A). But what separates these men is Hawryluk's physicality. In those comparing years, Hawryluk was credited for 101 hits, while Marchessault had 61. What makes this comparison stand out most is that their average time on ice (TOI) is separated by one minute.
In his third year, Marchessault's TOI averaged 12:05 and the rookie Hawryluk clocked in at an average of 11:05. Now, this is the exciting part! If you're unaware of Marchessault's seasons that followed his 18 points in 45 games, here they are, in 2016-17 with the Panthers, he played 75 games and scored 51 points. When the Vegas Golden Knights plucked him away, he'd produce 75 points in 77 games and over the last two years, play 82 games scoring 59 points and last year in 66 games, 47 points.
So if given the chance Hawryluk could become a very exciting player for the Canucks and we have high expectations.
Of these men, one has gone on to have a very impressive career, now will the latter be able to add to his physical skills and do the same? I don't know about you, but if these comparisons indicate that we may have a future 50 to 75-point scorer waiting in the wings, I think he can and I'm pretty excited to see how Hawryluk looks in Canucks blue.
---
---