The Detroit Red Wings have a well-documented ability to select "gems" in the later rounds of the NHL draft. Pavel Datsyuk was a sixth-round selection in 1998; Henrik Zetterberg a seventh-round pick in 1999. While he's no Datsyuk or Zetterberg, the Wings used the very last pick of the 2002 draft to select Jonathan Ericsson. Then things went quiet for a little while, at least in the mid-to-late rounds. From 2002-2008, the Wings had a tough time finding those high-quality prospects in the middle and later rounds. Sure, they landed Kyle Quincey (fourth round) in 2004 and Darren Helm (fifth round) in 2005, but the players were not panning out the way they did in previous years.
Turn the calendar to 2008 and the floodgates burst open. The 2009-2011 drafts are – at least,  in my opinion – the reason Detroit's prospect cupboard is bursting with talent nowadays. What I am going to discuss, specifically, is the success of the Red Wings' fourth-round selections made from 2008-2012. While they are not the late-round gems of the past, Detroit was able to pull off some mid-level magic.
Gustav Nyquist – 4th round, 121st overall, 2008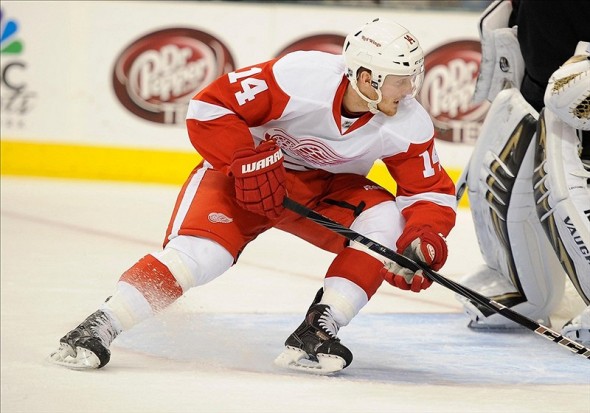 You would be hard-pressed to find a player who made as smooth  of a transition into pro-level hockey as Nyquist. In the 2010-11 season, he put up 51 points in his last year at the University of Maine, earning him a nomination for the NCAA's Hobey Baker Award, given to the league's top player. The next season, he co-lead the Griffins in points (58) and took sole lead in points (60) for the 2012-13 season. While he began the 2013-14 season in Grand Rapids, a combination of injuries to several Red Wings' players and his own solid play earned him a call-up to Detroit, and he has not looked back since.
Nowadays, Nyquist is one of Detroit's top goal scorers, potting 28 goals last season. Currently, he sits at 22 goals through 65 games, and is on pace for 27 goals this year. With his contract up at the end of this season, don't be surprised to see Nyquist sign a multi-year deal to keep him in Detroit. Certainly, the "Goose" has proven worthy of the fourth-round selection.
*No fourth-round selection in 2009*
Teemu Pulkkinen – 4th round, 111th overall, 2010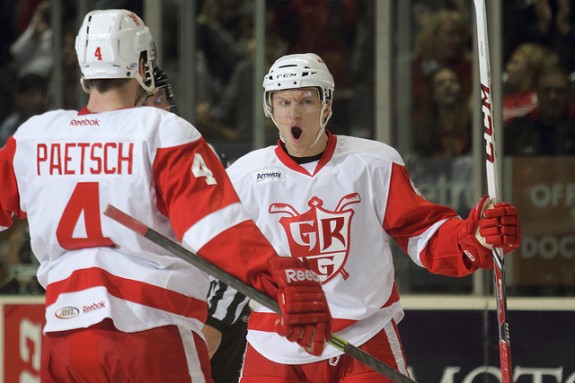 Pulkkimania. Teemu Hull-kkinen . THW's Prashanth Iyer seems to like "Pulk-cannon". Call him what you will – Pulkkinen's ability to score goals is downright impressive. Oddly enough, he never broke the 20-goal mark until he made the jump to the American Hockey League. In fact, Pulkkinen broke Teemu Selanne's single-season assist record (25) in 2010-11, when he notched 36 with Jokerit of the Finnish Elite League.
On American soil, though, he is a goal-scoring machine. In 119 games with the Grand Rapids Griffins, Teemu's potted 65 goals. Despite bouncing back and forth between Detroit and Grand Rapids, he still leads the AHL in goals (36) and is the co-leaders in points (61). No longer able to pass safely through waivers next season, Pulkkinen will start the year with the Red Wings, looking to earn himself a spot in the line-up on a nightly basis.
Marek Tvrdon – 4th round, 115th overall, 2011
Sure, Tvrdon has not experienced the success of the other three players discussed here, but I didn't feel like it would be right to leave him off this list. I think he has a very real chance of turning into a NHL player one day, even if it is not as a Detroit Red Wing. Tvrdon has a laundry list of injuries, going back to his draft year – he played in just 12 games for the Vancouver Giants in 2010-11 due to a shoulder injury. The Red Wings saw enough talent in the Slovak to take a chance on him, though. Boasting a 6'2, 217 pound frame, Tvrdon uses his strength to score most of his goals at close range.
While he's had a few setbacks – he was send back to junior last season – Tvrdon seems to have gotten back on track. He has been a point per game player with the Toledo Walleye this year, scoring 24 points in as many games. Tvrdon has contributed offensively for the Griffins as well, putting up 21 points through 35 games. The 2015-16 season will be important for him, as it is his last year of waiver exemption.
Andreas Athanasiou – 4th round, 110th overall, 2012
I have to admit, it was Athanasiou who inspired this article. He scored a dandy of a goal last night against the Charlotte Checkers.
Yet, it's not the goal that has me most impressed with Athanasiou – it is his seamless transition from the OHL to the AHL. Certainly, his high-end speed has helped him along, but I will be the first to admit that I did not expect this level of play. Even more impressive is Athanasiou's ability to recover from a broken jaw, which he sustained in the middle of December. In his very first game back, he notched an assist and went on a five-game point streak. Despite the injury, Athanasiou sits at eight in Griffins' scoring, with 26 points through 40 games. He has shown chemistry with fellow prospect Anthony Mantha, and the duo could be quite the force next season. One thing is for certain – Athanasiou has been a pleasant surprise throughout the 2014-15 season.
Subscribe to our Red Wings stories to get email updates every time a new story is published.
I am a writer from Windsor, Ontario who has covered the Detroit Red Wings for The Hockey Writers. I have had the pleasure of doing so since February of 2015. Previously, I have written about Red Wings prospects for Hockey's Future. I am always up for chatting about the Red Wings and hockey in general, so leave me your comment and/or tweets. Follow me on Twitter at @BrandonPeleshok.