The Detroit Red Wings have taken a step in the right direction this season, as they have a 21-19-8 record at the time of this writing. However, although they have been more competitive this season, they still trail the Pittsburgh Penguins by seven points for the final wild card spot in the Eastern Conference. As a result, they are unlikely to browse the trade market for rentals during this campaign. However, general manager (GM) Steve Yzerman is in a position where he can look to add players with term if he believes it will benefit the team in the long run.
I recently argued that the Red Wings should consider the prospect of making a major push for Arizona Coyotes star defenseman Jakob Chychrun. Although the 24-year-old would be a huge addition to Detroit, the Coyotes also have a hidden gem on their roster that the Red Wings should consider acquiring. Let's dive into why now.
Nick Schmaltz Emerging as Trade Candidate
The Arizona Coyotes are in a full-on rebuild, so they are naturally open for business. Besides Chychrun, players like Shayne Gostisbehere, Nick Bjugstad, Nick Ritchie, Karel Vejmelka, and Christian Fischer have all been deemed as potential trading pieces from the Coyotes. However, when noting that Nick Schmaltz has been playing some of the best hockey of his career, the Coyotes could very well look to take advantage of his heightened trade value. Furthermore, this is the final season before his 10-team no-trade list kicks in, so that could lead Arizona to move him while they have no restrictions.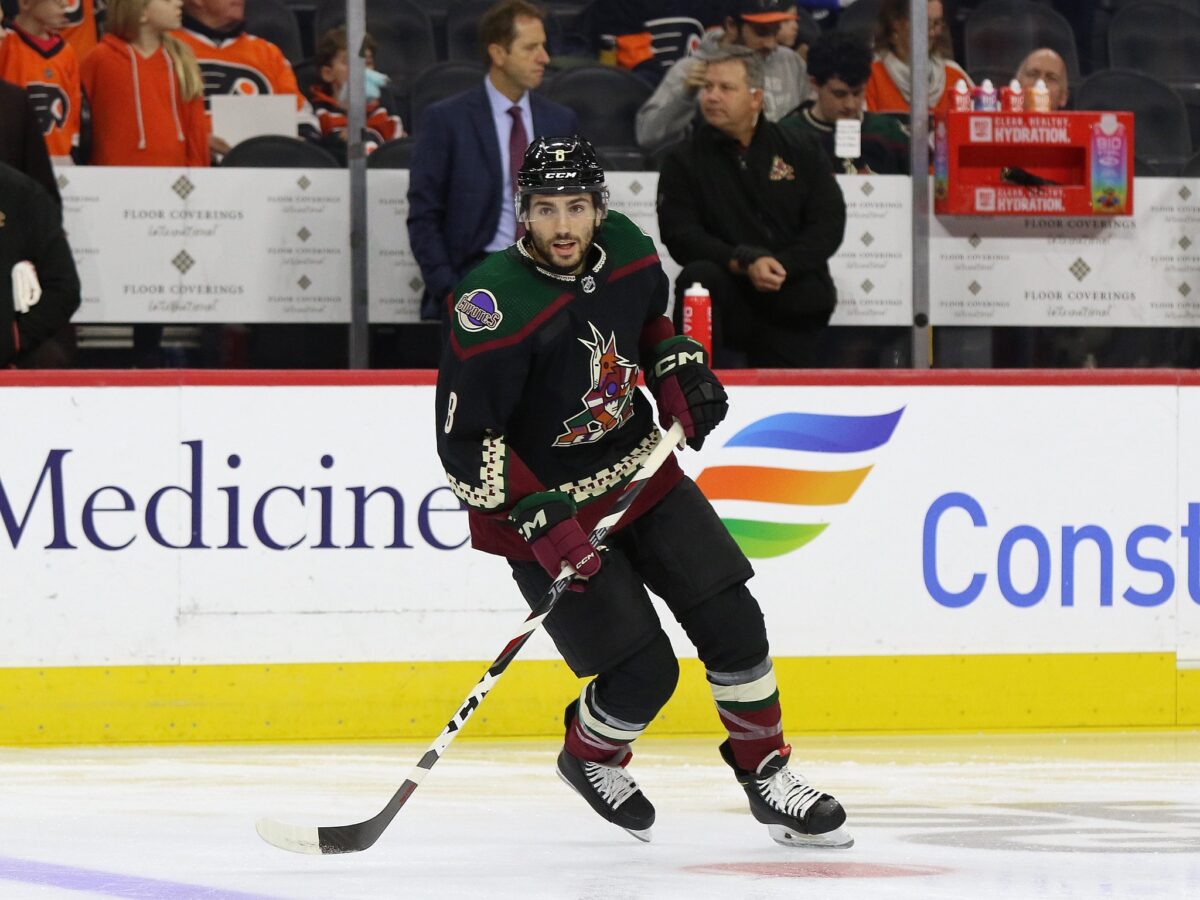 If Schmaltz is made available, there would be a plethora of teams interested in him. After all, he carries a $5.85 million cap hit until the end of the 2025-26 season and has proven that he is a legitimate top-six forward at the NHL level. In 34 games this season, the Wisconsin native currently has 11 goals and 28 points. Furthermore, over his last 82 games, he has scored 33 goals and recorded 82 points. Needless to say, he has taken his game to another level over the last two years, and one has to wonder if he could produce even more if moved to a team with better players to work with.
When noting that Schmaltz has multiple years left at a reasonable cap hit, I believe that the Red Wings should consider having trade discussions with the Coyotes centering around him. On paper, there seems to be a potential match here, but let's now discuss why.
Why Schmaltz Could Be a Perfect Fit for Red Wings
With the Red Wings heading in the right direction, they would be wise to bring in a very good player like Schmaltz. When looking at Detroit's lineup, it is apparent that he would be a perfect fit on their second line with Andrew Copp and Michael Rasmussen. However, Schmaltz also offers great versatility, as he is capable of playing both center and right wing if needed. As a result, this would open the door for him to receive chances anywhere in the Red Wings' top nine if acquired.
Related: Red Wings' Market for Bertuzzi Heating Up with 3 Teams Interested
---
Latest News & Highlights
---
Schmaltz has also been praised for his effective two-way play, so he would have the potential to be a key contributor to the Red Wings' special team units. When looking at Detroit's power play this season, it could use a boost, and Schmaltz would surely provide it with just that. Furthermore, it would not hurt for the Red Wings to add another forward that can kill penalties. This is especially true when noting that they are in a division with several offensively dominant teams like the Boston Bruins, Tampa Bay Lightning, and Toronto Maple Leafs.
Yet, perhaps the biggest reason why Schmaltz would make perfect sense is that he has a connection with the Red Wings. During his days with the Green Bay Gamblers of the United States Hockey League (USHL), his head coach just so happened to be Derek Lalonde. When noting that Schmaltz put together an excellent USHL career (37 goals and 119 points in 130 games), there's a good chance that he would mesh well with Lalonde's system yet again.
Potential Trade Between Detroit & Arizona
Although Schmaltz is a very underrated player playing in a small market, there's no question that the Coyotes fully recognize his value. As a result, for a potential Schmaltz trade to occur, the Red Wings would need to give up a good amount to successfully acquire him. Arizona would likely want Detroit's 2023 second-round pick, 2024 second-round pick, and a prospect like Shai Buium to make this move go through.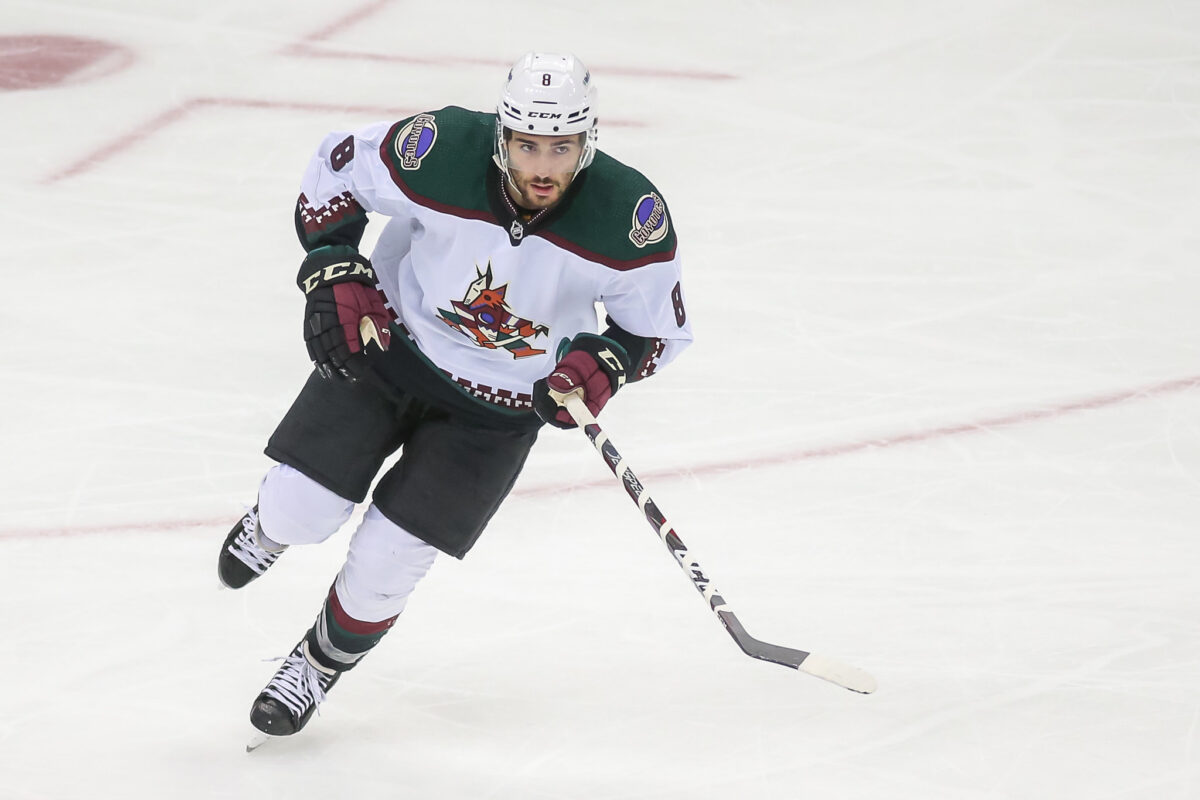 As stated above, the Coyotes are in a full-on rebuild, so they naturally are on the hunt for draft picks. With the Red Wings likely not being a playoff team this campaign, they would be wise to avoid trading their 2023 first-round pick. However, giving up two second-round picks for a legitimate top-six forward seems like a good start for both parties.
As for Buium, he is exactly the kind of prospect that a rebuilding team like the Coyotes would be wise to bring in. The 19-year-old is having a solid sophomore season with the University of Denver this year, as he has one goal to go along with 13 points in 25 games. When noting that he has all the tools to blossom into a legitimate NHL defenseman, he could be a solid piece of the Coyotes later down the road.
Nevertheless, it is clear that the Red Wings have a very intriguing trade target here in Schmaltz. We will need to wait and see if Detroit and Arizona agree to a trade centering around him before the deadline passes from here.