There has been lots of talk about the Detroit Red Wings' interest in Bo Horvat ever since Rick Dhaliwal listed Detroit as a team to watch in trade talks. Dhaliwal is one of the most well-connected insiders in Vancouver (if not the most connected), so I believed him, though it's strange to hear industry rumors about the Red Wings because Steve Yzerman runs such a tight ship in Detroit that we rarely hear anything slip out. Fortunately for us, Vancouver has been experiencing some tumultuous waters lately, to continue the ship analogy, and it appears Detroit's interest in Horvat leaked from the Vancouver end.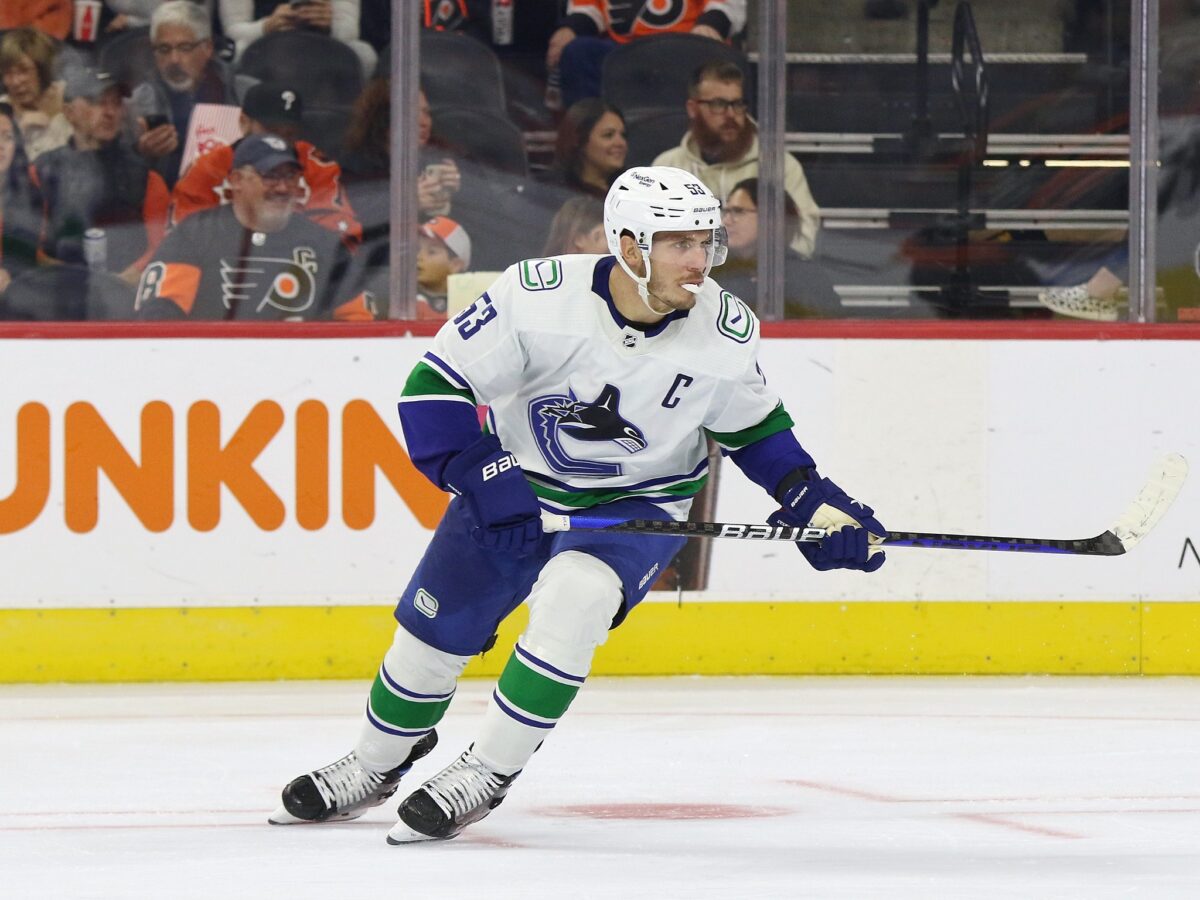 For the last week or so, Red Wings fans have debated whether or not the team should be trying to add the 27-year-old center or not, as well as drafting up some mock trades. All of that came to a crashing halt on Monday afternoon when the news came out that Horvat had been traded to the New York Islanders. While it may have been fun to add a center scoring at a 50+ goal pace this year, I believe that the Red Wings were right to avoid trading for Horvat.
The Dylan Larkin and Bo Horvat Dynamic Wouldn't Have Fit
Firstly, I want to say that I'm a big Bo Horvat fan and I'm happy for him that he's having such a strong breakout year in a contract year, leaving him perfectly poised to cash in what will likely be his last long-term contract in the NHL. He is a very likeable and responsible player from what I've seen, and I do think he'll be a positive addition to the Islanders as they hope to sneak back into a playoff spot. However, I can't say I ever saw a possible version of the Horvat acquisition that made sense for Detroit.
Related: NHL Draft Rankings – Horn's Top 64 for January
One theory was that they were looking to add him in case Dylan Larkin decides to test free agency and flies the coop. While I understand the logic, replacing your 26-year-old captain who can score 60-80 points a year with a 27-year-old former captain who can score 50-60 points a year, I think if you're willing to extend Horvat at the $8M+ price tag that he likely would have demanded, then you're better off extending Larkin to the $9M/year deal he's reportedly asked for.
The next theory was that Detroit would look to extend Horvat long-term to shore up their center depth for the future, however, the cost to extend both Horvat and Larkin would have been in the $15-18M/year range and that would be a legitimate overpay. That would also have given Detroit a center group of Larkin (1C), Horvat (2C), and Andrew Copp (3C) which doesn't exactly fill me with warm and fuzzy feelings.
Horvat has scored an impressive 31 goals in 49 games this year, a 52-goal pace, though that is likely the exception and not the rule when it comes to his goal scoring numbers going forward. I believe he can be a 35+ goal scorer in the NHL for a few more years, especially considering the growth he has shown as a finisher in the last 18 months. However, if I'm an NHL general manager who is prepared to trade multiple pieces including a top prospect this season, I'm looking at Timo Meier and the San Jose Sharks but that's a different article.
The Cost of a Bo Horvat Trade
The Canucks were reportedly looking for a package of at least three pieces, including an NHL player and a top prospect in return for their captain. They got just that from the Islanders, landing solid middle-six winger Anthony Beavillier, a great center prospect in Aatu Raty, and a conditional first rounder in the 2023 Draft.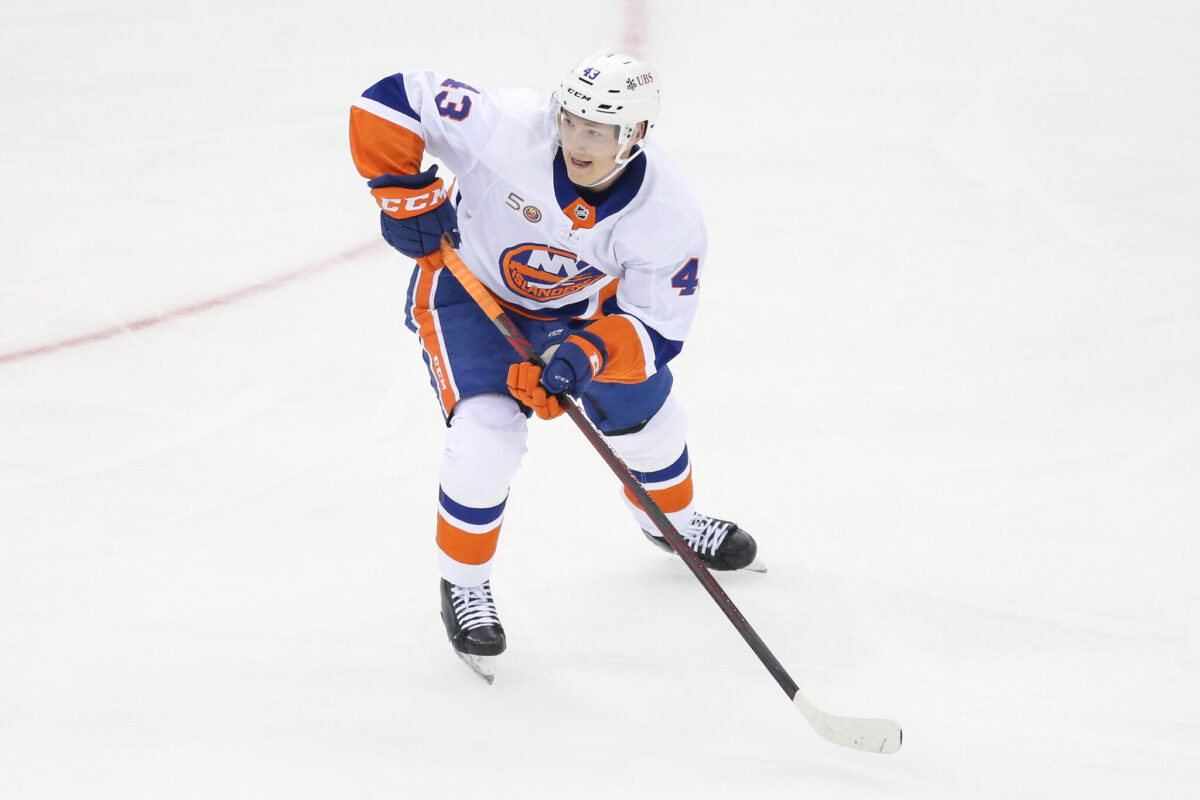 "Top Prospect" is probably a five-player tier for Detroit, with Simon Edvinsson, William Wallinder, Marco Kasper, Sebastian Cossa, and Carter Mazur being those five prospects. We can argue about their ranking within that tier or about a player that could maybe join that group, but the bottom line is that Vancouver would have asked for one of these players in a Horvat trade. 
Related: The NHL's Top 100 Prospects – Midseason Ranking
A trade package that would have given Detroit a realistic chance at competing with the Islanders for Horvat would likely include Mazur, Michael Rasmussen, and a conditional 2023 first round pick. If that is the cost, Detroit was wise to pass on Horvat, despite his 50+ goal pace this year. Horvat is currently just a rental for the Islanders as the Canucks didn't allow any potential acquiring teams to discuss a contract extension with Horvat's camp, and that is a substantial price to pay for a rental. 
Better Center Options in the Draft and the Prospect Pool
While Horvat was the best centerman who was actively being shopped on the trade market this year, I truly believe that Detroit has better center options in 2022 eighth overall pick Marco Kasper as well as in the 2023 Draft where they will likely have a top-10 pick. Detroit is currently sitting with the 12th best odds of winning the draft lottery, meaning that they are almost certainly going to be selecting in the 10-15 range this year with a draft class that's heavy on great centermen. 
In that range Detroit could very well add a center like Riley Heidt, Nate Danielson, or Oliver Moore each of which could be very impactful middle-six centermen in the NHL. They could go a different route and add an electric offensive player like Andrew Cristall or Axel Sandin Pellikka, who would both be great additions to the top of the Red Wings' lineup. There will be tons of great prospects available to Detroit in June and if they truly think they need another great centerman that bad, they should wait and add one in the draft.
Horvat is nearly 27 and would never have made sense given the timing of Detroit's competitive window which will only continue to grow as their young core group (Lucas Raymond, Moritz Seider, Simon Edvinsson, etc.) establishes itself in the NHL. The Red Wings won't be an elite NHL team until their world class prospect pool has turned into a world class NHL roster so it wouldn't make a ton of sense to mortgage that future in a Horvat trade that won't make the team that much better in the long-term and will handcuff them a bit when it comes to cap flexibility.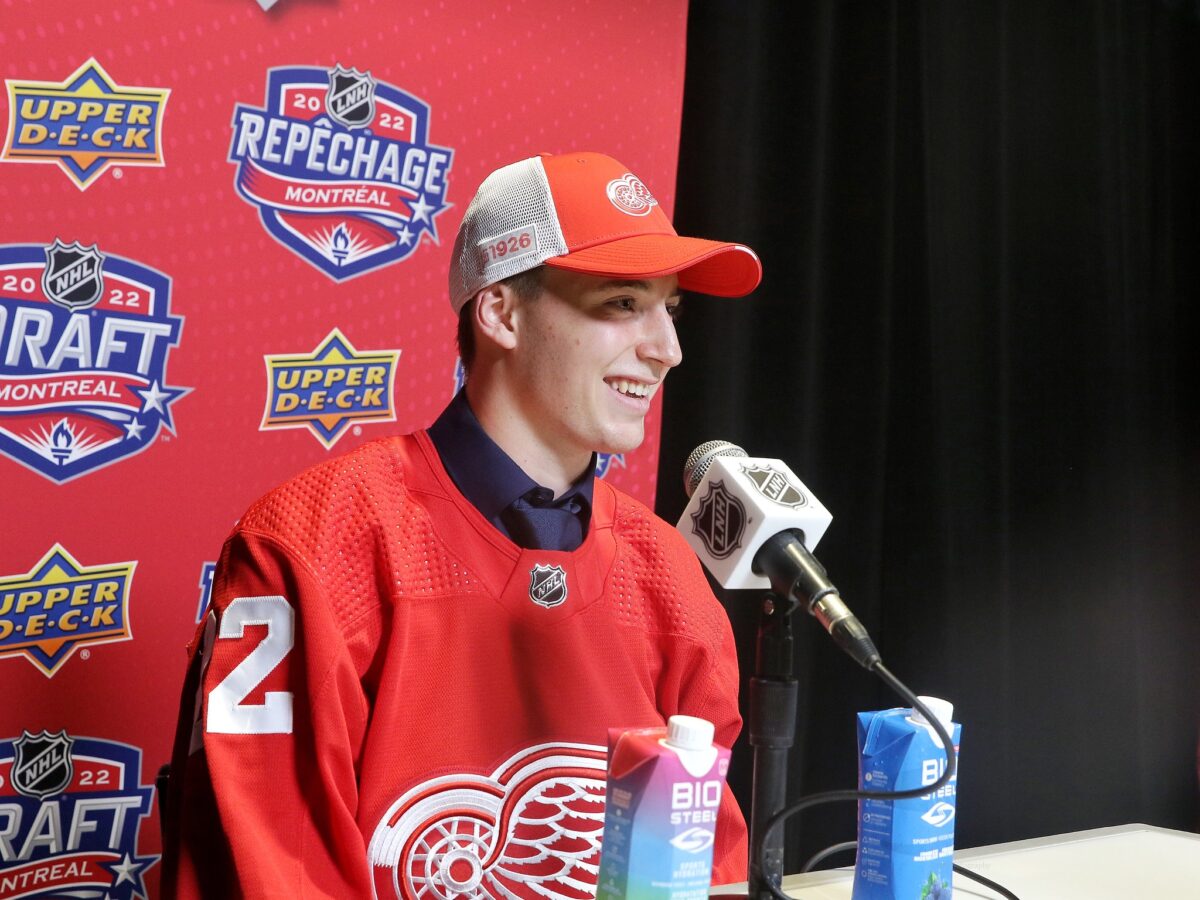 Remember that Larkin/Horvat/Copp center group that I mentioned earlier? Think about the way that makes you feel, and then think about how you feel about a possible Larkin/Kasper/2023 Draft Pick/Joe Veleno center group. Kasper has shown the ability to be a great two-way top-six center in the SHL this year as an 18-year-old, imagine what he could be in Detroit during his prime. I'm not shocked that Detroit checked in on Horvat, in fact I believe that every team should take a look when a player on pace for 50+ goals hits the market, but I'm assuming that they heard the price from Vancouver's management group and went "Thanks! *click*". 
Bottom Line, Horvat Wouldn't Have Fit
I don't see any way that trading for Horvat would have made sense for Detroit, either in the short or long-term. It would have been a very short sighted move that would almost certainly have made the team worse in the long run while making them marginally better this season. Steve Yzerman and Co. made the right call by sticking to their game plan and remaining patient once again. Patience is the virtue that management has been preaching about to the fanbase for years now, so it wouldn't have made any sense if they were the first ones to be so impulsive.
Related: 5 Early 2023 Draft Targets for the Red Wings
Seeing what the Islanders gave up to land Horvat on Monday, I'm very glad that Detroit didn't fork over the assets necessary to be a major player in trade talks. Holding onto the player, prospect, and pick that could have been traded will be massive for the future of the team, plus it means we're more likely to see Mazur's insane hair cut in the NHL someday. At the end of the day, it would have been fun to see Horvat wearing the winged wheel, but Detroit made the right call in passing on him.