Today's news features a lot of the chatter going on as the 2020 Draft draws closer. While the Detroit Red Wings haven't made another trade, they are still tending to things within their own organization, including bidding farewell to a longtime member of the team.
Let's dive in.
Pronman Projects the Draft
Over at The Athletic, Corey Pronman did a full seven-round mock draft, projecting the picks for each and every team. He forecasted the following haul for the Red Wings in the top 100:
Cole Perfetti – 4th overall
Marat Khusnutdinov – 32nd overall
Daemon Hunt – 45th overall
Emil Andrae – 54th overall
Zayde Wisdom – 62nd overall
Wyatt Kaiser – 64th overall
As for the fourth pick, Pronman elaborated on the choice and dropped some interesting information.
Related: Red Wings' All-Time Greatest Lines
"The only two names I've heard recently linked to Detroit by multiple sources are Perfetti and goaltender Yaroslav Askarov," he wrote. He then continued, "Ultimately, I have to go with what all my information is telling me, even if my instinct says that Askarov, defenseman Jake Sanderson or forward Lucas Raymond could very well go at this spot." (from 'NHL Mock Draft 2020: Corey Pronman projects all seven rounds' – The Athletic – 10/1/20)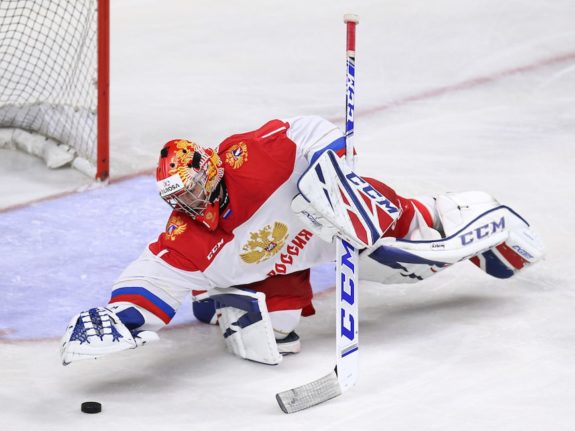 This is the first clear sign that general manager Steve Yzerman and the gang are legitimately considering drafting Askarov, the top goaltender in the draft. While taking a goalie at fourth overall is certainly a risk, last year's Moritz Seider pick should show everyone that Yzerman isn't afraid to go a bit off the board if there's a player he likes. Askarov would give the organization a blue-chip prospect in a position where they currently have none.
The first round of the NHL Draft will take place on Oct. 6.
Yzerman Zoom Conference
With the draft less than a week away, Yzerman held a press availability where he addressed a wide range of topics. You can watch it here:
Here are some highlights:
That story about how Yzerman listened in on some draft prospects without his camera on? Turns out he was doing yoga and didn't want to be a distraction. What a guy.
Yzerman told the story of how while he was the GM of the Tampa Bay Lightning, he traded up one spot in the draft in order to snag Brayden Point. Turns out a phone call, a seventh-round pick, and a shrug were all that was needed to get the deal done.
The prospects playing over in Europe right now haven't changed the plan heading into the draft.
The Red Wings informed Jimmy Howard they would not be offering him a contract before the free-agent market opens up.
Red Wings Bid Farewell to Jimmy Howard
It is all but set into stone now: Jimmy Howard has played his last game as a member of the Red Wings. The team took to social media to celebrate the veteran goaltender.
All of these statistics and accolades are great, but fans will probably fondly remember Howard for one thing and one thing alone: his fight with Sidney Crosby.
Howard will look to sign with another team in free agency, as he has indicated that he is not yet ready to retire. Be ready for a video montage at Little Caesars' Arena should he suit up for a game against the Red Wings next season.
You can read a full article on Howard's time with the Red Wings here.
More….
The Red Wings re-signed 24-year-old Dominic Turgeon to a one-year deal.
Drafted 63rd overall in the 2014 draft, Turgeon was brought in with the hopes that he'd develop into a bottom-six center for the team. While he never had the explosive offensive ability that his dad Pierre had, he has mostly been able to play a smart two-way style. He has appeared in nine games with the Red Wings over the course of two seasons but is still searching for his first point at the NHL level.
Related: Phantom Sniper Fires Up Red Wings' "Terrible Ted"
This season could be his last in the organization, as other players have quickly overtaken him on the depth chart. Otherwise, he could go the Brian Lashoff route of maintaining a residence in Grand Rapids while insulating the Red Wings' kids down in the minors.
Latest From THW:
Stay tuned to The Hockey Writers; there's plenty of Red Wings content waiting just around the corner!
---
---