This is going to be an offseason like no other in NHL history. With the salary cap expected to stay flat for at least another season, many teams are going to have to make tough decisions on players they wouldn't usually have to. One team that has set itself up nicely, though, is the Detroit Red Wings, who have nearly $35 million in cap space to make moves. It's never easy making fair trades that everyone can agree on, but here are three (somewhat) realistic trades I'd like to see Detroit consider making between now and the start of next season.
Trade Idea #1
Out: 2020 fourth-overall pick
In: Ethan Bear, 2020 14th-overall pick, 2021 third-round pick
Former NFL coach and Pro Football Hall of Fame member Jimmy Johnson created a trade value chart for draft picks when he was with the Dallas Cowboys. If we use the 2020 version of this chart (which has 32 teams, one more than the NHL), you'll notice that the difference between fourth overall and 14th overall is 700 points. To make up for that difference, I have the Oilers sending Ethan Bear to Hockeytown, as well as a 2021 third-round pick.
Bear is 23 years old and an RFA this offseason. Edmonton has D-man Matt Benning that they'll want to re-sign (along with forwards Andreas Athanasiou and Tyler Ennis, among others) and only have ~$10 million to work with. It makes sense for Oilers general manager Ken Holland to move on from Bear considering Edmonton's other commitments to the position and their need for cap space. He'd also be a smart pickup for the Red Wings that would improve their defense core, if available.
Related: The Rest Is Red Wings History: Osgood Replaces Hasek and Wins 2008 Stanley Cup
Detroit would have ~$35 million remaining in cap space if they acquired Bear, more than enough to re-sign their other impending RFAs. He seems like he'd be a nice fit for Detroit, as he's the "prototypical modern-day D-man" who is a bit more physical and has the scrappiness you like in your young players. The Red Wings continue to add draft capital with the addition of the 14th overall pick and a third-round pick next year, making the rebuild a little less bumpy.
Trade Idea #2
Out: 2020 third-round pick
In: Josh Anderson
Josh Anderson is a fascinating player for several reasons. First, Anderson was hampered by injury this season, starring in only 26 games before going under the knife for shoulder surgery in March. He missed the entire Blue Jackets playoff run in August recovering from surgery, but when healthy, he plays an important role that many teams would love to have.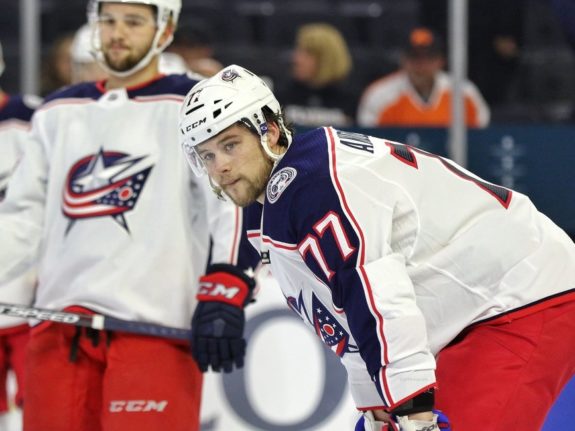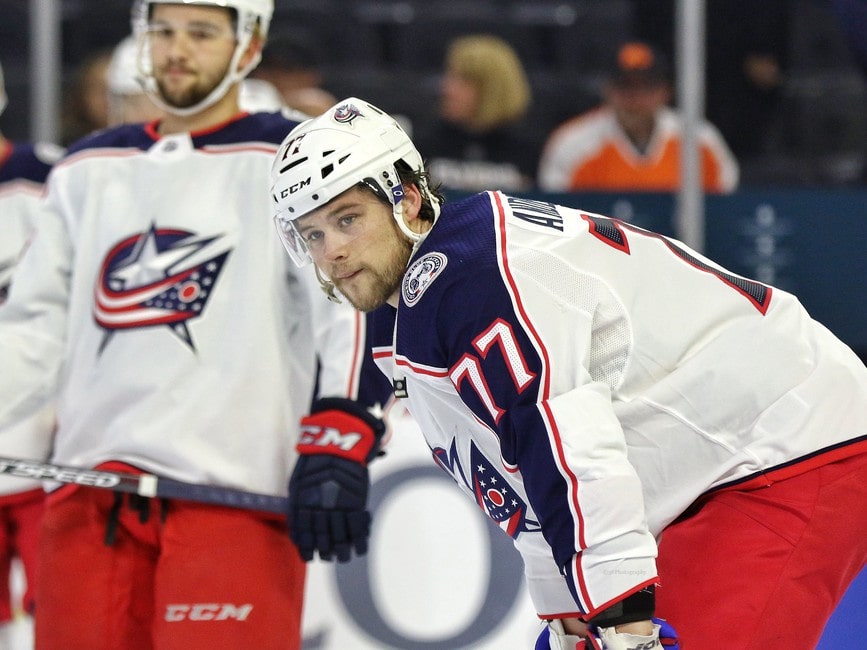 Then there's the issue of getting Anderson out of Columbus. The Blue Jackets love him and view him as a guy they can build around. He's a pending RFA and I wouldn't be surprised if someone extends him an offer sheet this offseason. The expected compensation for Anderson would likely be a second-round pick and if the Red Wings could get him for a third-round pick, while still having to sign him, it would be a win.
I wouldn't be comfortable sending a second-round pick for someone coming off major shoulder surgery and hasn't reached 50 points in a season. I don't mind offering a third-round pick though as he seems like someone that is still developing and will only get better. Should he magically find his way to the Motor City, I would love to see him play a top-six forward role and possibly play on a line with Robby Fabbri. A trade like this for Anderson makes sense for both sides, but it's easier said than done.
Trade Idea #3
Out: Justin Abdelkader
In: Bobby Ryan
This trade is less exciting than the previous three I made but still has value for both sides. There are salary implications that, if approved, could help both sides' rebuilds immensely. It depends on GM Pierre Dorion and the Ottawa Senators, who appear to be trending in the right direction.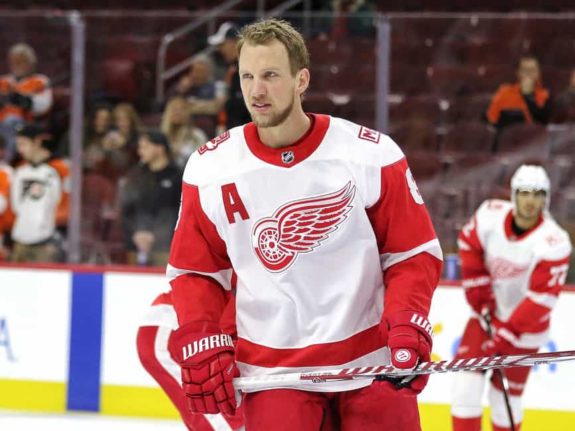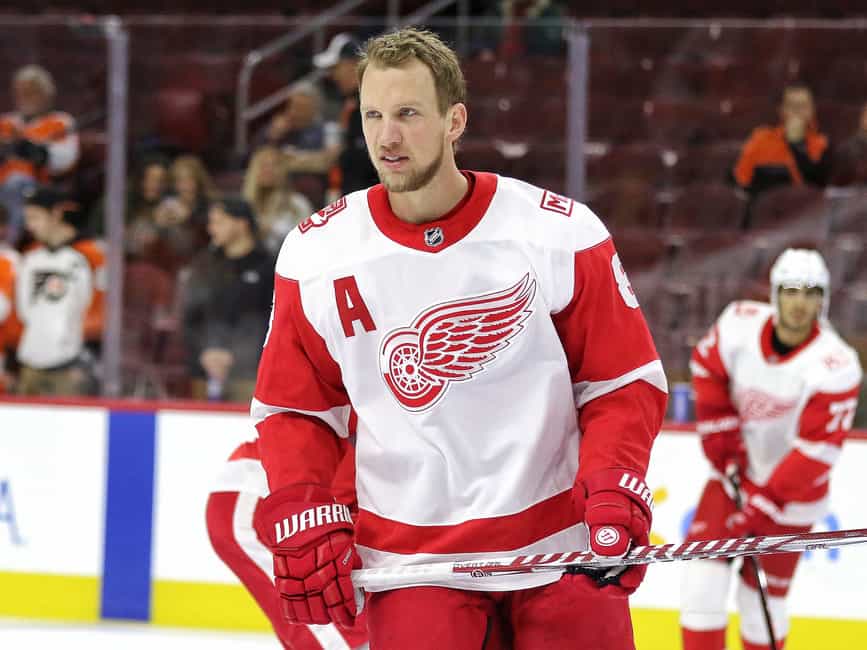 As it stands, Abdelkader is on the books at $4.25 million for the next three seasons. Considering he scored just three points last season (with no goals), his contract is atrocious and needs to be moved ASAP. Detroit's options are limited since Abdelkader has a modified no-trade clause, something former GM Ken Holland gave out like nobody's business, but I believe he could secure a bottom-six role in Ottawa next season if traded to them.
Related: Marcel Pronovost – Red Wings' Underrated Star
Bobby Ryan's contract is for two more seasons at $7.25 million, $3 million more than Abdelkader's current contract. This goal of this trade is for the Red Wings to shed term (taking on two more years of a bad contract compared to three) while the Senators add more cap space to help sign free agents this offseason (including Anthony Duclair, Connor Brown, and Chris Tierney).
Finding Fair Trades is Never Easy
Going back to what I said in my opening paragraph, it's much easier making mock trades than it is to execute them in real life. I know that all of these trades I've proposed today aren't going to be approved unanimously, and maybe aren't realistic, but would improve the Red Wings if proposed an approved. This is shaping up to be one of the crazier offseasons we've ever seen so don't be shocked if we get insane trades happening between now and the start of the season. Who knows, maybe I'll be right in one of the proposals?
---
---
Currently writing about the Detroit Red Wings for THW
Content Creator for Speak Your Peace